Posts Tagged 'Mr. Metal Color' »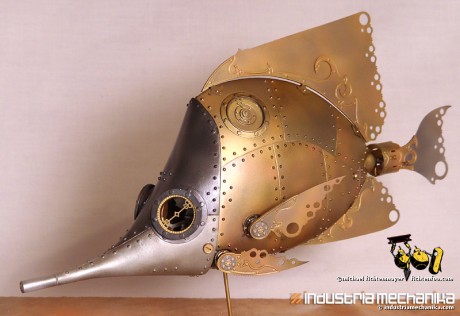 Moving right along, I painted all of the little details that needed done by hand. As you can see above, I tacked most of the kit together temporarily for photos.
Here is the Long-Nose shown with my original Fantastical Fish-Shaped Submersible build for size reference.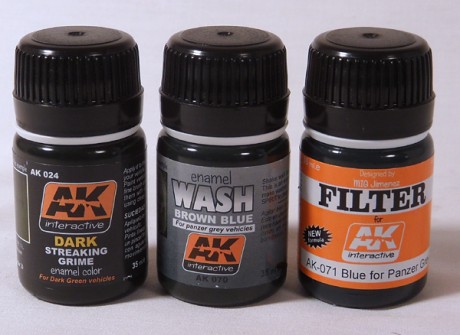 Now onto the dreaded weathering. When I started weathering the original copper sub, I was innundated with emails and forum posts saying "don't do it!" However, I like things to have a nice aged look… I love rusts and patinas and any opportunity to replicate one is a good thing! To start out, I airbrushed VERY thin mottled layers of the following AK-Interactive products:
Dark Streaking Grime (dark brown-green), Wash: Brown-Blue (muddy blue-green color), and Filter: Blue for Panzer Grey (dull blue). These are enamels so I made sure I first coated the fish in a coat of semi-gloss Future Floor Acrylic to keep it from interacting with the enamel metal colors.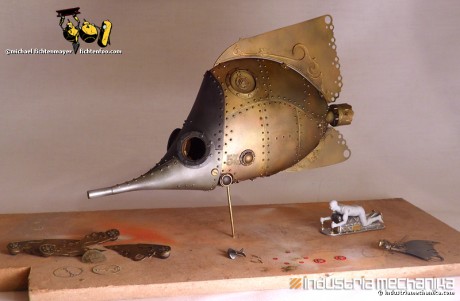 I then took a deerfoot-shaped brush wet with odorless turpenoid (because it's easy on the enamels, not strong or damaging) and tapped/blended the thin filter layers on the surface. This breaks them up and makes them look mottled, more natura, and also helps them act like a wash of sorts.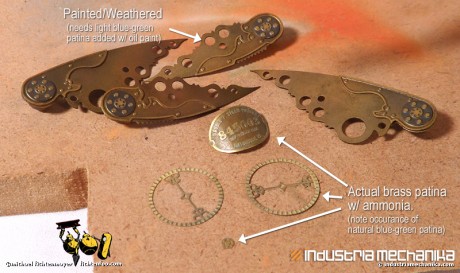 For some small photoetch brass parts I didn't use paint and instead suspended them in a jar with a little ammonia in the bottom. The fumes help speed up the natural patina process giving you a nice blue-gray patina as opposed to some products that will act as a blackening agent for brass. Both ways are good, just make sure you use whatever one is appropriate for the task/look at hand. YOu can see that my painting looks very similar to the natural brass patina except for the light blue-green areas. Those I'll need to add with oil paint next.
Also shown is the little PE brass valve wheels and the painted white metal propeller.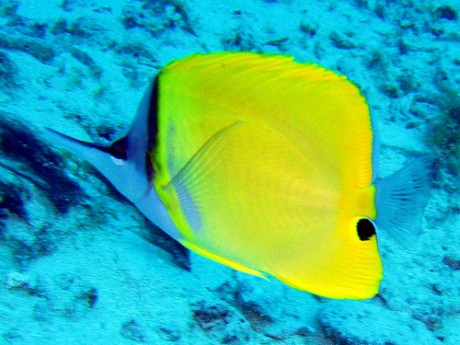 Moving right along, I've been working on the brass paint and base-tarnish/panel definitions. I'm painting this similar to the real Longnose Butterfly fish that it's design is based on, but in bare metal tones. I use a multi-stepped process for this brass finish and as usual with bare metal, it looks better in person, but the final photos should show it off nicely, just like my original copper fish.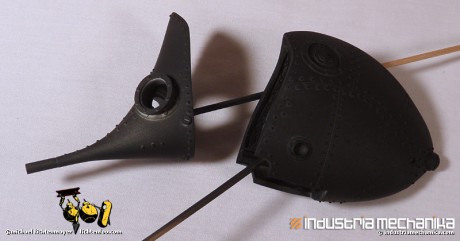 First up was a coat of Dumplicolor Black primer. Simple enough!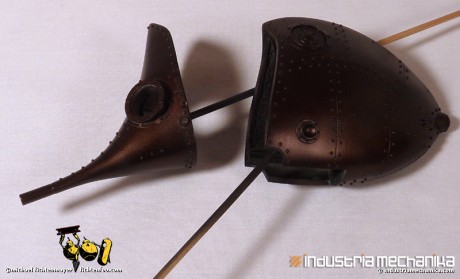 Next I sprayed on a base coat of Alclad II Jet Exhaust and let it cure overnight.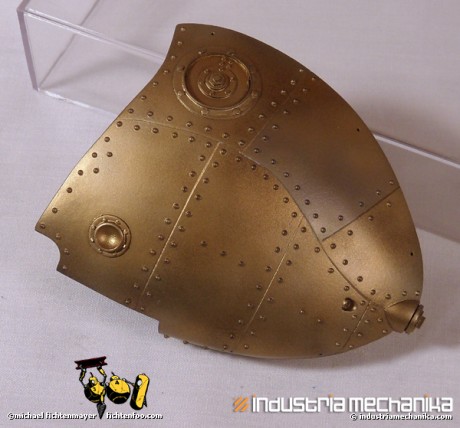 Next up is a fine misting of Mr. Metal Color Brass. This was then buffed with a soft toothbrush. As you can see on the top center panel, I masked it and started the panel discoloration…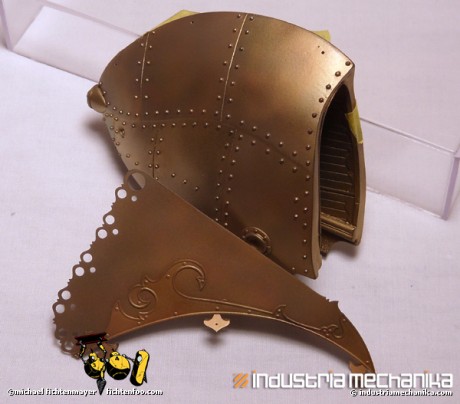 The prepped brass-painted panels, masked off 1-2 at a time, were sprayed with a random mottling of the following paints in this order:
1: Tamiya Clear Blue
2: Tamiya Clear Orange
3: Mr. Metal Color Copper
4: Mr. Metal Color Brass
5: Mr. Metal Color Brass + Iron 50/50
This if done in a nice random mottled pattern will give the look of heat-tarkished brass with a rainbow of colors like a wet oily road. It's hard to photograph however. When doing the panels, try to make the panels that touch not match to make them look varied.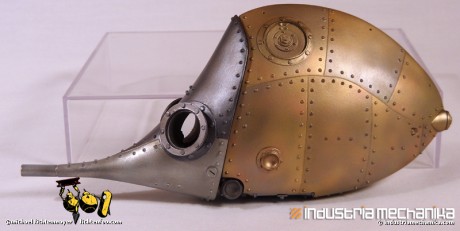 The lower nose was sprayed with Mr. Metal Color Aluminum, buffed, them misted with Tamiya Flat White then buffed again to give the look of patina'd aluminum. The top was misted over with Mr. Color flat black, then Mr. Metal Color Iron, then buffed.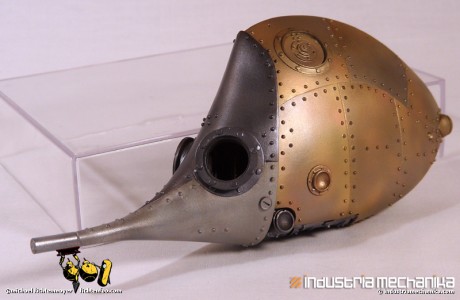 Next up I'll start picking out details and painting the interior.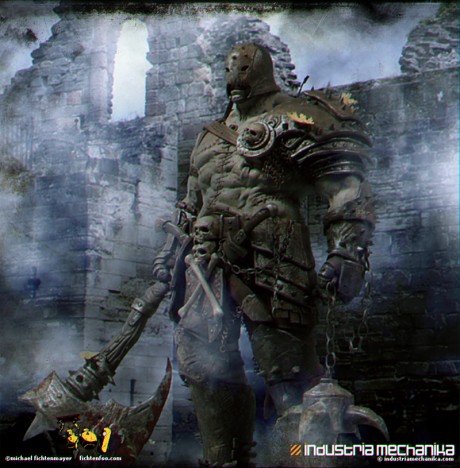 Yesterday my laser-cut foliage (thanks to Jason Eaton) arrived and I immediately set everything else aside to finish Adrian Smith's Frankenstein up. Like the other plants, I sponged acrylics onto both sides of the paper and embossed them with dental tools. For the daisies, I used stretched sprue for the stems. Pics are below and you can order Frankenstein while supplies last here!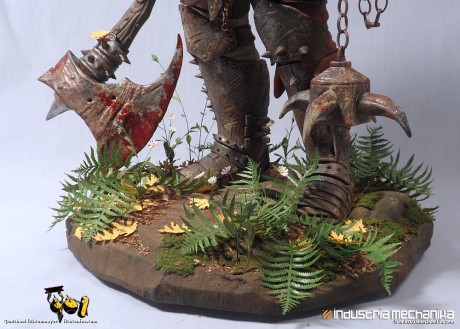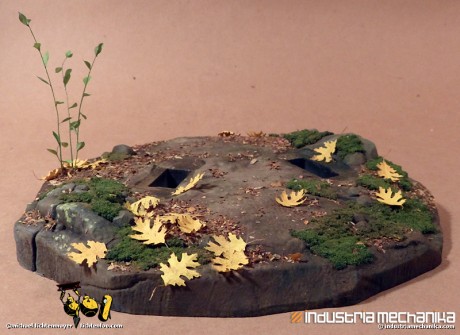 It's amazing what you can do with some old green sprue and paper scraps. I'm waiting on some laser-cut plants to finish this up, but meanwhile I've been making some saplings and such. For these I first stretches some green sprue over a flame, then used the portions near the ends with the thicker base. I crinkled the sprue a bit because nature abhors a straight line. I used leaves that I cut using wavy design scissors then sponge-painted with acrylics.
I painted the stems with a sponge using the same green as the leaves all over, then using brown near the bottom to simulate a woody stalk. I glued the leaves to the stalks with a mixture of white glue and the leaf-green paint. I also dabbed this on in spots to simulate buds.
Next up will be the laser-cut plants once they arrive.
I love doing groundwork and scenery. Of course I love modeling in general, but this is one of the areas where experimentation and ingenuity really pays off. Case in point, leaf litter, moss, and fallen leaves.
First up, the leaf litter. This is basically plain dead leaves that I scavenged from my yard. It's the end of summer so a few of the trees are starting to yellow and I always have leaves saved from past autumns for things such as this. Get a good variety of colors, but mostly brown for simulating prior years dead fall. Crush these (when dry, otherwise dry in 250 degree oven for 5-10 minutes if needed) with the back of a screwdriver as fine as you need. What I did in this case was to sponge on a mixture of Burnt Umber acrylic and Matte Acrylic Paste (a mud color similar to the basework) and sprinkled the leaves onto that. Then after a few moments I shook off the excess and repeated as needed.
Now for the moss. Moss at this scale is really fun and you can get some nice effects with only 4 materials. Fine Green Turf, Fine "Earth" Turf, White Glue and Water. That's it! You'll need to make two batches, the first is a mixture of mostly green with a little earth turf, plus enough glue and water (40:60 glue:water) to make it into a light squishy dough. Scoop out small bits of this and place as needed, then sprinkle a little of the green on top for the "fuzz" growth.Blow a little earth turf underneath for the roots/dead moss.
Next mix up another batch that's mostly the Earth turf with a little green. This is for the deader portions. Add this next to the green the sprinkle green closer to the fresh moss and earth onto the dead to make for nice transitional blends between the two areas.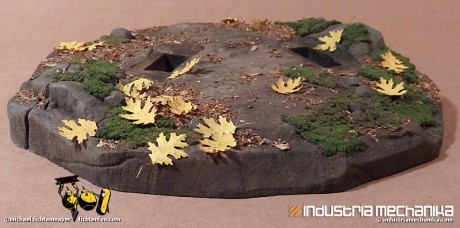 Finally the leaves. This part is fun and you can get some great effects. Takes some time to do, but well worth the trouble. For these I sponged some yellows and tan acrylics onto some gold copy paper. Make the back lighter than the front. Then I lightly sponged on some tan and greens for mottled portions. Use a leaf punch from the scrapbook section of your local craft store (in a close scale to your project) and punch out what you need. Next you'll want to sponge some brown/tan acrylics around the edges for more dead leaf effects. Lastly you place the leaves onto a layer of 4 paper towels (or 1 folded into 4) and using implements emboss the front of the leaves veins and crinkles. Add some stems if you want from jute fibers. Glue onto the base with white glue as naturally and randomly as possible.
Check out this Edmontosaurus base work I did for more paper plant ideas.
Next up » More paper greenery.
First off, not too many Frankies left so click here to order Adrian Smith's Frankenstein!
Lots to go through as I posted a shot of the feet on Facebook today and got a lot of SBS requests. Metal, rust, dust, then finally the mud.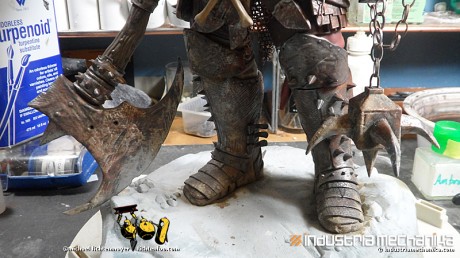 Metal: I posted this before, but once again so it's all in one place… For the metal I first hand-painted the parts with water-thinned Tamiya Flat Black. Then I drybrushed Mr. Metal Color Iron. When dry I buffed it with a toothbrush. Then I drybrushed on a layer of Mr. Metal Color Aluminum (little goes a long way) and buffed that in with a soft toothbrush as well.
Rust: The rust can be tricky and I tried something new here. I made a thin slurry of water and Microscale Industries "Micro Flat". Now usually I don't use this product as if brushed or airbrushed on, this particular bottle is more of a satin at best and at worst a semi-gloss… but it's here and it worked for this. I took a small piece of auto sponge and dampened it with the thinned flat mixture. Then I dabbed that into some AK-Interactive Medium Rust Pigment powder and dabbed it on randomly and thinnly. Thicker in spots for effect, but thin for an overall rust. You want the metal to show through. As soon as it starts to look dry, take a stuff brush and or toothbrush and blend it in a little.
Now once you've done all of your rust like this it looks okay, but it's all the same color. Next take some lighter rust pigments from AK or Mig Productions and apply them sparingly to the existing rust dry. When you've got the desired effect, use some thinner to set it into the initial rust layer.
Finally you need to  apply a wish. I used AK-Interactive's "Dark Wash" and first applied it with a thin brush in lines, corners, etc to make those areas pop/recede. Then after that dried I applied a "filter"… a very thin wash of 502 Abteilung (oil paint) Shadow Brown which darkens and mottles some of the rust.
Dirt/Dust: The dust is fairly easy. Using your airbrush, first spray very thin layers, almost invisible at first, and focused more on the feet of AK-Interactive "Dark Mud" and "Light Dust" liquid effects. When done, take a deerfoot brush, dampeded with odorless turpenoid and stipple/push the dust and dirt around. This will cause it to look less airbrushed and more naturally blended and set into recesses/mottled on. (This also works great for applying their streaking products and blending with downward strokes for streaks)
Mud: In a small container, mix dry plaster, pigment powder (70/30) then moisten with the AK-Interactive liquid effects. I used Light Dust and Fresh Mud. Stir this with an old crap brush then stipple this "mud" where needed around the feet and such… wherever you think mud would go. Then for randomness and additional dampness you can use more washes and liquid effects to darken the dried mud making it look damp.
That's pretty much it for that! Hope that helps!
Now onto the base work's first few steps. After priming the chunk of base with black primer, I used the following sponge techniques (I already wrote this so click here) on the rocks.The difference is after I added some washes and Slime Green effects.
After that was dry I used the same mud mixtures above and applied that to the rest of the base. I first applied a dark mud, then a light mixture stippling it with a stiff brush. Next I airbrushed on some AK-Interactive Dark Wash, then Slime Green. Finally I took it to my table and stippled the surface with a deerfoot brush and odorless turpenoid to blend it together nicely.
Next up is some leaf litter.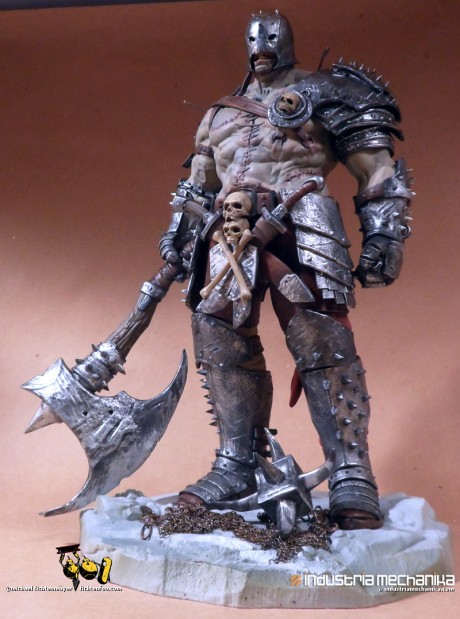 The "base coats" are almost done. I call them base coats because they still have a few layers to go in regards to weathering and such. All I have left to base coat is the little metal studs dotted throughout the figure. After that I'll start weathering and rusting him up and once that's done I can start on the basework. The base itself isn't bad at all, but I like to take things further when possible. In this case I'll be adding much vegetation to it, but more on that when the time comes. For now here's the latest pics.
Since yesterday I focused on some of the scabs and stitching. For the scabs/cuts I used a mixture of 502 Abteilung oil paint; Coagulated Blood and Shadow Brown thinned when needed with odorless turpenoid. The stitching is also done with the 502 A. oils which I just love… great colors, perfect for (and made for) modelers.
For the leather straps, I first hand brushed on some water-thinned Tamiya Flat Brown. Over that I applied "Wash Brown" oil paint and smoothed it on the straps. Then I shaded with Shadow Brown and highlighted with Buff.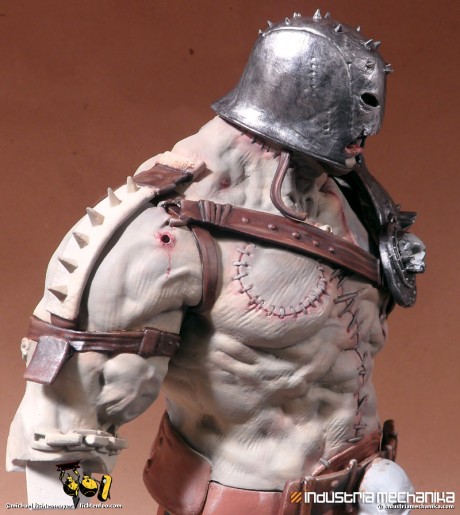 I also started the metal… sooner than I anticipated, but really wanted to see how it looked with the rest. For the metal I first hand-painted the parts with water-thinned Tamiya Flat Black. Then I drybrushed Mr. Metal Color Iron. When dry I buffed it with a toothbrush. Then I drybrushed on a layer of Mr. Metal Color Aluminum (little goes a long way) and buffed that in with a soft toothbrush as well. I really like the look, but this is just the first of several layers. Later I'll add rust over this (I want some shine to show through the rust) and some dirt layers for extra realism/weathering.
Here are the final images for the Hornethopter. It was a fun kit to design, build and paint and I hope the hundred of you that purchased one of the first edition releases enjoy building it up. Watch for the second edition to be on sale at Industria Mechanika.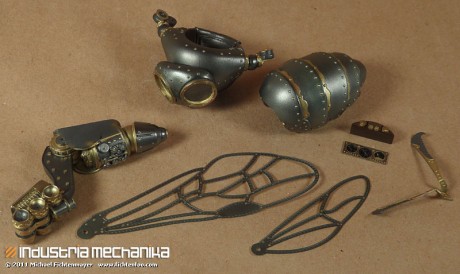 Since the last update I've been painting the little brass trim details. The Mr. Metal Color Brass hand-paints beautifully and buffs up to a nice sheen. I used the same toothbrush with the other metal buffing residue on it which actually makes for a nice tarnish. ponging on a little thinned copper also helps break-up the brass color.
I painted the dashboard in brown wood-streaks and filled the gauges in with black. Then I used some 2000 grit sandpaper to remove the paint from the raised portions revealing the dash details.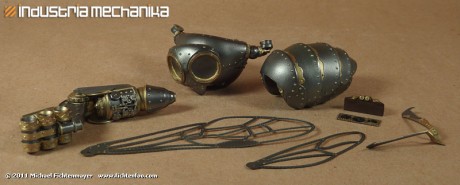 Next I'll give the parts a clear-coat and add some minor pin washes and such to pick-out details. Not going too heavy with the weathering here since it's an aircraft of a more "civilized" age.
I've also been painting the figures with oil-paint which takes a while to dry. Here's the first pass. Next I'll add more highlights and shadows, pick-out brass details, and add black stripes to the pants.