Posts Tagged 'Mig Productions' »
This is going to be a long one… I've been thinking a lot about copper finishes lately for my Steampunk Fish-Shaped Submersible product. While considering how to achieve the look I wanted I realized that I have a LOT of copper products. Not sure why… maybe I'm looking for the perfect copper or just love metal finishes. Either way it'll make for an interesting tutorial. Here's a photo of all of the copper products that I have. (or at least those I remembered)
There's Copper leaf, Sophisticated Finishes Copper Patina set, Apple Barrel "Pure Bronze" (looks like copper), Tamiya Acrylic Copper, Mr. Metal Color Copper (there's also a Mr. Color Copper that I haven't tried/bought), Alclad II Copper, Hawkeye/SnJ Copper Polishing Powder (they also make a paint that I've not tried/bought yet), Mig Productions Fantasy Pigments Copper, PearlEx Antique Copper and Sparkling Copper, Autumn Gold (copper) Rub n' Buff, and of course copper sheet, rods and tubing.  I've tried every one of these for one project or another. Every one is useful in some way, but combined they make some great colors.
Here's a bunch of swatches that I made tests of the above on. These tests are to create a realistic looking copper with patina. Patina is a fine coating of oxide which forms on the surface of the metal when exposed which protects the surface from weathering. Here's a link to the oft mentioned Future Floor Acrylic clear-coat mixes.
1:  Sponged on Apple Barrel-style acrylic paints. Used Regency Blue, Bright Blue, Green Sage and White. Then dry-sponged  white streaks vertically. Then applied Hawkeye/SnJ copper powder with finger. (doesn't show up, not great look anyway)
1:  Sponged on Apple Barrel-style acrylic paints. Used Regency Blue, Bright Blue, Green Sage and White. Then dry-sponged  white streaks vertically. Applied Autumn Gold (copper) Rub 'n Buff mixed with a touch of black oil paint using a somewhat dry-brush. Airbrushed flat coat of Future Floor Acrylic.
3: Primed with black spray paint. Painted with thinned Autumn Gold Rub 'n Buff thinned with Odorless Mineral Spirits. Mineral Spirits started to eat primer unfortunately. Buffed with cotton t-shirt rag.
4: Primed with black spray paint. Airbrushed on Alclad II Jet Exhaust. Airbrushed on Alclad II Copper in a mottled light pattern.
5: Primed with black spray paint. Airbrushed on Alclad II Copper.
5A: Track Brown Mig Pigment blended in with Odorless Turpenoid.
5B: Coated half of #5A with Gloss Future Floor Acrylic.
6: Primed with black spray paint. Airbrushed on Alclad II Copper. Next a mixture of Zombie Green, Ashes, and Neptune Blue Mig Pigments was sprinkled/dabbed on with a brush. These were then blended with Odorless Turpenoid. Clear-coated with Satin Future Floor Acrylic.
7: Primed with black spray paint. Airbrushed with Mr. Metal Color Copper.
7A: Track Brown Mig Pigment washed on with Odorless Turpenoid. Next a mixture of Zombie Green, Ashes, and Neptune Blue Mig Pigments was washed on with Odorless Turpenoid. Coated in Satin Future Floor Acrylic.
7B: Coated half of #7A with Gloss Future Floor Acrylic.
8: Primed with black spray paint. Copper foil leaf applied.
8A: Bottom half of Swatch #8 was dipped in ammonia cleaner then left to air dry. I repeated this twice. A month later, the result is as seen. I love it, but I fear it's unpredictability.
9: Primed with black spray paint. Copper foil leaf applied. This was then soaked in ammonia cleaner for a few days in a patina/tarnishing attempt. The only result was clean copper and a slight dissolving of the glue under the leaf making it shrivel/warp.
10: Primed with black spray paint. Sophisticated Finishes copper paint sponged on. When dry the patina solution was applied. The effect and look are not so great in my opinion, but maybe I did it wrong. The patina solution on it's own works nicely on real copper though.
Here's more shots of the above in various stages of completion.
Here's some real copper (right) and brass (left) bits placed in salt water for 6 months as a test. Why so long? I forgot about the sealed jar!!!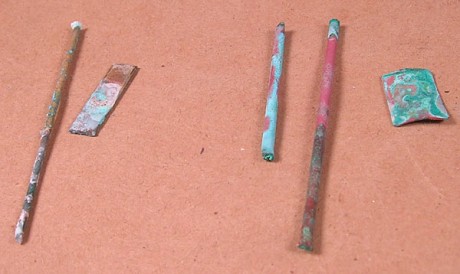 The method I liked best from my test is that seen in swatches #5, #6 and #7. I'll demonstrate this on the figure bust below:
Primed figure with flat black spray paint then airbrushed on Alclad II Copper. (above)
Track Brown Mig Pigment washed on with Odorless Turpenoid. Allow to dry fully then airbrush on a satin coat of Future Floor Acrylic mix. (above)
A mixture of Zombie Green, Ashes, and Neptune Blue Mig Pigments was sprinkled/dabbed on with a brush. These were then blended with Odorless Turpenoid. Finally it was clear-coated with Satin Future Floor Acrylic. (above)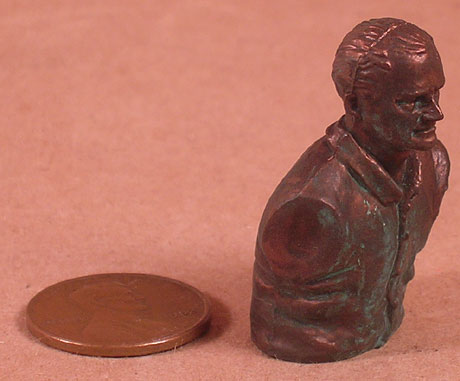 Side View… (above)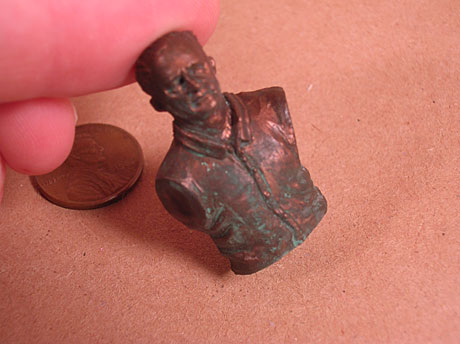 Another Angle… (above)
Watch my Fish Sub Build-Up thread for more copper techniques as I'll be documenting what I learned above as I apply it to an actual model. I'm sure there's more methods and products than those I showed above. If you got one, send me a pic and process. If you make a copper product, contact me and send me a sample to review! I'll add them to this post or if cool enough to an all new post.
You can now order my latest walking tank design from Mig Productions. It comes in two flavors as usual… a flame thrower turret or the standard cannon turret. The price is 58,00EUR and you can convert that here.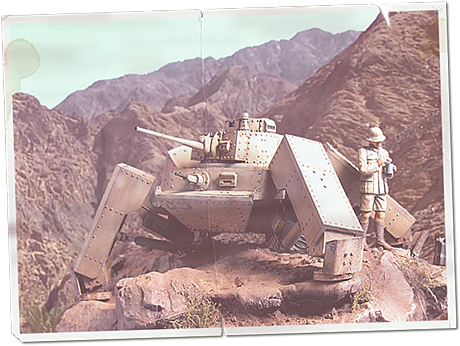 I applied the pigments the other day and made a new base so this build is done! The other base was not wide enough so a new one was required… the 38t(x) has a leg-span of about 6″ and the old base was done on a 4″ box. Doh! The figure is from the Dragon DAK set and is nicely molded. I painted it with oils.
Like I said earlier this latest of my walking tanks was painted up for the box-art and should be available some time this month from Mig Productions. Tow flavors will be available…. one with a turret and one without in case you want to use a different one. The casting was amazing and not much clean-up was needed at all. Not sure of the final price yet, but probably comparable to my KV-2X and Hovertank designs.
Enough yakking… pics!
I skipped over a few steps with the photography, but I can describe them here. When I left off it was time for additional modulation, but this time with oils. Using 502 Abteilung oil paint I highlighted and darkened areas to give them more depth. The colors I used for this were Buff, Light Mud, Dark Mud and Starship Filth. I basically just hand-painted and blended the colors into the surface to lighten and darken it. I added some very faint rust-colored areas in a discoloration technique as well then set it in a hotbox for a few days to dry.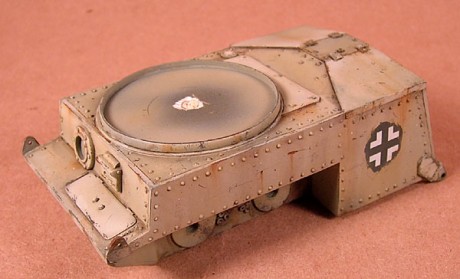 The "hotbox" is just an old paint of speaker-boxes made from wood with one side open enough to put a lightbulb in and raise the temp to speed up oil paint's dry time. I have a 1/35 DAK fig in it now drying to go with this vignette.
After the modulation/discoloration had dried I wen back and added darker and more defined rust areas with the 502 oil's Dark Rust and Shadow Brown colors. Then I used thinned Shadow Brown to do light pin washes on the rivets and panel lines. Then once more into the hotbox for some drying. After that it was all hit with a flat coat of FFA. Next up is pre-dusting with the airbrush and then pigment dusting.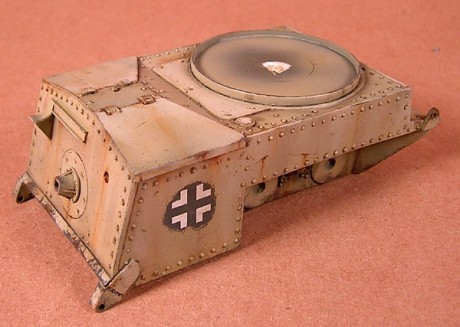 I also started on a small display base for this build just for my own uses as I doubt it'll make it to the box art. I started with a leftover wood box lid from a jewelery box who's "box" had been used elsewhere for another dio… maybe the "Taco". Anyway, I then built up some 3/16″ basswood walls and stained it. After the stain dried I sawed off some edges to create a few levels then filled the box with green floral foam for bulk. Plaster rocks were added then it was all filled in with a gravel, ballast, tallus, sand, white glue, and Celluclay mixture. This was worked in with a wet stiff brush and then more tallus/ballast was added to simulate rockfall fixed with white glue.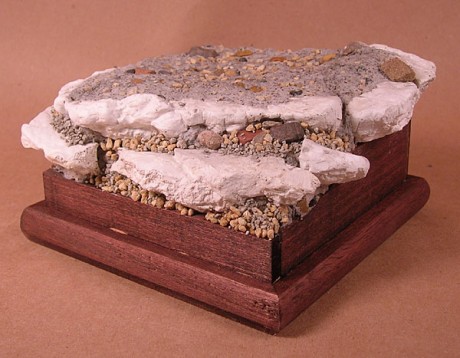 I wanted to simulate a Moroccan desert scene so with the help of some reference started choosing colors to paint the groundwork. After the Celluclay dried, I hand-brushed on several coats of cheap tan/chocolate mixed acrylics with a very slight hint of red based on my refs. I added several coats until all the rocks and groundwork was a uniform color. Next I darkened the base color with a darker tan/chocolate/red mix. Once that dried I applied a wash of Mig Productions "Dark Wash and let it dry as well. When dry I drybrushed the whole base with light tan to make the rocks pop more. Once done the whole thing was dusted with African Earth, Gulf War Sand, and Dry Mud pigments and doused with Pigment Fixer.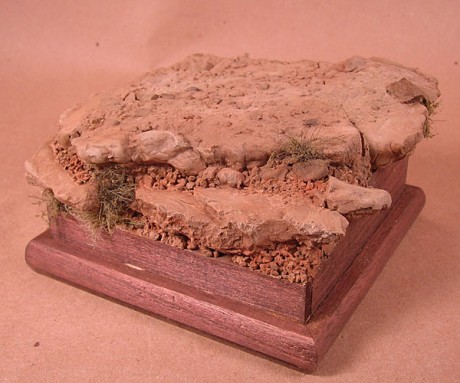 Plants are bundles of dark shaded jute fiber, drybrushed with white glue and dipped in earth colored fine turf.
Continuing with where I left off, I applied some liquid mask over the decals then I applied a coat of hairspray to all of the gray parts and let that dry. Over that I sprayed Tamiya Buff, then used a lightened Buff to do some light modulation/gradation.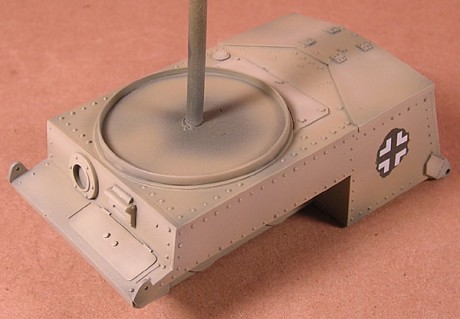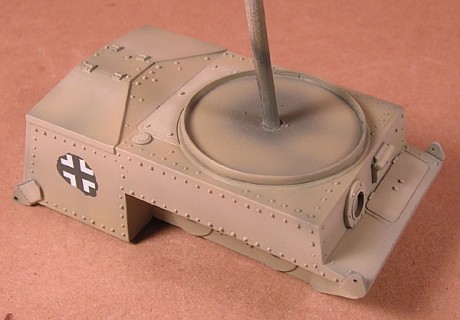 After a few hours I started to wet the parts and using some plastic sheet scrap scraped the edges and added scratches in the buff-coat showing the more durable gray paint beneath. An odd thing happened though which actually saved me a later step. Certain areas where I scraped and paint did not come up dried lighter showing lighter colored scratches and panel areas. I planned to hand paint and sponge these, but now I don't have to.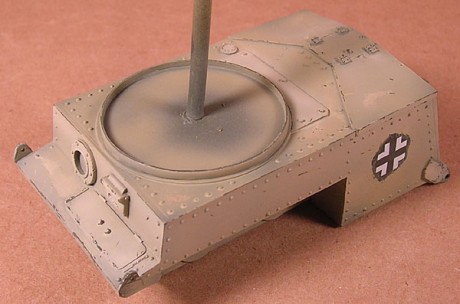 After the parts dried again I took some fine synthetic sponged and added finer paint chips. First I used Deck Tan, then on top of those I used Vallejo Dark Gray, Dark Rust then Red Leather for rust. The rusty areas were applied very sparingly and only where the heaviest scraping would occur. D-Rings, and lower legs. I used all the colors below to sponge rust onto the exhaust, but didn't photograph that yet.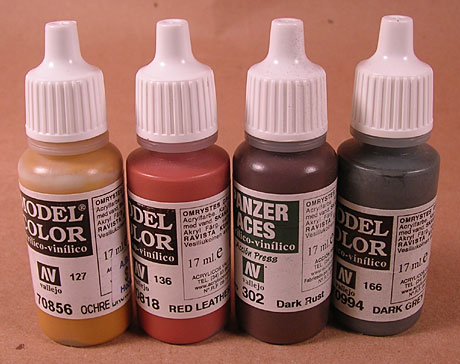 Next up is filters and discoloration.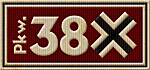 "Not back on it, still on it."  I got my first sample of the 38t(x) from Mig Productions a few days ago to work up for the box art. It's been a while since I've thought about this project so seeing it in this state was pretty exciting. The casting turned out really nice! (Just as nice as that of the Hovertank.) The clean-up only took a day or so to complete which is in part because of the great casting job. The rivets turned out really nice, especially when paired with the Mig Prod. aftermarket turret. Like the KV-2X, this kit will have a turreted and non-turreted release to let you guys let your imaginations fly.
See the gallery below for some parts images before I did the clean-up. The parts laid out on the towel were after I did the degreaser bath and scrub in order to make sure I had everything and for a pic of all the parts.
After the clean-up I primed everything with the green Duplicolor Self-Etching Primer.
Once cured I applied a coat of a dark blue-gray to all of the parts.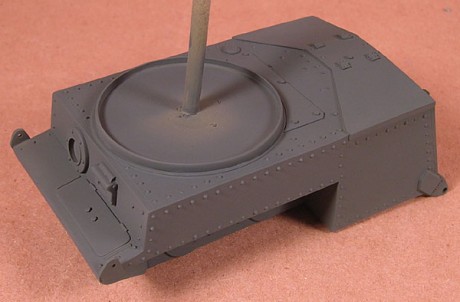 Then lastly for this update I clear-coated it all in Future Floor Acrylic and applied German insignia decals from my Dragon 38(t) kit.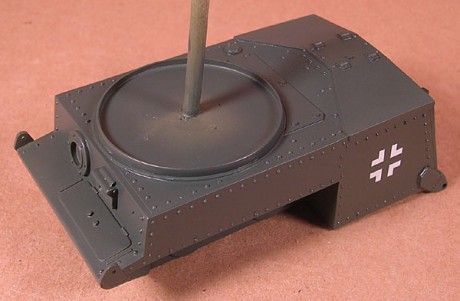 Tomorrow I'll hairspray the parts and apply the buff desert coat which will be chipped lightly to show the base-color beneath.
Progress continues on the BergeLuther. I've applied the oil discoloration using the 502 Abteilung oils paints. This time I used the colors German Gray Highlight + Faded Navy Blue, Light Rust, Dark Mud and UN Faded White. These were dabbed on as usual then blended in with clean odorless turpenoid. Before this I attached a fuel barrel/mount, tools and extinguisher to the main body. The rust of the barrel mount was done with a rusty base coat followed up by sponging on lighter and darker rust tones. More pics below…
I also began work on the Mig Productions Burned Out Modern Car kit which arrived a few days ago. After cleaning the resin and constructing the wire seats using the supplied jig and a soldering iron, cleaning up the kit and painting has been a fun and relatively quick process. I used an SBS at the Mig forum by vsuarez666 seen here. It was a great tool for getting great results quickly. I've still a bit to go on it, but here's where I'm at so far.
After priming the kit with self-etching primer I followed up with a coat of flat black spraypaint. Over that I sprayed a dark overall rust tone using the black base as shadows to show through, followed up by two lighter rust coats mottled on with my airbrush.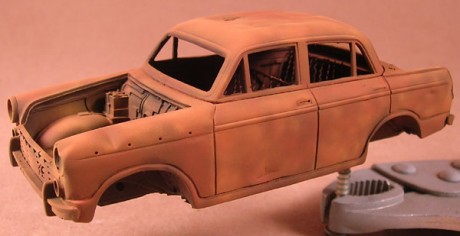 Over this base coat I used cheapie acrylics and stippled on yellow, brown, gray, blue and red with a damp sponge. This adds more color and variety to the rust and will add more depth in the next steps.
Over this stippled coat I sprayed a flat layer of FFA to seal the base coats. I let that cure overnight and the next day I sprayed the kit down with hairspray and generously sprinkled kosher and table salt over it.
After the hairspray dried I sprayed on some neutral gray, white, then a light mint color for that "classic" car feel.
I removed the salt by rubbing and with water and a brush removing some of the hairspray layer as well to re-expose the rust. Rubbing the salt off took some of the base coat with it resulting in some dark spots, but those actually add to the overall rustiness and look great IMO.
Then I took some rust-colored oils, some dark brown and some ocher and blended them into the surface to enhance the color. I then took some white and Faded German Gray which is a very light bluish color and enhanced the leftover paint spots of the vehicle.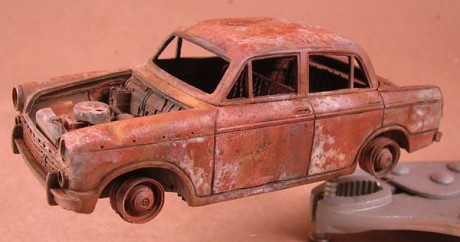 Once this layer of oils dry I plan to go back with some grays and whites and dirty the car up as it'll be sitting in a pile of building debris.
And speaking of debris, here's the start of my base for the Berge. The Berge will be plowing some debris off a road and into an open crater. There will be corrugated steel, barrels, building rubble, the car, a fridge, chair and vacuum, girders, pipes, bricks and more.  The base is foam and thin plywood for now, but all that will be covered. The exterior in basswood and the foam in Bondo, Celluclay, and a Sculpey road surface (made, but not pictured)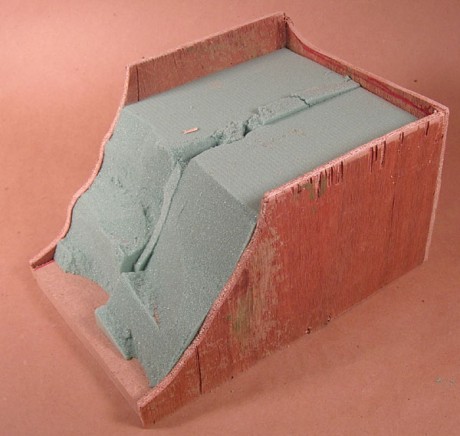 The 1/35 scale Martian Light Hovertank is all done and I finished it a day before deadline. Yay me! Anyway, enjoy the images and keep an eye out for this kit when it hits the Mig Productions website and hobby shops in December. If you get it and build one, please let me know and I'll post it up here. Onto the images: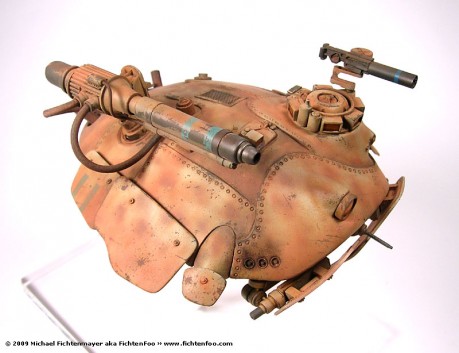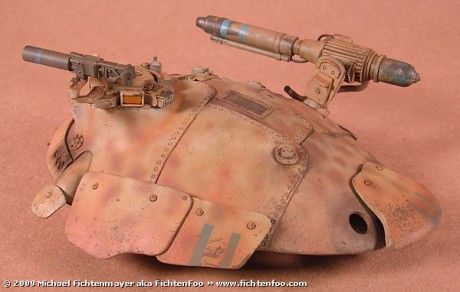 I received my first Hovertank kit to paint up for the box art, but not before finding out my deadline is the 20th. Yikes! Needless to say that it's been a busy weekend here in my workshop. (Thanks for understanding Rachel!!!) The Hovertank arrived on Thursday morning (12th) from Adam at Mig Productions and immediately found itself in a bath of Purple Power to soak off some of the mold release. Later that evening I scrubbed the parts with a toothbrush and  set them to dry overnight. At this point I didn't get much chance to look them over.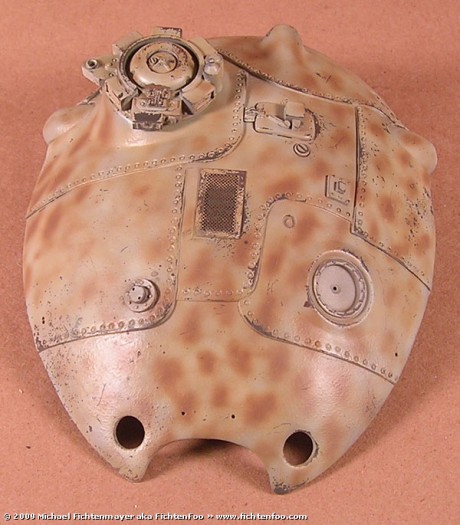 Friday I spent cleaning up the parts and I must say, all bias aside, this is a VERY well casted kit. I'd make it my second-best cast ever recieved, the first being Francesco's Hard Boiled AFS cast which was near perfection. My cast had no bubbles and everything looked just as it did when I sent it. The clean-up was a breeze! In fact it took maybe 3-4 hours total to clean-up and pin. The only problem I found was that I was missing two parts (front eye and gun-hose couplink) which are in the mail as I write this. Doh! The Photoetch parts are FANTASTIC! Sooo glad I decided to go that route when designing this.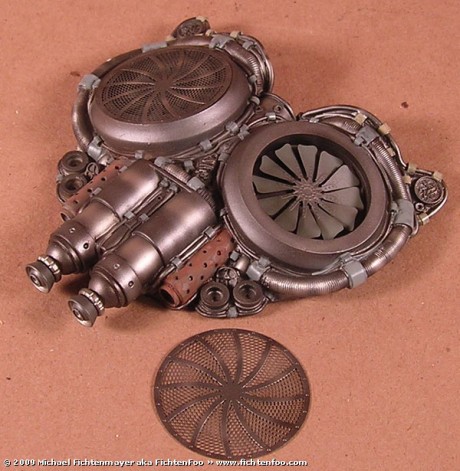 Friday afternoon/evening I managed to not only texture and prime the kit, but to put down a dark-rust base-coat as well since I planned on doing the hairspray/salt chipping technique.
Saturday I salted/hairsprayed everything and painted the camo, markings, and other misc parts. I wanted a Kondo/Kobayashi-like camo and I think it turned out better than I expected. I love my Iwata HP-BH airbrush! Thanks to Rick for teaching me the mottled AB techniques! Really helped here. I also painted the metal parts using Alclad 2 lacquers. Saturday afternoon/evening I was able to apply 2 filters then let it dry overnight.
Sunday was spent doing oil-paint discoloration and washes and working on detail-painting the engine.
And that leaves me at today, Monday, and 4 days until my deadline. At this point I've gotten my pre-dusting done using pigments and airbrushing a Martian dust color. At this point all I have meft to do is my general pigment dusting, finally using Mig Productions Martian Sand color. I'll be using African and Vietnam dirt to vary the tones and possibly some Gulf War sand mixed with Martian Sand as well for lighter dust tones. I don't want to apply those final pigments until the parts arrive. Hopefully I'll see them on my doorstep tomorrow or Wednesday. Either of those days gives me enough time to meet the deadline and take my pics.
So keep an eye out for this kit in your Local or Online hobby shops next month and show me your finished builds!