Posts Tagged 'Megalith' »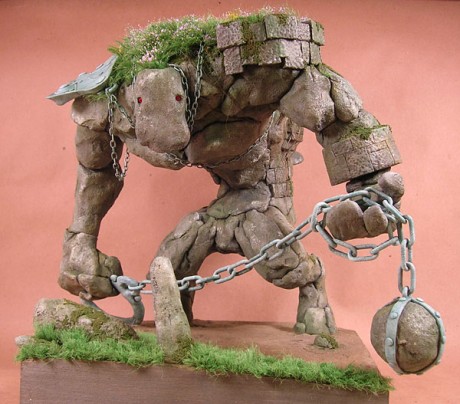 Still adding grass as you can see. Been a little busy with a garage sale last weekend  (thank goodness THAT's over!!!!) so this has been slow going. You can see that I'm adding clumps of the Jute grass and teasing it around while the glue is still wet so that it doesn't look like hair plugs. When the entire base is filled with grass I'll apply the same flower/weed mixes as I did to the back of the beastie.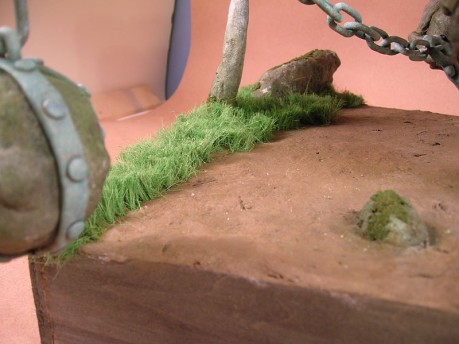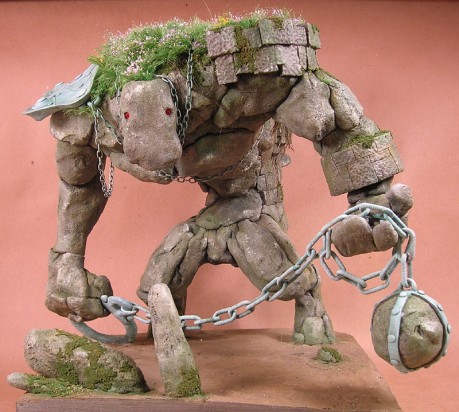 At this point the beastie is just about finished. A few touch-ups here and there and he's complete. I still however need to make the Druid "pilot" and finish the base grass. First things first though…
Moss! Before applying the moss I first mixed up some of Mig Productions new Fantasy Pigments to create a moss color for a base coloring. Mixing together 50/50 Zombie Green and Graveyard Dirt gave me the color I wanted. I applied this with an old brush and then airbrushed on a thin coat of the pigment fixer to seal it.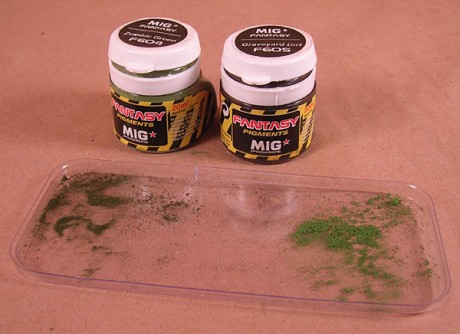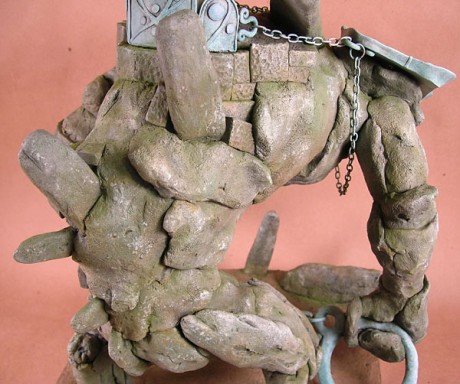 After this I applied the moss Per's way as shown in my last update. Basically you're mixing Fine Turf, White Glue and water then eye-dropping and drybrushing (when dry) paint to tint.
Once the moss was done I began applying the grass using Jute twine as seen in my tutorial here. The only difference between that tutorial and this is that all of my Jute was dyed a deep green with thinned cheap acrylic paint. I also applied roots as seen in the Dagobah Diorama to some of the creature. I want to add more to his right hand side as I forgot about that.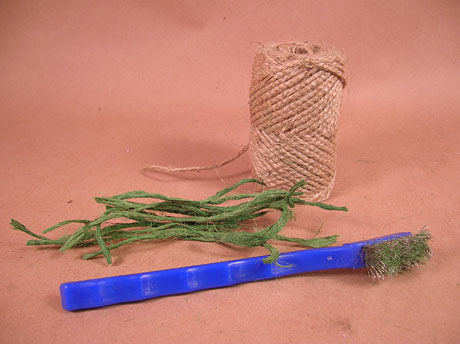 It took about 4-5 hours of unsteady work to apply all of the grass. Most of the grass clumps were about .5″ long give or take. Randomness is best here. Longer grass was used near the edges so that I could drape and curl it up nicer and shorter was used in the "chariot".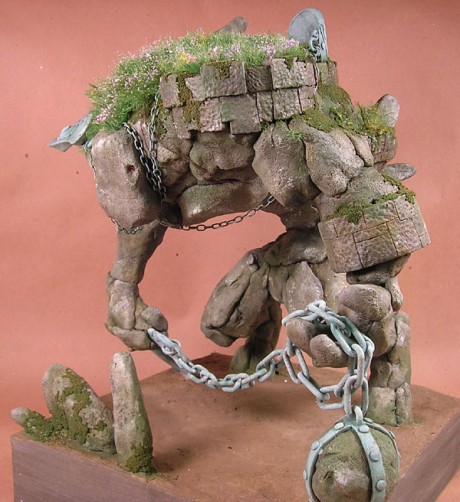 When the grass was dry I teased it up, trimmed any long out of place strands and masked all the stone in aluminum foil. I thought for a while about how to get nice little scale flowers without using REAL flowers that would fade/become brittle over time. Woodland Scenics makes a flower mix which comes on a card with 4 individually packed colors. Red, White, Yellow, and Orange. The Red, Yellow and Orange are just very fine turf. I had hoped the white was too, but it was basically their flake snow. I was annoyed at first as I wanted purple, pink and white clover (as I see EVERYWHERE this time of year) and figured the turf could be easily dyed. As it turns out though, the flake snow makes AWESOME flowers and weeds.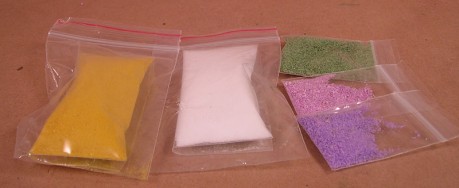 Just pour some of the WS snow into a cup and add a few drops of thinned acrylic paint and mix. After it dries you have colored flower flakes. Fantastic! Store leftovers in some small zipper bags for future use.
First I sprinkled green and yellow-grass turf onto the grass as well as some of the green flower mix. This was all to make the grass look more like thick leafy weeds. I misted on some thinned matte medium to stick the weeds on and then sprinkled on my flower mixes to simulate  clover and wildflowers. Again, randomness is best.
Since the last update I've finished the painting for the golem and added his bronze accessories.  I also made and painted some more megalithic rocks for the base as well as constructing the base and basic groundwork. I'm really quite pleased with how my rocks have turned out. I've always had trouble painting rock to look like natural stone. Because of this I tend to use real stone when I can, but that really limits what one can do. Being able to make and paint realistic rocks may not sound like a big deal, but it adds a lot to a scene. Below I took a shot of the paint I used and my sponge bit I used for aplication.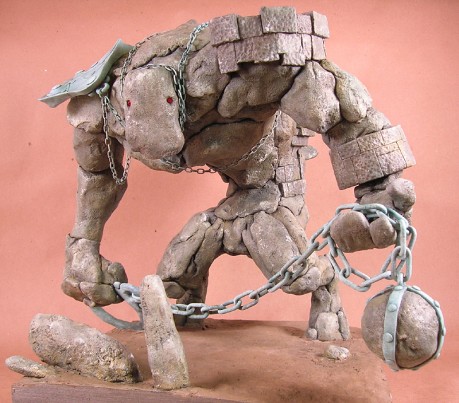 The base is my typical plywood bottom encased in basswood then finished. Crumpled paper, wire mesh then a thin layer of Celluclay make up the groundwork. I painted it with a dirt color, (I need to darken it I think) but for the most part it will all be covered in grass.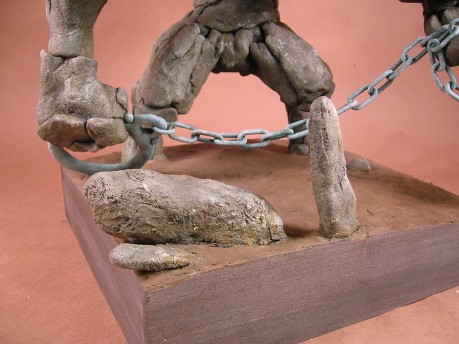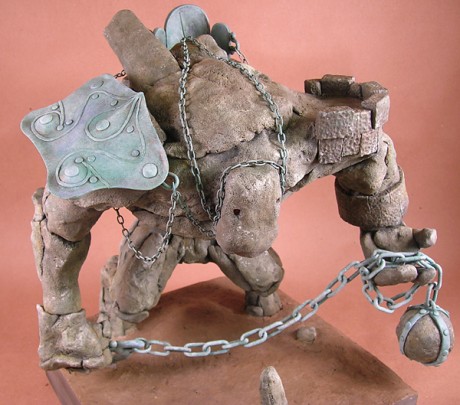 Here's my moss tests. Moss was done using Per Olav Lund's method as shown on the Mig Productions forum. Basically it's a mix of fine turf, white glue and paint. With my tests though I found my best bet was to not mix in the paint, but instead use an eyedropper to apply it later as I ended up smearing paint where I didn't want it as seen on the rock between A and A2 below. Dropping a "dead" yellow-brown to the dry mix soaks down and looks like the brownish roots and die-off as seen in "A2″.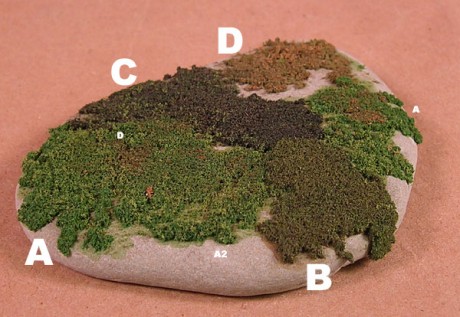 A: Light Green fine turf with a touch of "Earth" fine Turf.
A2: Dead-colored paint eyedropped on later.
B: A blend of Light Green, Soil and Earth fine turf. Dead-colored paint eyedropped on later.
C: Soil fine turf only
D: Earth fine turf sprinkled with real dead moss "dust". Can be applied is parts of other mixes for die-off.
Everything was finished baking so I began priming and painting a few days ago. I primed everything with Duplicolor Light Gray Sandable Primer. Metal chains were first primed in Duplicolor Green self-etching primer, then in the Light Gray.
I gave a lot of thought to how I wanted to paint everything. Not just colors, but textures and methods as well. Would I airbrush first or hand-paint it all. Having lots of references really helped. I'll split this update into painting the rocks and painting the bronze patina parts. I painted it all with craft acrylics from Michaels or JoAnn Fabrics. I used a combination of paints spanning several brands so I'll probably focus on colors and technique rather than getting too specific.
Rocks »
First I hand painted all the rocks with a thin dark gray mixture. Mostly this darkens all the primer, fills all the divets, cracks and details, and serves as a base-coat. When that dried I stippled all the recesses and areas I wished to be shaded with flat black. Again when dry I stippled it all with a sponge and unthinned "cobblestone" gray paint. After that dried I sponged on raw umber and chocolate brown here and there. Mostly this was for variation, but some rocks recieved more browns to make then be a different color. Then over that I stippled on a light gray and when dry more light gray, but in a random pattern to highlight certain areas. Remember that acrylics darken as they dry so it might look really light then be darker than you wanted. Wait for it to dry fully before lightening or darkening. After that I sponged on more browns where necessary and more highlight gray. Then everything was stippled/dry-sponged with a black-green mix. (dry-sponge… kind of like drybrushing, but smearing the color with an almost dry sponge) Then some pale lichen color was sponged on.
This looked like rock, but it was too neutral gray in color. I knew this would be the case and planned for some washes/filters to warm the color. This was done by mixing some very thin yellow/brown and applying it as a very thin wash over it all. Some areas received more or less to alter the color. Basically the key is to be random. If it's too uniform it'll look dull and lifeless.
Patina »
Now onto the bronze parts. In my prior post I showed an aged bronze shield that I was using for reference. I first painted all the metal parts with a thin black-brown. A few coats of this darkened it up nicely. Then I sponged on a "Pure Bronze" then a Venetian Gold which is a dark gold color… almost bronze. This as you can see is VERY shiny and bright.
That's fine though as it'll get aged away really quick. Next mix up a green-blue patina color. Not too light yet! Split this into two and use half for a thin slurry wash. Dab this all over all the parts with a brush being aware not to deposit too much into recesses like a wash. Once this dries use the thicker mix and sponge it on randomly. Then sponge on in parts some dark blue-violet and dark green. It should look like below. Kinda crazy but the next step will tie it all together.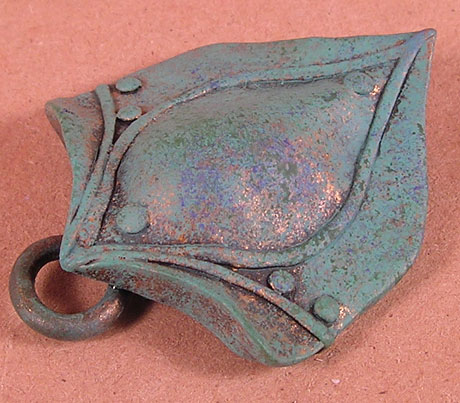 Now mix up your very light green-blue patina. Sponge this on and also drysponge it on as well. And that's that! Aged patina bronze.
Here's all the pics from this session. Next I'll start adding grass, lichen and thick in-scale sheet mosses.
The sculpt is going well. I finished the beast for the most part a few days ago and baked it yesterday. I also added a lot more texture detail to the stone which really helped "sell it" I think. I had a small issue with sagging due to the CPVC frame going soft during baking. Lesson learned. After a prop-up with a fork in the neck I finished the baking. The front /top is very heavy. Since then I started on the shoulder armor, weapon, and bull-mask.Although I am kind of digging the look without it.
The weapon is a flail of sorts with a ring instead of a "stick" handle. The ring and chain will be aged bronze as seen in the attached shield image. At the end of the chain will be either 1 or 3 large stones with bronze "belts" for support. The chain is the smallest normal-looking link chain at Home Depot. I think it's a good menacing size for this.
The mask and shoulder armor are in-progress with the mask being close to done. It's in two parts and will be glued onto the head after painting. Small sequen gems will be added into the stone eye holes.  The shoulder armor will be glued on as well, but connected by smaller chains to the "chariot" section on it's back.  It still needs further detailing.  The chariot or Druid haven't been started yet.
The hands were made just an hour or 2 ago and just finished baking The left hand will be holding the slack chain.
Anyway, here's all the pics. I really like how it's turning out and can't wait to get it painted and start planting grass on its back. It'll be the chia pet from hell! (okay, the grass will be fake, but you get the idea)
I decided to jump the gun a bit and start texturing the stones. I was told that it's best to wait until you are completely roughed to start the final detailing, but I had nothing better to do and was anxious. I started with the following tools…
I began by using the dental tools to create pits and various surface changes on the rocks. Then I used the toothbrush and stiff round brush to stipple a texture onto the stones. Here's the result: (Click the pics for larger versions.)
It looked pretty good, but the surface was just massive amounts of pinholes with smooth areas in between.  I decided to see if there was an alternative to the Sculpey Dilutant (softener) and found that both alcohol and turpenoid work great. I also found this great tutorial on sculpting creatures with Sculpey which gave me better ideas to "complete" the texture. It turns out that I was on the right path, but just needed to take it a bit further. So back to the toolbox…
I decided to use turpenoid which dries slower than alcohol. I used soft brushes to work the pitted surfaces. Basically I brushed the dilutant all around which softened the clay and left me with a better, more mottled texture with far fewer pinholes. The leftover holes are great as natural rock has small pits and such. While still moist I used pieces of cheap sponge to stipple the surface which resulted in what looks like a rough stone appearance. A small but of sponce held in some hemostats works great for getting into tight areas like under the legs. Here's the result. Click the pics for larger versions.
You can't see too much difference between the images, but the final results are great. Now I just need to create a different texture for the cut stone bricks. I'm thinking back of a paintbrush to simulate chissel marks then a slight softer texture applied over that. Click the pics for larger versions.
Two updates in a day? Weird. Here's what I managed to accomplish today thus depleting my Sculpy supply. Will have to get more on Sunday when my 40% off Michael's coupons are valid. I'll need at least one more box of Super Sculpy, but will get two to be safe. I took an image of my mix though. One half of a package of black Sculpy III and 1/4 box (one slab) of Super Sculpy.
As you can see I've continued roughing out the stone "muscle" plates. I want it to have a movable look and not be just a solid rock. I never understoon how the sci-fi/horror statues could move. That'd require some very flexible stone. [/geek]
I also started adding the castle wall details. I want it to look as if it was formed from whatever stone and rubble was nearby. The small half-round platform on top will be where the pilot stands in a chariot-like enclosure. There will be another turret-like platform on the left shoulder which I roughed out with wire mesh and cardboard. Various megaliths form the spiney spikes.
I'm really looking forward to painting this and making it look like real moss and lichen covered stone.