Posts Tagged 'Industria Mechanika' »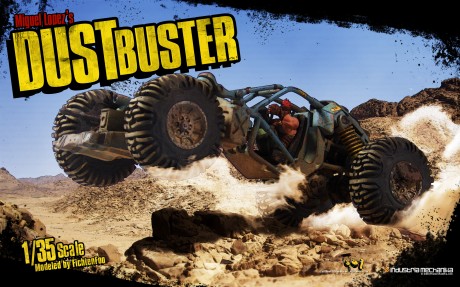 And another one done! This time it's the Dustbuster, conceptualized by Miguel Lopez, 3D modeled by Nate Clowar and produced by Industria Mechanika. This kit is beautifully, near flawlessly in fact, cast with 60+ parts, Driver, and photoetch!
*Discounted price until 3.18.2013 while supplies last!
Been working on this off and on the past week… mostly off though. Luckily though, the techniques I use for the dusting, mud and weathering are fairly simple. I started off with a filter then some discoloration with oils. (see my Millenium Falcon video tutorials for details)  That gives the paint a nice aged look.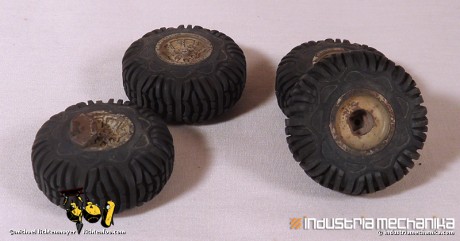 Next I sprayed a thin mist of AK-Interactive's "Earth Effects" over all of the parts, focusing on where dust and dirt would accumulate. Over this I sprayed the "Africa Dust Effects" which is a lighter dustier tone. I then used a odorless turpenoid dampened "deer-foot" shaped brush and stippled (dabbed repeatedly) the surface to mottle and blend the dust layers. I prefer this to using pigment powders to do the general dustings as you don't have to worry so much about fingerprints later.
Next I mixed up some pigments to match the groundwork with some plaster, Earth and Africa Dust Effects and a little of AK's Odorless Mineral Spirits with an old brush. I used air-only from my airbrush to spatter this thin muddy mixture onto the underside and sides of the Dustbuster chassis.
Finally over the weathering I rubbed some "Steel" pigments (powdered graphite/pencil "lead")  on my fingers and onto some of the worn raised edges.
The last thing I need to do with the tires is brush on some thinned pigments onto the tread-edges that would contact the ground. Fairly quick and simple step.
Just for reference, here's a 1/35 scale figure, a real 1/35 trumpeter AFV wheel, a 1/35 German wheel, and the massive Dustbuster wheel which is also 1/35 scale.
Also worked on the base. I filled the box with dense pink insulation foam, then layered on a mix of plaster and railroad grits. I waited for it to start setting up and started sponging it for added texture. The large rocks are plaster from some WS rock molds I have. I don't have a pic, but over this I painted it a base sandy-dirt color, then using the same mud/pigment mixture as above for the spattering, I applied it with a stiff brush. The wires are to make the Dustbuster attach to the base on only it's two rear tires to give the impression that it's jumping.
Next up on my ever expanding paint-queue is the 1/35 scale Miguel Lopez/Nate Clowar Dustbuster produced by my kit production company: Industria Mechanika. I'll start this off with a video showing off the casting and my sample build-up with I've started painting last night.
Since I had to glue many of the parts together for the video, I thought I'd made painting more difficult for myself, but the reality was better than expected and it went very smoothly. In fact I've done everything you see below in a 24 hour period.
I started off by priming the parts (except the figure) in Dark Gray Duplicolor primer. I then sprayed them with Dark gray Tamiya Acrylic then mottled over that a custom rust-colored mix of Tamiya. Over that I sprayed a flat coat of Future and let that cure.
I let that cure overnight and then sprayed the parts with Hairspray, sprinkled with salt, and then airbrushed on the blue custom Tamiya mix (or white for the tires) top-coat. After 10 minutes or so I began to chip away the blue paint with a brush and water. Below are the results.
Also I get the impression that those of you who don't have the kit think it might be tiny. I think it's pretty nice-sized really. Larger than a CD.
After chipping away the top-coat, I went back and hand-painted the engine (under the blue roll-cage frame) and other details. This was the part I thought would be difficult, but it went quite smoothly. I just used thin paint and a long thin brush. I masked the hub-caps with Parafilm M and sprayed the tires black. I still need to properly attach the photoetch mesh "windshield".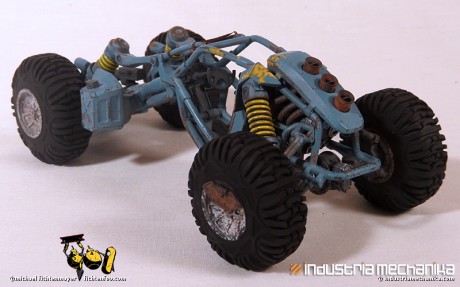 Next up I will do some filters and discoloration. I'm really looking forward to adding the mud and dust!
I'm also painting the figure. I started off with spraying a thin dark-tanned flesh mix over a white base-coat.
Over that I brushed a lighter flesh tone of oils over the raised spots of flesh and blended them into the base coat. Added a little bit of wash to the edges/recesses and some red to the lips, cheeks and ears. I'll do this one more time when this coat is dry to further highlighting. He's got a lot of details so I'll have a lot to paint. Also VERY TINY!!!!!
And lastly, I started work on the base. This is a simple cheap wooden jewelery box I picked up at Michael's Crafts. I use these a lot and they come in different sizes. I carved this one with a utility knife and will fill the inside with foam before a layer of plaster and celluclay. The Dustbuster will be on two-wheels only on the base so that it appears to be jumping over the hill.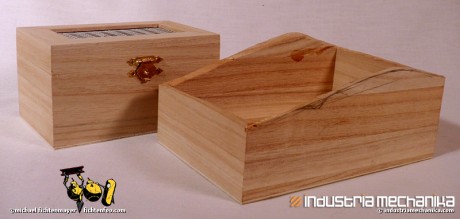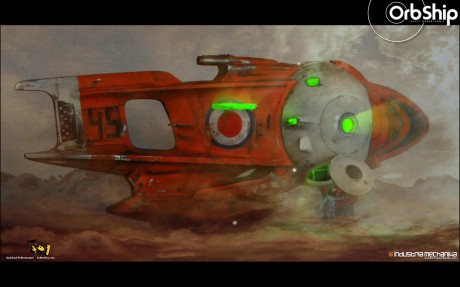 And she's done! I had a good time building this up, even though I had to put it on hold for months due to work commitments. The final photoshop wallpaper was especially fun. I used one of the dark photos to create it. The batteries are in and the lights are on in all of these images. I didn't want the windows to be overkill-glowing light spotlights, so I only used two bulbs inside of the ship (which is hollow by design!) and painted the insides with a reflective metal spraypaint.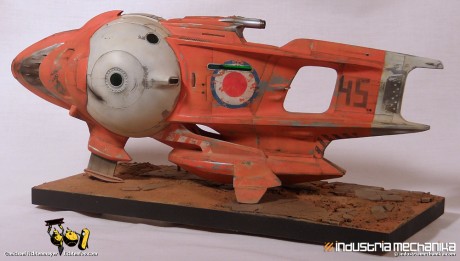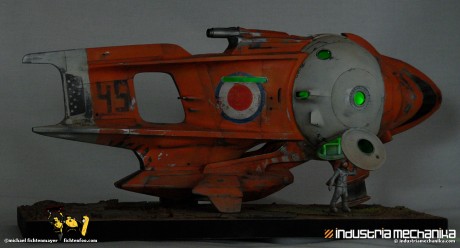 Nothing on the Orb Ship today since it's still drying. I want to make sure that the panel discoloration is completely cured before moving on to streaks. This gave me a good chance to start and finish the Martian base though. Lots of steps here I think so bear with me. Let's start at the beginning though and show the plaster/celluclay base I started with.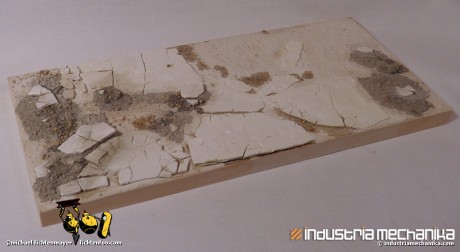 Next I sprayed the entire piece with flat black cheap-o spray paint. I noticed that parts where I used superglue (the darker spots on the above starter image) were remaining glossy while the "unsealed" plaster and celluclay was sucking up paint like a fiend, so I let it dry completely, masked the sidewalls with blue tape then brushed on a layer of Future Floor Acrylic to seal it.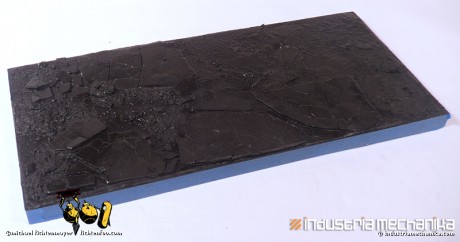 Next I drybrushed on some craft acrylics (Apple Barrel, Americana, etc…). I started with a warm dirt color as shown.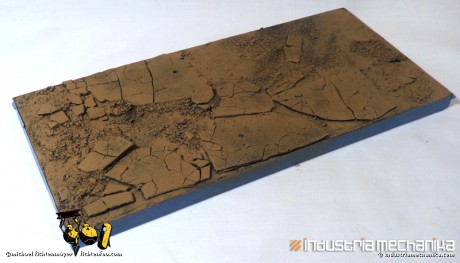 I did several more layers of drybrushing moving to a more yellow-orange dirt color. Then I made a wash of that color and applied it to the entire base, using a sponge to even out the brush-strokes. This got the sandy coloring into the crevases and mottled the paint so it wasn't so even. Then I used gray and black paint to pick out the slate and piles of rocks. When dry I did one more layer of the yellow-orange dirt color.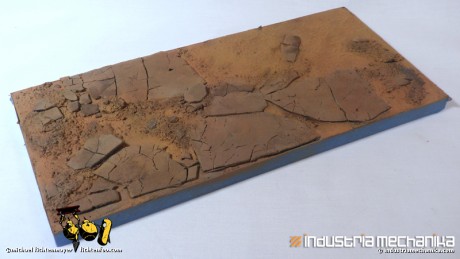 Next was meant to be the final step, but it didn't look right… I mixed some Martian colored pigments (Mostly MIG African Earth as their  "Martian Dust" pigment is too… red) with alcohol and put the mixture in my sonic cleaner to thoroughly mix it and keep it from settling while I airbrushed small amounts of it over the surface. The end result obscured the rocks too much I think and was too orange as compared to the reference.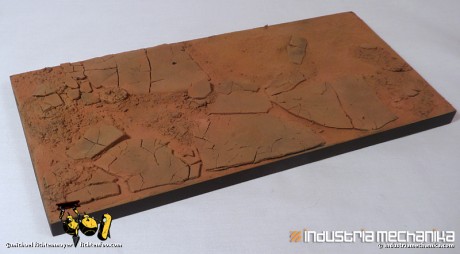 I went back and picked out the rocks more, mixed some European Dust and Beach Sand pigments into the mix and resprayed again, this time not as heavily. The result was much better, but the rocks looked too uniform still.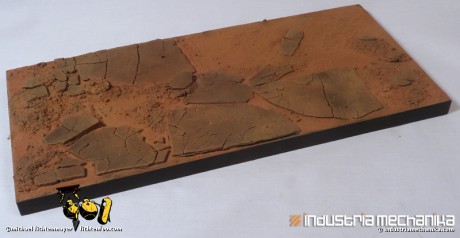 Lastly I went back and applied some light washes to some of the rocks to highlight them. I then sponged over them with some of the pigment wash thinned further with water. The end result is more like what I wanted… got a nice rich red-brown base with lots of variations in the tones so it's not all one color and bland.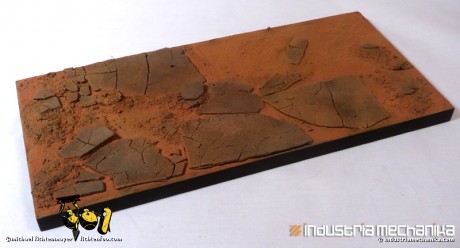 The photos are making it look more orange than it really is, but I'm happy with the result.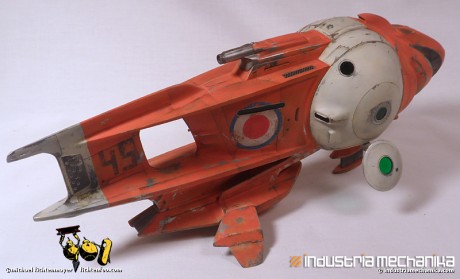 Moving right along… next up was filters, discoloration, and then panel shading. I went over all of these techniques in my Millennium Falcon youtube videos, so no point in re-describing it when you can check them out.

Here's the results: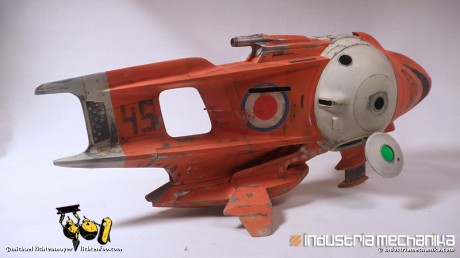 I also started work on the base. Tom Grossman of Tag Team Hobbies (one of my Industria Mechanika dealers) shared this cool image of the Mars Rover on Mars and since I'm a sucker for most things Martian in nature, I saved the image and decided to use it as reference for this base.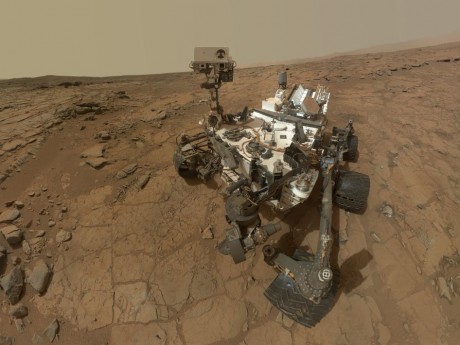 I started off with a 12 inch by 5 inch piece of MDF, then added thin basswood around the edge to make it look nicer. On the top I poured plaster and smoothed it over the surface. While wet I put thin sheets of plaster I had saved in my "terrain bin" onto it and sprinkled railroad talus. onto the surface for the loose rock.
When the base plaster layer was starting to set-up I shattered the plaster sheets with the back of a screwdriver handle and wet-sponged the smooth portions to give it some texture. When cured I took a stiff toothbrush and "eroded" the plaster sheets. Finally, I applied some Celluclay mixed with more talus and plaster sheet to the base for some higher terrain portions. Next for the base is primer.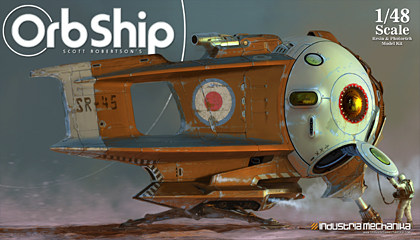 Almost 4 months later, but I'm back on this! In case you don't recall, this is the Industria Mechanika release of Scott Robertson's Orb Ship. The kit's 2nd edition is coming up so click here to get on the notification list.
After the bare metal base coat which was covered in a layer of gloss Future Floor Acrylic, I sprayed the entire kit with hairspray. When the hairspray dried I painted the entire kit white, let it dry a few minutes, then masked off what I wanted to keep white. What was left I sprayed orange, then removed the masking.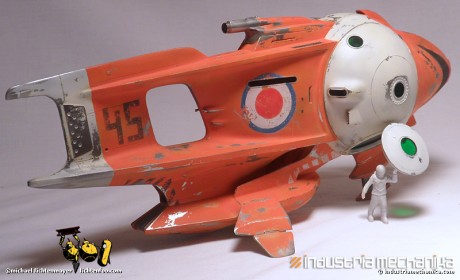 Next I used a wet brush and plastic/wood tools to chip away at the orange and white paint revealing the natural metal underneath. Then done I did more masking for the caution stripes, numbers, and the symbol on the side of the ship. Before painting however, I applies a little liquid mask with a sponge. That way I could easily rub away the mask making the new marking chipped with the base orange color showing through.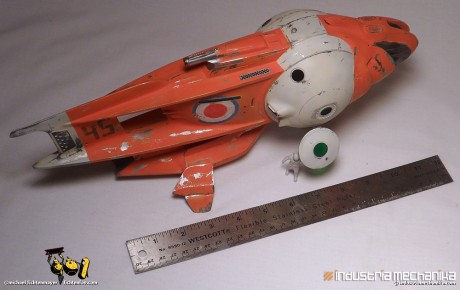 That's it for this update. Next I'll start applying filters and other discoloration steps. I took this last image with a 12 inch/30cm ruler to again give you an idea of the size of this ship. HUGE!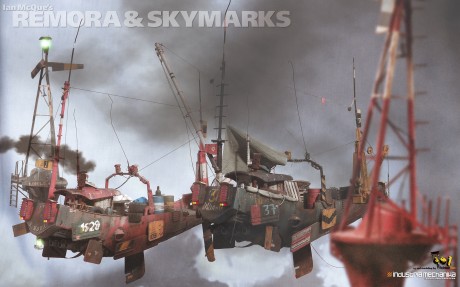 Sorry for the absence… all of my Industria Mechanika work has been keeping me VERY busy. I finally made some time to photograph these three Sky Mark buoys designed by Ian McQue and mastered by yours truly. Check out my Remora build-ups for more info on how these were painted and finished as I used the same techniques and steps.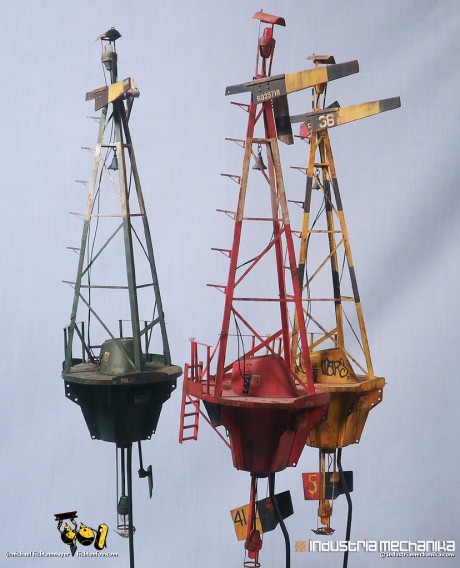 Order the Sky Mark here and save when you order 2 kits!
Next month I should be able to get back to the Orb Ship build-up as well as some other builds. Stay tuned!
Back to the Industria Mechanika Chompbot #5 for a bit now that I've made some time. Industria Mechanika keeps me crazy-busy! I recieved the initial canopy sample a few weeks ago and they're really nice. The original plan was vacuform, but that just wasn't working out. So we went with resin. Luckily the resin is super clear. A dip in some Future and it's like glass!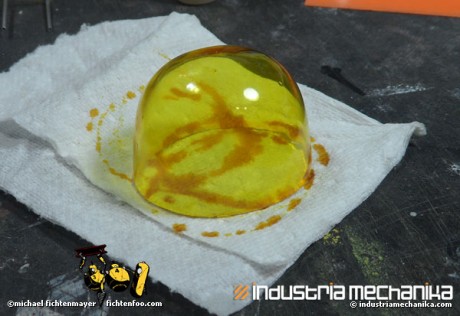 I tinted this one by filling it with some clear Tamiya Yellow then dumping the excess. Unfortunately there was some dried paint bits in the old jar of paint when I opened and stirred it so a few of them are marring the inside of the canopy with specks. DOH! If you try this, use a NEW bottle of paint because otherwise it works great!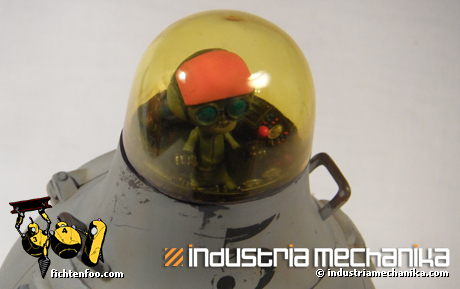 Since the Chompbot fights mutant vegetables as one of it's duties, I decided to make some for a diorama with the bot and chomp troopers. These were made from Sculpey and painted with Tamiya Acrylics and oil paint. Roots were done with Jute twine. I still need to make tomato goop w/ seeds as well as the leafy limbs.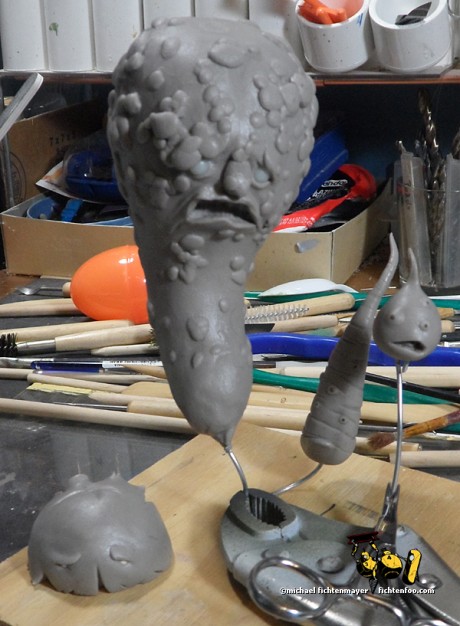 The gourd goop was made from cotton soaked in Tamiya acrylics and white glue. Seeds were made from Sculpey as well.
Next up I'll finish the Chompbot weathering and start on the basework.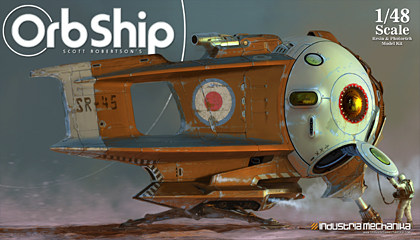 Hi all! I'm back again with another of my Industria Mechanika releases. For this project we teamed up with the famous Scott Robertson to create a model kit of his "Orb Ship" from the sci-fi art book BLAST. Let me start off by saying, that this kit is HUGE! It's about 4.5″ wide x 14″ long. There is 4 large resin parts with a bunch of smaller parts, photoetch, and laser-cut windows to complete the kit.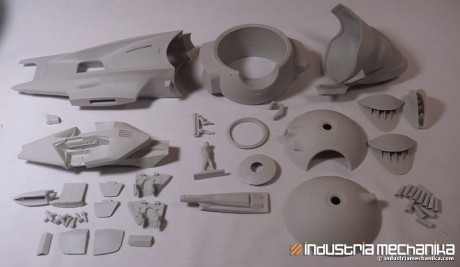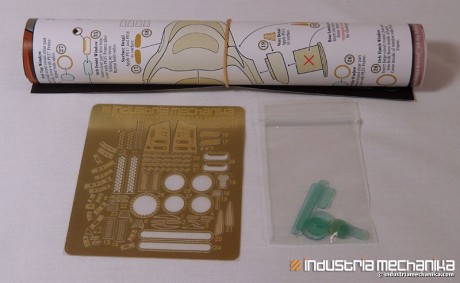 For this build I'm painting the kit like the box art for promotional purposes. So Orange, White and metallic chipping. To start off I constructed the kit and masked the windows with liquid mask. The kit goes together quite nicely and the laser-cut windows with photoetch frames are awesome and make those slight gaps which would otherwise be between the "glass" and resin disappear. (not that there's a gap with the accurate laser-cutting, but it still looks much better!) I also lit the interior which has a LOT of space for wiring/batteries.
When ready I primed it with dark gray Duplicolor primer.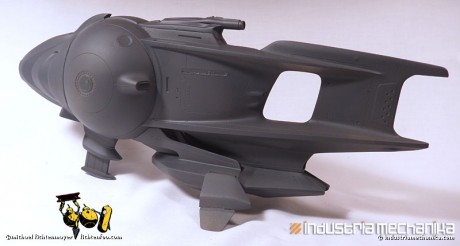 Afterwards I did my base chipping color. Normally I'd use a rust/gray tone for this, but since it's a space ship I'm making the chips be more metallic aluminum. For this I used Alclad II Aluminum and Jet Exhaust.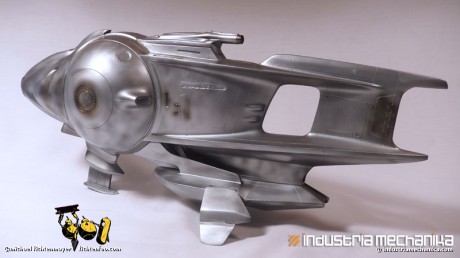 Next up, hairspray chipping!