Posts Tagged 'Dagobah' »
Here's the Dagobah progress to this point which might not look like much from last time. At this point the basswood sides have been cut and applied to the base with 5-minute epoxy. They were then stained with Minwax Ebony wood stain. Very nice stuff. It's a black stain, but lets the wood still show through. I think I'll be using it more in the future as I like the color. It's very good I think at not contrasting with what's above it. After the stain fully dried (24 hours) I applied 4 coats of Minwax Satin Polycrylic, sanding inbetween coats to make a very smooth, but not glossy surface to the wood.
Then today I used DAP white silicone sealant so seal around the edges of the exposed wood where the celluclay will touch later. This will keep out the moisture of the celluclay as it dries and hopefully keep the wood sidewalls from warping. A piece of clear plastic was added by Yoda's hut to seal off the small pool of water when it's poured but still keep the side of the water seen and interesting. Yoda's hut is somewhat painted but still needs further working to get the color and look correct. Here's pics:
The project is progressing nicely and at a halfway decent pace to boot despite the celluclay mistakes. I fixed all of the trees by making them thicker and that did the trick. They're all now dry and painted-up. All that's left is to mount them and add the finer vines and roots. I also made the wooded base riser today so that I can attach the basswood exterior. I screwed some 2×3′s under the MDF base then screwed a thinner sheet of MDF to the bottom to make a solid base. A hole was cut to add the LED tealight later for Yoda's hut.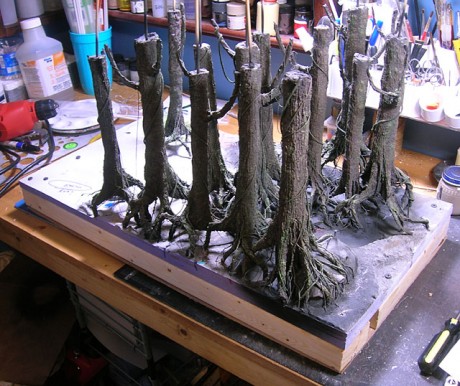 The basswood is now attached to the exterior via 5-minute epoxy and careful cutting/shaping. Later I plan to stain the wood with an "Ebony" (black) stain for wood. Since the client's display case is black and to not contrast the diorama too much I think this is a good choice for the color. Waiting on the go-ahead for that though… once stained, it's stained. I also purchased a 6-pack of LED tea-lights today which are very nice as they have a realistic flicker to them. I might "hack" one to run from an outlet to make it easier for the client. Here's a video of the tealight in action.
…and so does the other stuff.
Yeah… although some of you out there seem to think I am perfect at this (weirdos) you are sadly misinformed. I make mistakes, big and small, but in the end they all help me to learn and grow. Todays mistake is not a new one, in fact it's based on something I have a love/hate relationship with. Celluclay. Now I love Celluclay, don't get me wrong, but it does have a lot of drawbacks due to its moisture content. My usual issues lie with it warping wood to pulling up at the edges. These I have workarounds for. It would seem that every time I think I've finally got celluclays problems all figured out, it throws me a new one.
Celluclay shrinks when it dries. That's not a new or surprising issue. It is paper mache afterall and mostly water until dry so as the water leaves the clay pulls and shrinks. When I made the first trees there was some cracks on the thinner parts of the trunks. No big deal though as I've dealt with Celluclay cracks before. Just fill them and move on…. or so that's what usually happens.
Because I applied the Celluclay so thinly to such a smooth surface, the clay shrunk a great deal last night under the heater while drying some other trees. Not the new trees though. No… of course it was the ones I had already painted. AAAHHRRGGHHH!!!!!
So what can I do to fix this? Well, I took a good look at the trees and noticed something. The bottom of the trees where the clay was much thicker did not crack at all. The parts where it did crack were really paper thin. Okay… that gives me a solution, but not one I really wanted to do. Basically I needed to add a second layer of celluclay to all of my trees. Doh!
So I did just that. The completed trees now have a 1/8″-3/16″ thick layer of celluclay on the trunks applied over the first layer. In fact I applied cellclay to a couple new trees today and fully plan that to be the first layer and to add an additional thicker layer tomorrow or whenever it's dry. The trees I made yesterday got another coat as well.
In the end it's a few hours more work, but it would really suck if this happened later after I gave it to the client. Better to have it break now and early in the process where I can problem solve. I debated even posting about this, but I figure that someone out there will eventually look at this build as an example for their own trees and possibly have the same problem. Now they'll have a solution. At least I hope so! The new clay layer has to dry yet.
Here's the first 5 trees all painted up and below is the process. After I mount them and apply the base celluclay/groundcover I'll use shredded strands of Jute for even thinner roots and vines.
Flat Black Spray Paint (the cheap stuff… 96 cents at Wal-Mart)
Airbrush water-thinned Americana "Raw Umber" acrylic. A ratio of 3 parts water to 1 part paint.
Airbrush lightened Raw-Umber (added Slate + White) from top down for texture shading.
Drybrush with light wood mixture of cheap acrylics.
Very thin wash (filter?) of brown acrylics.
Drybrush of Medium Hauser Green + Acrylic Varnish for moss/slime growth.
Also shown is a HUGE drying box I made to speed the drying time of the celluclay. I have a smaller one that I usually use for figures, but this 13″ x 24″ base would not fit in it. I made it using a 2×2 and "cull" lumber from Home Depot for under $2. The cull wood is just the ends that have been cut off. There's MDF, Plywood, 2×4′s… my huge sheet of MDF… about 2×3 feet was only 51 cents.
After my last update I painted the entire wood base in a bright purple exterior paint then a light coating of Krylon Fusion textured spraypaint. Why would I do this? Well the exterior paint was leftover from painting my daughters deck chair which I had stripped of it's old chipped paint and well… that's another story. The paint is good enough for outdoor wood so it's good enough to seal the MDF from the warping moisture of the celluclay. The texture paint helps give the surface tooth in order to hold the celluclay in place on the base. Yoda's hut was also primed and the interior was painted in "trail tan" acrylic paint before I seal it to the base. Also shown is a pic of the 4 sheets of unfinished thick basswood I'll be using for the side-walls of the base.
Today I made three more trees, but not before noticing a potential problem with this layout. Nothing visual as I think it's going to look great in the end, but the issue lies with the density of the forest and the ability to paint the undersides of the trees. See getting a brush, let alone an airbrush ro spray under the trees and many future roots and vines will be very difficult. So for the first 2 trees which are already mounted in place, I've brush-painted their undersides with thin very dark-brown acrylics. For the three new trees and the 7 more I've yet to do I'll need to attach most of the roots and vines and paint most of each tree (except their mounting points) before mounting them to the base.
Not a huge problem, but I'm glad that I discovered it now BEFORE mounting more trees.  Especially with todays progress where the additional main support roots of the trees intertwine, overlap, wind around, etc… Creates a very cool look!
Tomorrow after the celluclay dries I'll add additional celluclay to the un-covered roots and make the rest of the branches that extend from the main trunk. Each tree will only have one or two additional limbs. These are tall trees so for the most part the limbs would be further up the trunks as depicted in my refs. Then perhaps I'll be able to add the first of the wire roots and vines. After that add more texture with modeling paste, spray-paint them in black to prime, then airbrush them a dark tree brown/gray before drybrushing to bring out the detail.
It took me a bit to decide just how I wanted to do the trees. My first idea was to mount CPVC in holes and cover them with celluclay/sculpy/whatever. (cpvc because it has a higher tolerance for heat in case of my using sculpy)  Then while doing a plethora of research I realized that the Dagobah trees trunks do not start at ground level, but instead their thick roots create a lattice similar to a mangrove swamp holding up the trunks. Okay… a challenge. Marc Reusser gave me some ideas involving Balsa, but the roots were still a problem and Balsa in the amount I'd need would be cost prohibitive anyway. I'll file that idea away for another time.
What I'm doing makes use of the cpvc and wire I already have. Plus I have a TON of celluclay so I'm making use of it as well. I cut the pipe into roughly 9″ segments and stuffed the bottoms with raffia-wrapped wire for the root armatures. Then I posed all the roots and trees in place on the base and applied celluclay to two of the trees as a test. These look really good so far and will only need a little additional texture plus a lot of random vines and roots made from wire and thread.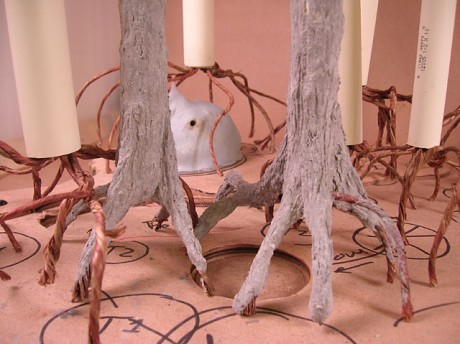 Here you can see the entire "forest" of these trees. You can also see the levels I made with additional MDF board. These levels were screwed into place and will later be covered with a thin layer of celluclay for texture.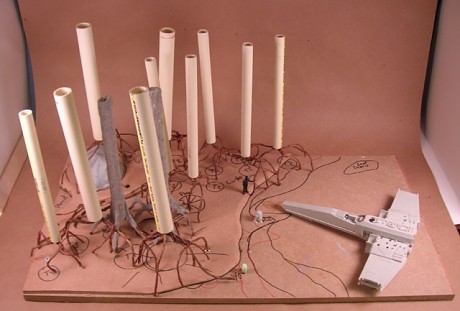 Twisted wires will be just one way I plan to make all these roots. For the thinner ones I'll use teased out jute twine that I usually use for tall grass.
I have a new commission project that I've decided to start while working on my Pumpkin Girl figure. My client (who also bought my Slave 1 kit) wants a large 1/48 scale diorama of Yoda lifting the X-Wing from the swamp as seen in the Empire Strikes Back. I'll be using the 1/48 scale Fine Molds X-Wing and included R2-D2, but everything else (Luke, Yoda, Yoda's Hut) needs to be created from scratch. In this scene, Yoda and R2 will be on the shore while Luke comes out of the trees (after his little hissy-fit) to see the X-Wing floating through the air. The X-Wing will be held aloft by clear rod hidden in streams of water drips.
To start the layout process I asked at the StarShipModeler forums what the size of the 1/48 X-Wing was while waiting for mine to arrive. Once I had that info (27.5cm long and 23cm wide — thanks robiwan!) I was able to rough out the approximate dimensions of the base which is going to be 13″ x 24″. I took a large piece of drawing paper and made a rough layout in red marker. Later I added changes in blue. We needed more room for the X-Wing to "land" even though in that scene there doesn't seem to be any. Cinema magic!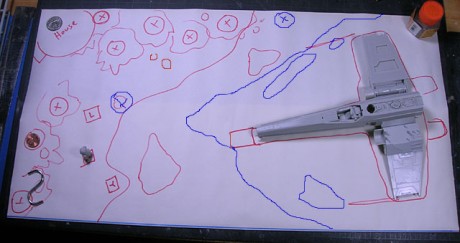 I figured that aside from putting some of the X-Wing together, I should make Yoda's Hut and that would help with the overall layout. According to some Star Wars books I didn't buy at Barnes and Nobel, Yoda's Hut wasn't anywhere near this scene, but the client and I agree that it's too cool not to add in there.
I started by making some sketches in-scale using the R2-D2 figure as a size reference as I have several images of him at the hut.Then I looked through my "elementals" bin and found some easter-eggs and what I can only assule is some leftover Bondo I put into one. I taped and foiled them together into a shape about the rough size of the hut.
Next I covered the entire structure with some more foil then a thin layer of Sculpy III I had leftover from other projects.This was done rough as later I planned to thicken  and texture it.
I baked this part then removed the bondo/egg core. Then I began to add the detail of the structure such as the door and side-room.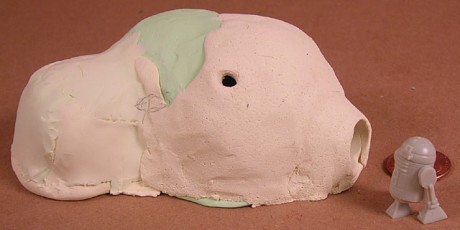 Lastly I ran out of leftover Sculpy III so I went to Michaels and got a large block of Super Sculpy. It's okay. I've gotten some tips today to make using it better. I used this new sculpy to create the rest of the hut texture and detail. Later I'll add the roots that cover it as well as more texture with Mr. Surfacer.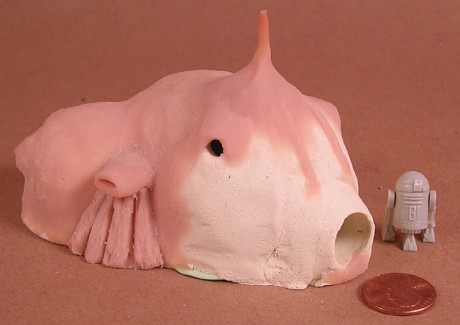 Now that the hut is pretty much constructed I used it and the partially-built X-Wing to once again rough-lay out the scene on some 1/2″ thick MDF. Next I'll use more 1/4″ MDF to build up the layers. I want this to be strong as it will be traveling a few hundred miles to its final destination.