Posts Tagged 'Copper' »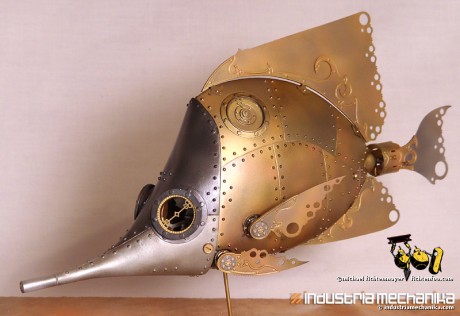 Moving right along, I painted all of the little details that needed done by hand. As you can see above, I tacked most of the kit together temporarily for photos.
Here is the Long-Nose shown with my original Fantastical Fish-Shaped Submersible build for size reference.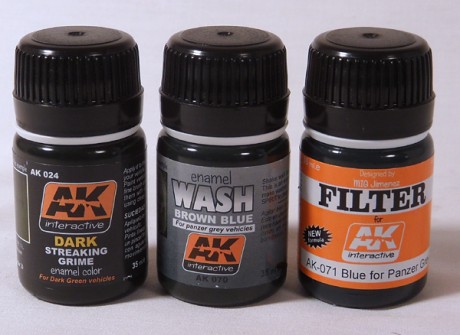 Now onto the dreaded weathering. When I started weathering the original copper sub, I was innundated with emails and forum posts saying "don't do it!" However, I like things to have a nice aged look… I love rusts and patinas and any opportunity to replicate one is a good thing! To start out, I airbrushed VERY thin mottled layers of the following AK-Interactive products:
Dark Streaking Grime (dark brown-green), Wash: Brown-Blue (muddy blue-green color), and Filter: Blue for Panzer Grey (dull blue). These are enamels so I made sure I first coated the fish in a coat of semi-gloss Future Floor Acrylic to keep it from interacting with the enamel metal colors.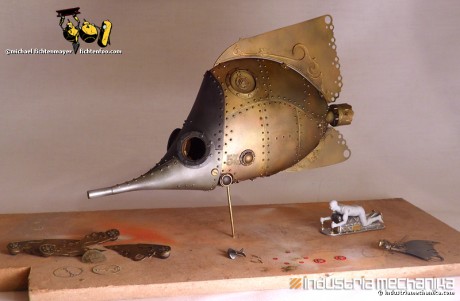 I then took a deerfoot-shaped brush wet with odorless turpenoid (because it's easy on the enamels, not strong or damaging) and tapped/blended the thin filter layers on the surface. This breaks them up and makes them look mottled, more natura, and also helps them act like a wash of sorts.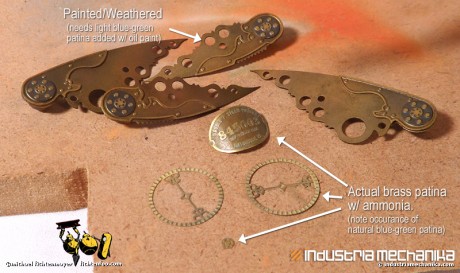 For some small photoetch brass parts I didn't use paint and instead suspended them in a jar with a little ammonia in the bottom. The fumes help speed up the natural patina process giving you a nice blue-gray patina as opposed to some products that will act as a blackening agent for brass. Both ways are good, just make sure you use whatever one is appropriate for the task/look at hand. YOu can see that my painting looks very similar to the natural brass patina except for the light blue-green areas. Those I'll need to add with oil paint next.
Also shown is the little PE brass valve wheels and the painted white metal propeller.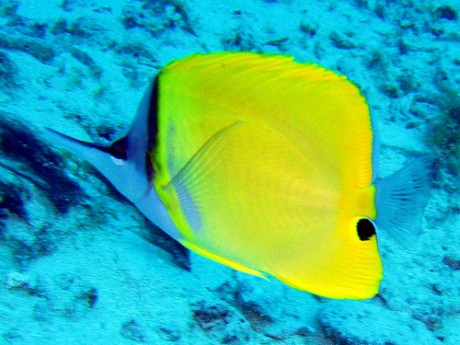 Moving right along, I've been working on the brass paint and base-tarnish/panel definitions. I'm painting this similar to the real Longnose Butterfly fish that it's design is based on, but in bare metal tones. I use a multi-stepped process for this brass finish and as usual with bare metal, it looks better in person, but the final photos should show it off nicely, just like my original copper fish.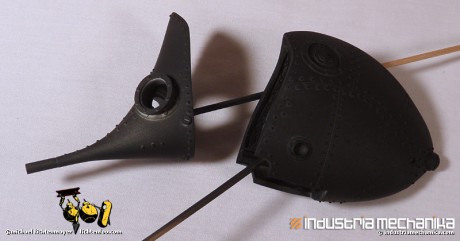 First up was a coat of Dumplicolor Black primer. Simple enough!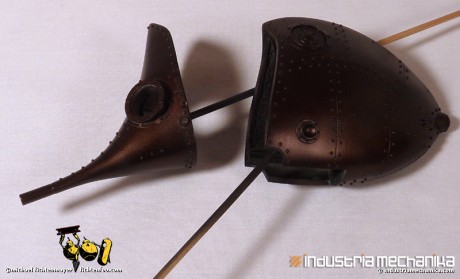 Next I sprayed on a base coat of Alclad II Jet Exhaust and let it cure overnight.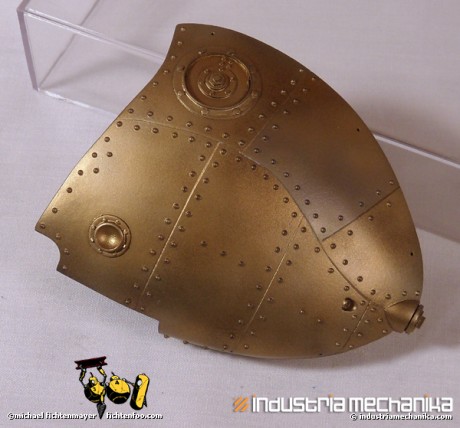 Next up is a fine misting of Mr. Metal Color Brass. This was then buffed with a soft toothbrush. As you can see on the top center panel, I masked it and started the panel discoloration…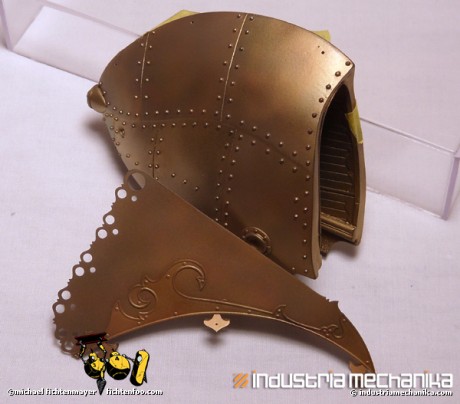 The prepped brass-painted panels, masked off 1-2 at a time, were sprayed with a random mottling of the following paints in this order:
1: Tamiya Clear Blue
2: Tamiya Clear Orange
3: Mr. Metal Color Copper
4: Mr. Metal Color Brass
5: Mr. Metal Color Brass + Iron 50/50
This if done in a nice random mottled pattern will give the look of heat-tarkished brass with a rainbow of colors like a wet oily road. It's hard to photograph however. When doing the panels, try to make the panels that touch not match to make them look varied.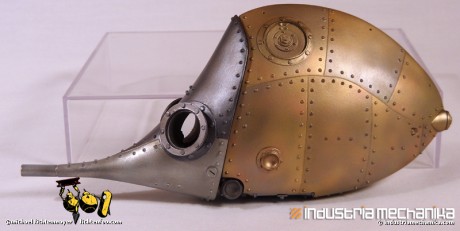 The lower nose was sprayed with Mr. Metal Color Aluminum, buffed, them misted with Tamiya Flat White then buffed again to give the look of patina'd aluminum. The top was misted over with Mr. Color flat black, then Mr. Metal Color Iron, then buffed.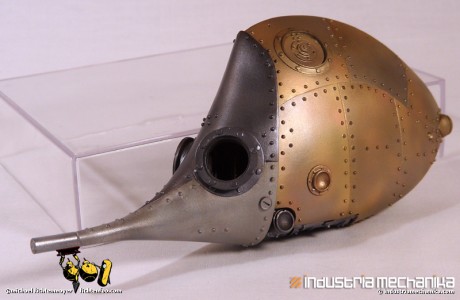 Next up I'll start picking out details and painting the interior.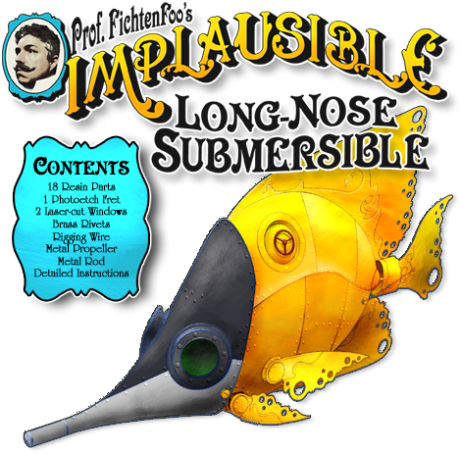 My new steampunk Fish Sub model kit is about to start shipping for those that preordered it, but meanwhile, the caster sent me my advance copy to start building up. I did my last sub design in copper, but this one is begging for brass since the real fish I based this on (The Longnose Butterfly fish) is mostly yellow.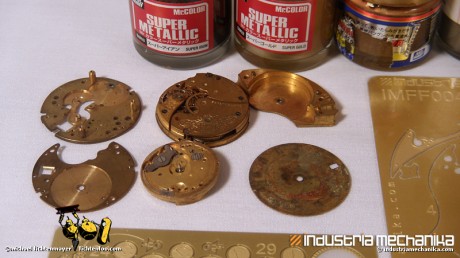 I started off by gathering some old brass watches in my collection to use as paint reference. What's great is that the tones of brass are quite varied even without the patinas and staining. The kit comes with the brass photoetch I designed for it, but the sheet-brass has a natural grain to it that makes it look out of scale. So unfortunately I'll be painting most of the etch as well, but the good news is that it'll match the rest of the sub better which in the long-run is ideal. I like that in the watches, they're not all brass. There's other gray metals (stainless steel?) in there as well which will help to break-up the brass tones.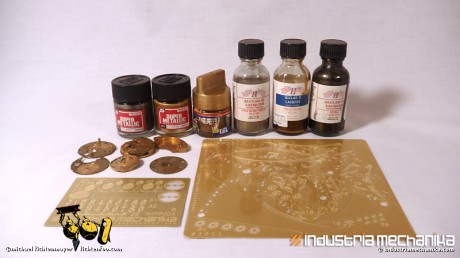 Along with the reference I've pulled out a plethora of brass and gold-toned paints from the shelves. I'll use these straight from the bottle and mixed with silvers and coppers to adjust and vary the tones so that the panels have some nice variance to them. Just like I did with the original Fish Sub.
The brass photoetch is pretty easy to work with. Simply use a razor to snip the parts from the sprues and lightly sand the nubs down. Lightly sanding the entire sheets before cutting as I did will allow for better glue and paint adhesion later.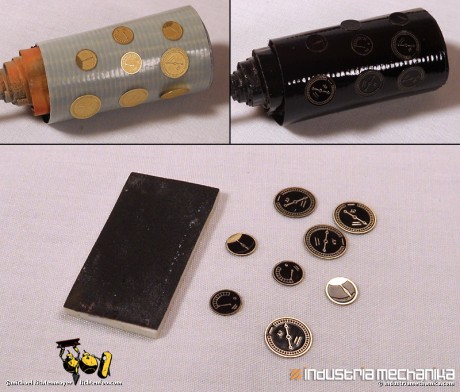 Let's start with the brass gauges. Cut then from the sprue and stick them to some reverse rolled tape. Spraypaint them in whatever color you choose for the recessed faceplates. I used cheap gloss black spraypaint. Let dry then lightly wet-sand the faces on some fine grit sanding film glued to a styrene block to reveal the raised brass. Really simple and nets some attractive results.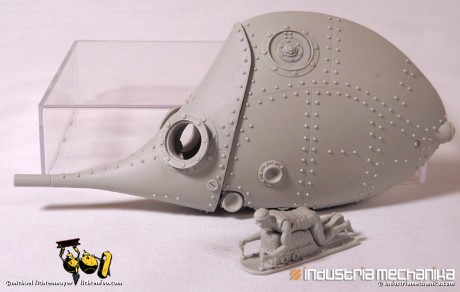 The resin is cast in Industria Mechanika's typical light grey which makes cleaning it up easier than the plain white or cream colored resins. Clean-up is a breeze however thanks to some great casting. The pilot figure turned out especially nice. Overall minimal sanding is needed and so far, no putty!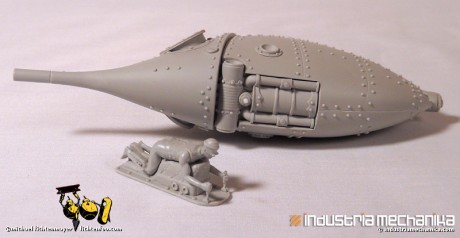 The figure gives you a good idea (if you're familiar with 1/35 scale) of the size of the Fish Sub. For those that are not, nose to tail the sub measures a little over 8.5 inches (21.5cm) long.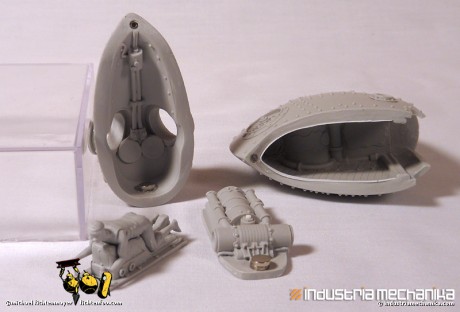 I decided that since this is a promo build-up for shows and such, I wanted the head to be removable to show off the inside. This was really easy since the head fit is VERY good. I used several neodymium magnets (small, but crazy strong) to keep the head in place.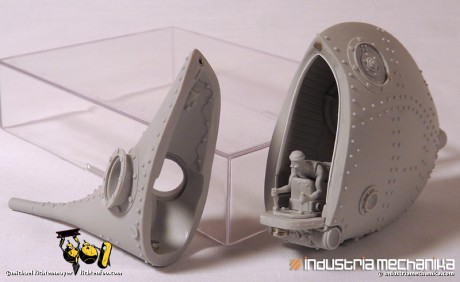 There was a hair of light that could be seen yet which bothered me so a thin strip of styrene embossed with rivets (nail pushing on the reverse side) was added on the rear hull inner seam. This will block any light bleed. As you can see from the first pic of the resin above which the magnets are holding in place, the fit is really good. Nice amount of interior space on this one.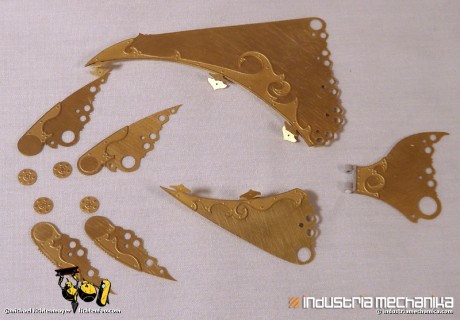 The layered photoetch brass fins are my favorite part of these subs. The side fins are 4 parts each (unless you also use the optional riser as shown below) while the other 3 fins are 3 parts each. A main fin shape and 2 decorative brackets. The dorsal and anal fins have holes in their brackets where a brass rivet included in the kit can be inserted to secure the brackets to the hull. These brackets need a little bending to get them in the right position, but that's relatively easy.
Above is a 3-part riser that one can use to make the pectoral fins stick straight-out like traditional dive planes on a submersible. Otherwise you can skip these and have them look more fish-like and to the sides as I'll be doing.
Next up I'll be starting to paint the interior.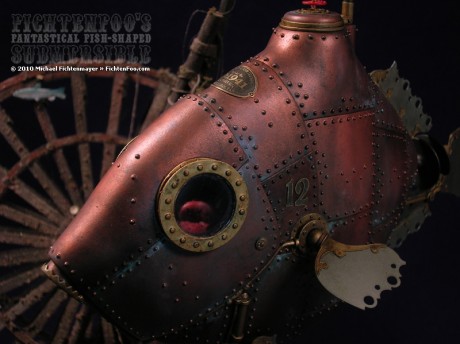 Without further adieu, I present to you FichtenFoo's Fantastical Fish-Shaped Submersible! Enjoy the pics of my finished sub as they're the best I've ever taken I think. I didn't even need to color correct which is a total bonus. If you're interested in getting on the list to order the early 2011 3rd Edition, click here. The 1st Edition is sold-out and the 2nd is reserved and then some. Thanks to all of you that helped make this possible and ordered the 1st two runs of subs.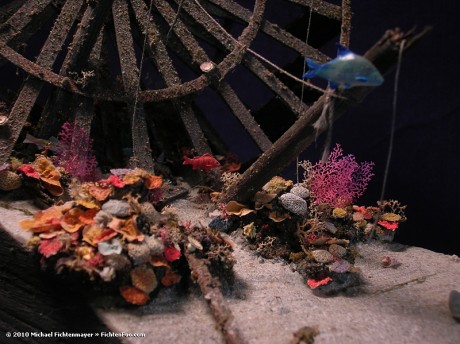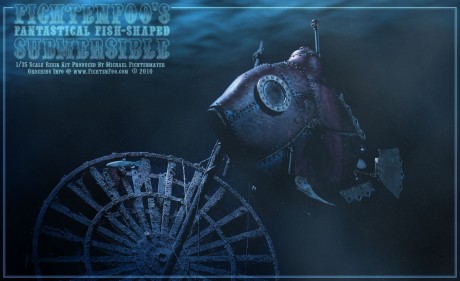 My paint arrived! So I was able to paint the fins the metallic greenish color I wanted. I achieved the color by mixing Mr. Metal Color Aluminum, Bronze, and Brass. Once that was done, I was able to build and affix the fins to their various mounting points and start the much debated weathering.
Some folks wanted me to stop after my last post because let's face it, that was a beautiful copper finish. I was torn, but decided that I'll build another fish later and make it shiny since I already have the mounting hole on the side of this.
To start off, I applied 502 Abteilung oil paints with a brush randomly with odorless turpenoid. While still wet I dabbed them with a piece of sponge to remove brush strokes and give it more texture/random splotchiness. After it dried a bit I applied a semi-gloss coat of Future over everything. The colors used for this step were: German Ochre, Dark Rust, Wash Brown, Industrial Earth, Faded Navy Blue, and Shadow Brown. (red pallet below)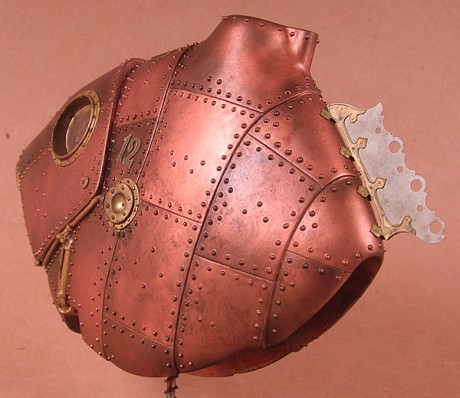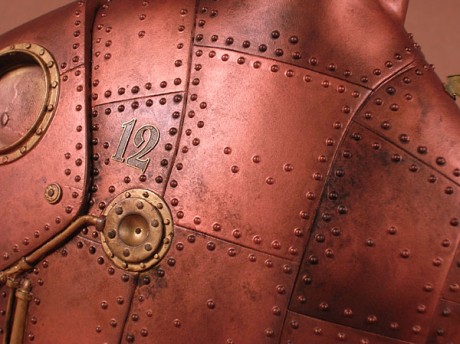 After the clear-coat cured a bit (3-4 hours) I used more 502 Abteilung oil paints (blue pallet below) to apply the random splotches of blue green patina. For this I did a combination of the discoloration technique and the aforementioned sponging. The colors used for this step were: Faded Navy Blue, Gundam Blue, Faded Green, German Grey Highlight and Snow White. I used the faded green, german grey highlight and gundam blue to mix up a base patina color as seen in the pallet paper I used below.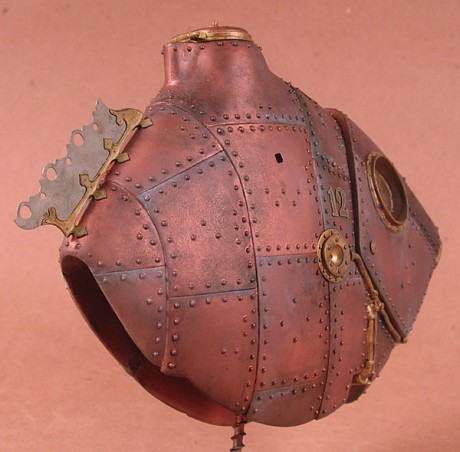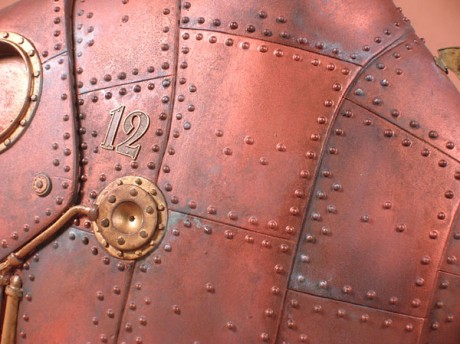 Again, I'm pretty happy with the results. The patina colors look better in person so I'll try to take better pics later. There's more depth and vibrancy to them than seen here. Tomorrow I'll give this a satin coat and do some pin washes to deepen some panel lines. Below is the scrap of pallet paper I used for the oil paints. Read above for what I used.
Today I masked and painted the brass details on the fish. I used Parafilm 'M' for the portholes and fin mounts. All I've left to paint are the fins themselves, but I'm waiting on a paint order. I really like how it's looking at this unweathered stage and am considering building another just like this, but putting it on a base as a display in a late 1800′s world fair.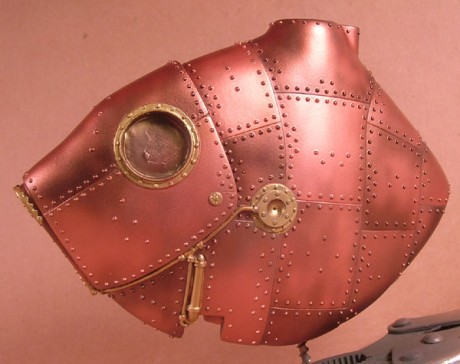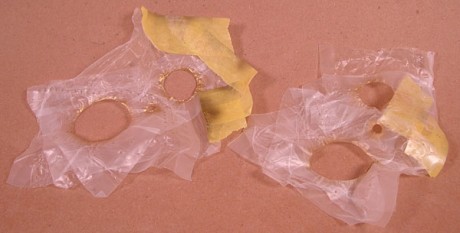 While typing out that copper test tutorial, I was also masking and painting the copper portions of the fish sub. Before that however I painted the engine and periscope. I started out by painting portions of the engine and periscope in Mr. Metal Color Bronze. I buffed these parts with a toothbrush, gave them a satin clearcoat of FFA, then masked and airbrushed most of the brass. After removing the masking I hand painted portions of the brass (and copper pipes) such as the trim of the big ballast tank and other smaller details.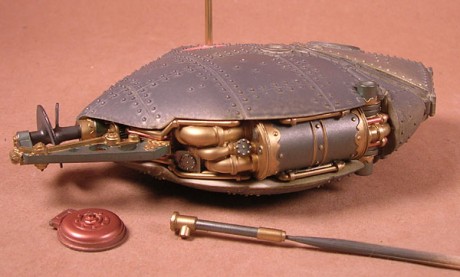 I set these aside and began work on the main copper-clad fish submersible body. The painting is based on a colorscheme which I posted on the FichtenFoo facebook page a few days ago and now seen below:
You can see that my intent is to make some of the copper panels lighter and darker and in various patina-forming stages adding more depth and shading to the sub. The fins will eventually be some sort of tarnished brass/bronze alloy. At least that's my barely feasible explanation as to why I want them that greenish brass tone. Mainly I just think it looks nice.
After finishing cleaning up the mounting rod hole I gave the sub another coat of dark gray Duplicolor primer, then a coat of the green self-etching primer.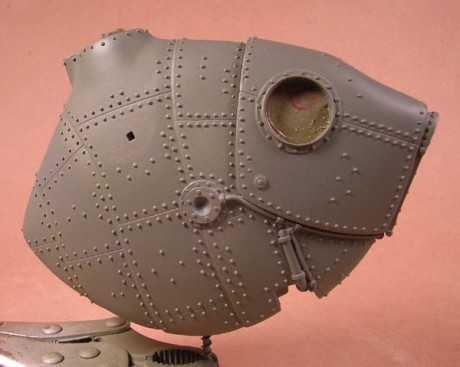 Once cured I airbrushed on a mixture of Alclad II lacquers I call "bronze". It's a mixture of Steel, Copper and Aluminum which I first mixed up years ago for the Briegel. This gives me a nice dark metallic base to start from.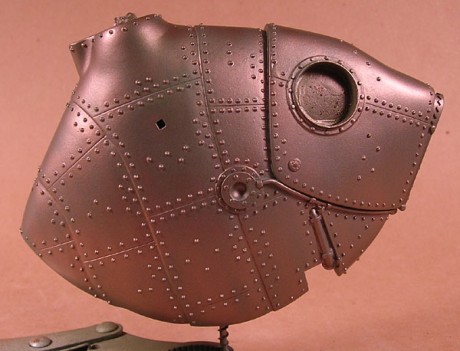 After the "bronze" dried I masked and randomly airbrushed on in vertical streaks some Alclad II copper which is pretty dark. Over that I streaked on some Mr. Metal Color copper which is a lighter tone and buffable to make it very shiny and natural looking.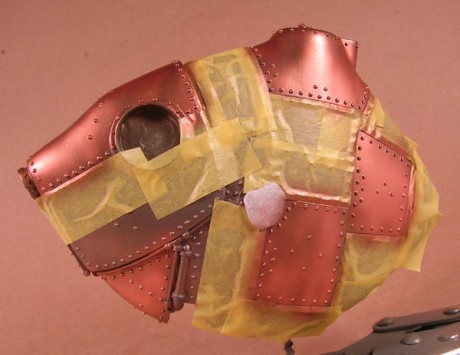 Here it is at the first stage without the masking. It's an interesting look, very cool for another project, but only halfway done for this one.
More masking and color applications and I got it to this stage. It's hard to see the streaking and panel tone changes however in the image. Still not quite there however…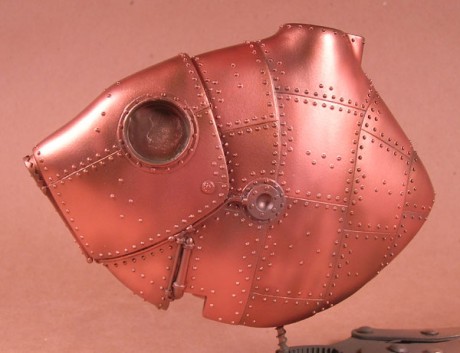 I wanted the panel color changes to be better defined so I masked again and over-sprayed some Alclad II Jet Exhaust. You can now see the improved panel definition.
And to show it off better, here it is in different lighting:
Next I'll air and hand-brush the brass onto the porthole frame and other pipes and fittings.
This is going to be a long one… I've been thinking a lot about copper finishes lately for my Steampunk Fish-Shaped Submersible product. While considering how to achieve the look I wanted I realized that I have a LOT of copper products. Not sure why… maybe I'm looking for the perfect copper or just love metal finishes. Either way it'll make for an interesting tutorial. Here's a photo of all of the copper products that I have. (or at least those I remembered)
There's Copper leaf, Sophisticated Finishes Copper Patina set, Apple Barrel "Pure Bronze" (looks like copper), Tamiya Acrylic Copper, Mr. Metal Color Copper (there's also a Mr. Color Copper that I haven't tried/bought), Alclad II Copper, Hawkeye/SnJ Copper Polishing Powder (they also make a paint that I've not tried/bought yet), Mig Productions Fantasy Pigments Copper, PearlEx Antique Copper and Sparkling Copper, Autumn Gold (copper) Rub n' Buff, and of course copper sheet, rods and tubing.  I've tried every one of these for one project or another. Every one is useful in some way, but combined they make some great colors.
Here's a bunch of swatches that I made tests of the above on. These tests are to create a realistic looking copper with patina. Patina is a fine coating of oxide which forms on the surface of the metal when exposed which protects the surface from weathering. Here's a link to the oft mentioned Future Floor Acrylic clear-coat mixes.
1:  Sponged on Apple Barrel-style acrylic paints. Used Regency Blue, Bright Blue, Green Sage and White. Then dry-sponged  white streaks vertically. Then applied Hawkeye/SnJ copper powder with finger. (doesn't show up, not great look anyway)
1:  Sponged on Apple Barrel-style acrylic paints. Used Regency Blue, Bright Blue, Green Sage and White. Then dry-sponged  white streaks vertically. Applied Autumn Gold (copper) Rub 'n Buff mixed with a touch of black oil paint using a somewhat dry-brush. Airbrushed flat coat of Future Floor Acrylic.
3: Primed with black spray paint. Painted with thinned Autumn Gold Rub 'n Buff thinned with Odorless Mineral Spirits. Mineral Spirits started to eat primer unfortunately. Buffed with cotton t-shirt rag.
4: Primed with black spray paint. Airbrushed on Alclad II Jet Exhaust. Airbrushed on Alclad II Copper in a mottled light pattern.
5: Primed with black spray paint. Airbrushed on Alclad II Copper.
5A: Track Brown Mig Pigment blended in with Odorless Turpenoid.
5B: Coated half of #5A with Gloss Future Floor Acrylic.
6: Primed with black spray paint. Airbrushed on Alclad II Copper. Next a mixture of Zombie Green, Ashes, and Neptune Blue Mig Pigments was sprinkled/dabbed on with a brush. These were then blended with Odorless Turpenoid. Clear-coated with Satin Future Floor Acrylic.
7: Primed with black spray paint. Airbrushed with Mr. Metal Color Copper.
7A: Track Brown Mig Pigment washed on with Odorless Turpenoid. Next a mixture of Zombie Green, Ashes, and Neptune Blue Mig Pigments was washed on with Odorless Turpenoid. Coated in Satin Future Floor Acrylic.
7B: Coated half of #7A with Gloss Future Floor Acrylic.
8: Primed with black spray paint. Copper foil leaf applied.
8A: Bottom half of Swatch #8 was dipped in ammonia cleaner then left to air dry. I repeated this twice. A month later, the result is as seen. I love it, but I fear it's unpredictability.
9: Primed with black spray paint. Copper foil leaf applied. This was then soaked in ammonia cleaner for a few days in a patina/tarnishing attempt. The only result was clean copper and a slight dissolving of the glue under the leaf making it shrivel/warp.
10: Primed with black spray paint. Sophisticated Finishes copper paint sponged on. When dry the patina solution was applied. The effect and look are not so great in my opinion, but maybe I did it wrong. The patina solution on it's own works nicely on real copper though.
Here's more shots of the above in various stages of completion.
Here's some real copper (right) and brass (left) bits placed in salt water for 6 months as a test. Why so long? I forgot about the sealed jar!!!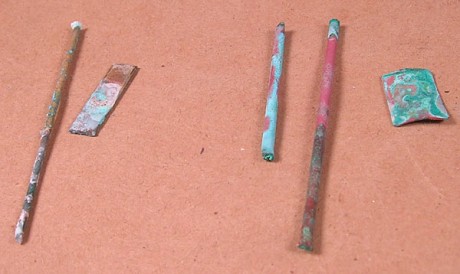 The method I liked best from my test is that seen in swatches #5, #6 and #7. I'll demonstrate this on the figure bust below:
Primed figure with flat black spray paint then airbrushed on Alclad II Copper. (above)
Track Brown Mig Pigment washed on with Odorless Turpenoid. Allow to dry fully then airbrush on a satin coat of Future Floor Acrylic mix. (above)
A mixture of Zombie Green, Ashes, and Neptune Blue Mig Pigments was sprinkled/dabbed on with a brush. These were then blended with Odorless Turpenoid. Finally it was clear-coated with Satin Future Floor Acrylic. (above)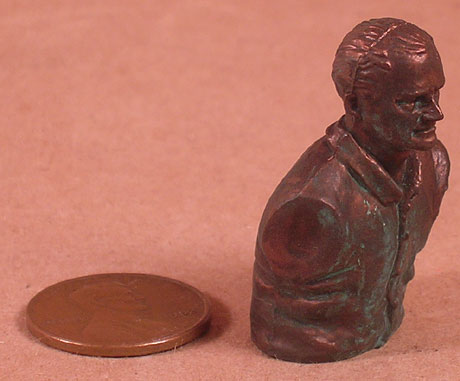 Side View… (above)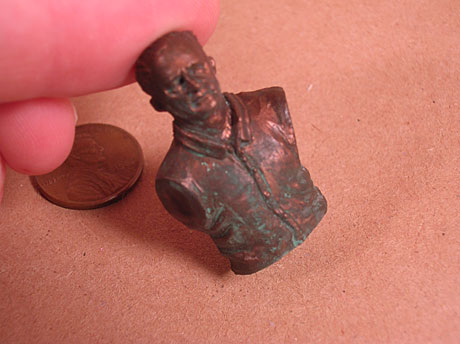 Another Angle… (above)
Watch my Fish Sub Build-Up thread for more copper techniques as I'll be documenting what I learned above as I apply it to an actual model. I'm sure there's more methods and products than those I showed above. If you got one, send me a pic and process. If you make a copper product, contact me and send me a sample to review! I'll add them to this post or if cool enough to an all new post.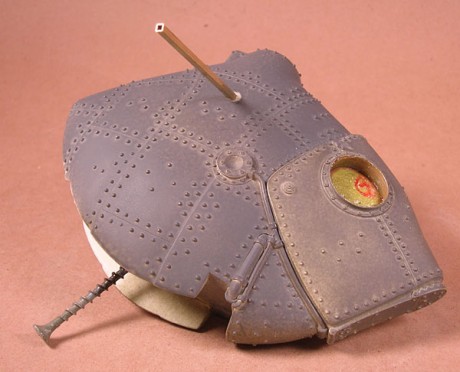 Since the interior was done I used some 5-minute epoxy to attach the head. Before gluing it on I masked the portholes with some tape and liquid mask from the inside. Both will be easy to remove later. I also drilled a hole for the mounting rod (square tube) on the side. I filled the hole with epoxy putty and inserted a tube of the same size as that on the base making sure it was oriented correctly so the sub looks level. Later I'll remove the tube from the sub (leaving a square hole) and sand that panel/putty flush. Then I'll be able to just slide the sub on and off the display base.
I also painted the foundry plate and unit numbers from the PE fret. I painted them with a few layers of Mr. Metal Color Bronze and Copper. Once dry I buffed them with a soft cloth and toothbrush which really makes this buffable paint shine as seen below. The foundry plate and left-most numbers 1 and 2 have been buffed. You can really see the difference in the color buffing makes.
Once the buffing was done I lightly sanded with 2000 and 6000 grit sandpaper to remove the upper layers letting the PE brass show through. I love the result. Also keep in mind the numbers are maybe 10mm tall.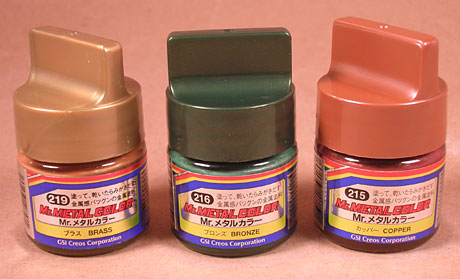 Yeah yeah yeah… I know! I've been slacking on the updates, but mostly because I haven't had anything TO update. I've been taking a modeling vacation and trying to recharge the batteries so to speak.I also had to pack and ship out the first edition of the Fish Sub which was awesome and time consuming as well. The 2nd Edition will hopefully be ready in a month or so. Woo hoo! Anyway, back to the modeling…
After soaking the sub in Purple Power to remove mold release I was ready to do the parts clean-up to prepare the kit for paint. The clean-up went well and I only had to replace a couple rivets. (which I included with every kit, just in case. Your welcome!) The parts are all well-fitting and I only had a few spots that needed special attention. The most notable is the largest PE gauge plate. It didn't fit immediately in it's place as hoped/planned. However it's a minor issue as all that needs done is to use a scriber to remove some material on the bottom of the two gauge tubes above it. Once a tiny amount of that is removed the face slides right in. The other part people had concerns about was the faucet knobs. To clean those up, simply rub the backs over some wet sandpaper until there is no more backing. The result is a knob with all the holes intact. The windows turned out very nice, but as usual with clear resin could benefit from a Future dip and some polishing to really make them shine.
I'm very happy with how the photoetch gauge faces turned out. I primed and painted them with a gloss black spray paint. Once dry I wet-sanded the faces with very fine (2000 grit) sandpaper. The reveals the brass underneath and leaves the black in the sunken areas. Then I gave them a couple Future dips to finish shining them up.
The interior of the sub needs painted first so after priming I painted it all with a semi-gloss white. Then I masked off the white in the head and sprayed on some Mr. Metal Color brass. I hand-painted the same Mr. brass paint on the other side of the interior. When dry I hand-painted on some copper pipe accents.
Once dry I sealed it with gloss then satin Future Floor Acrylic, then hand-painted the rest of the details like the read leather/wood seat and wood floor. Knob wheels were airbrushed with white then red and had a brass bolt-head hand-painted on. Finally everything was glued in place as you see above. Next I'll mask the inside of the portholes, glue the head on, and fill the little hairline gap around the head so that light from my LED (see above image) does not leak out. The rim of the LED is painted in brass as well.