Posts Tagged 'Clean' »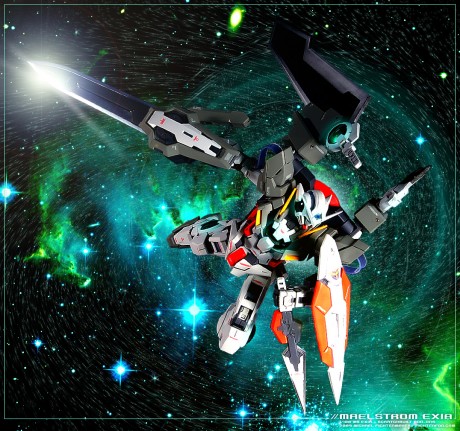 As soon as I was done with the Sinanju I started on this kit. The MG Exia as it turns out is a huge improvement over the already awesome 1/100 Exia kits. The way the parts are broken down makes for very little work as far as seams go.
I wanted to do something to take the Exia 'over the top' in a way and to add a "particle accelerator" ring around the GN drive. A modeler at my forum, Shin0bu, had made some for his 1/144 00 and they looked great. With his permission I used that concept for this piece. The addition of really huge GN blades mounted to the GN condensors gives it a winged appearance. Almost Wing Gundam or Seed like actually. Not intended but not a bad look for this.
I designed the Accelerator ring in Illustrator and had a friend lathe the shape for me from Ren foam. The foam is kinda pourus so I had to give it 3-4 coats of Filler primer to smooth it out, but the end result looks nice and smooth. After that I scribed some panel lines into it and added the notches and bead-holes.
The GN Drive for the "Maelstrom Unit" (going with the "avalanche" naming theme for that) was a leftover from my 1/100 Astraea combined with the drive hole cover that came with the MG. Using that cover as the back of the other GN drive made a REALLY stable mounting point for this backpack. Once the latches lock it in place it's as secure as can be.
The swords were made from styrene sheet and shapes. To make the beveled edge of the blades easier to create I used Plastruct triangular styrene strip glued along the edge. That saved me the enormous headache of filing the edges to be evenly sharp.The hilt was made from extra 1/100 Exia leg and sword parts.
The GN condenser boxes were based on those on the rear of the Dynames. They were made from various styrene sheets and shapes. The small yellow wings are actually better-looking covers than the hooks they conceal beneath that hold the swords in place. Unfortunately the swords are way to big to allow me to pose them nicely with the model. I like them looking like wings better anyway.
I wanted the paint scheme to denote the Rollout stage of the Exia during which it was probably put through its paces in various tests. The orange is Mr. Color Flourescent Orange mixed with a little Flourescent and Character Red. The blades are Alclad II chrome, the internals ar Mr. Color Iron, and the rest is mixes of Tamiya Acrylics. The base color isn't white, but instead a very light gray. That photographs better and looks less vibrant and glaring in person.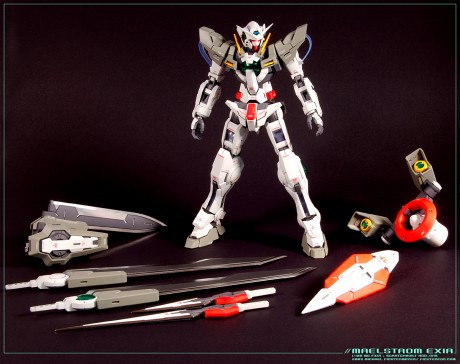 For the clear parts I was stuck with green. No big deal, but I'd rather have had the option of making them bluish-green. THis I found out though can be achieved as I managed to get a great color-shift effect on some of the clear parts, most notably the GN-Drive and the eyes/forehead sensor. If you paint them with clear-green first then spray them with a Future Floor Acrylic + Blue pearl powder mix it looks very cool. When the light hits it it looks blue. This only works though is the pearl powders are not behind the clear green, but are instead in front. After painting I dipped the clear parts in Future which gives them a super shiny gloss.
Enough chatter… here's the rest of the pics:
A little mental health kit while working on a plethora of other projects. I actually finished this a week ago, but just got a moment to post up the finished images. While the kit looks great in it's stock red, I've seen WAY too many red Sinanju in all it's forms, candied, gloss, flat, etc… So I decided to go with purple. I initially was going to go with a green similar to the Kash., but thought purple would look more Elite and fit this suit well.Metal bells were used as inserts for the sharpened and painted kit-bells.
I purchased this kit at Hobbywave.com and used lots and lots of option parts from Mechaskunk.com. including most of the bells and beads. I also used some bells and brass cable replacement from Ako Creations.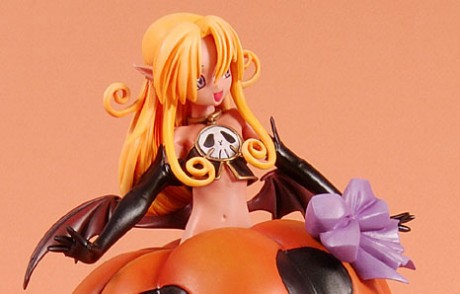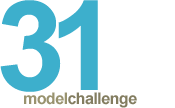 Here's my completed Pumpkin Girl fig for the 31 Days contest. I finished her with a few days to spare which was nice. I could had completed her quicker, but I realized that I don't really care for painting these anime girl figures. Deunan and Gally were fun since I really like the characters and they didn't have to be so clean.  This one though… meh… It was a struggle to pay attention to it and not shelf it throughout the whole build. But it's done and now I can focus on bigger and better things.
The base is a simple wooden box from Michaels filled with plaster for weight. The soil is made from celluclay covered in sand then painted with Raw Umber for the soil. Thread-wrapped wire and thin wire was used for the pumpkin vines. The leaves were cut-out by hand and then airbrushed along with the vines.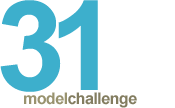 The painting continues. Below you'll find the flesh painted so dar. I need to do the eye and mouth detail on the face still as well as the black clothing/gold-top which will be next.
One thing I forgot to mention is that I've up to this point only used the 502 Abteilung oils from Mig Production to paint her. Actually I'm pleasantly surprised at how good they've been here. At first I thought they'd just be useful for weathering steps like discoloration and washes but the vivid colors I'm getting and smoothness is really great. They seem to be drying a little quicker than my cheapie "Winton" oils from Michaels. Last night I used a vivid purple "Winton" but that's only because Mig doesn't have that color.
The wings were painted with just mixes of Black and Primer Red. The flesh tone is mixes of light rust brown + white + a little orange (not photo'd yet aside from my tamiya flesh base coat). The pumpkin is orange (faded dark yellow they call it, but it's pumpkin orange I tells ya!), Luftwaffe yellow, and light rust brown and dark rust brown. I really like the quality of the oils as opposed to the cheap ones I usually use. I have the rest of their line on the way. They can be seen and purchased here.
Here's the latest pics. The first shows the initial flesh painting over the tamiya flesh basecoat. It was highlighted and shaded by adding white or light rust brown to the flesh mix. Then when it was dry I took some of my saved flesh mix, added some light rust brown and added additional shading. The bow was painted using 502 snow white and Winton purple.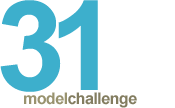 While working on the Dagobah Diorama I am also plugging away at the paint for this kit. Oils take a long time to dry, even with my drying box. (wooden box with a lightbulb for heat) At least a day and a half for each coat so it's a slow process. Even so I've managed to paint the pumpkin skin, hair, and wings. I also painted the base-coats for everything. You can see in the pics below the base coats for the gold and flesh-tone on the main body.
I'm enjoying the process of painting with oils. My main fear was that I wouldn't get vibrant colors for the hair and pumpkin but that's not the case. Priming in white then base-coating in the color you want helps a lot. Here's the pics.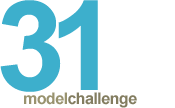 With the start of the 31 Days Contest this past Saturday I've been cleaning up the Pumpkin Girl kit. On first inspection the fit is molded nicely with very little flash and no bubbles. However on closer inspection and pinning the parts together you notice a few things. Seems like this kit had a lot of clean-up done by the reecaster before it even got to me. Some of the fingers, while nice are pure CA (super glue). Seems like perhaps they were bubbled away then filled or replaced outright with SGT. (superglue + talcum powder) Also some of the mold-lines have been sanded. Odd that they felt the need to do all this clean-up, but then again, all the better for their rep as otherwise I'd be a little pissed off about quality of the recast.
Once I started sanding away at the mold-lines (which aren't bad at all) and pinning her together I've noticed that the parts don't fit so good. But again, this is expected of a recast. Originals tend to fit much better. Again I might be annoyed, but my sculpting skills have improved to the point of my enjoying the clean-up rather than cursing it. I've been resculpting a lot of gap areas with Aves Apoxie Sculpt, an epoxy putty. After these areas cure I'll go back and sand them flush to blend them into their surroundings.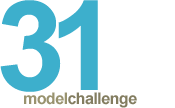 So FilmMkr on the forum said that he'd enter the 31 Days contest if some of us would make resin girl kits as our entries. (He does a lot of them and quite well as a matter of fact) Since the spirit of this contest is to try new things and expand our skills, and I had this pumpkin-girl Marisa kit in my stash, I agreed. I generally don't do many anime figure kits, in fact I've only done two (Gally and Deunan) and even those were painted in more of a weathered, "real figure" style.  I'm still not sure how I'll paint this one. Will it be oils or airbrushed or both? I have no idea what this figure is from even… I just thought it looked cool and I LOVE Halloween so I had to get it.
I can't start on this kit until 2/21/2009, as per the contest rules, but I can show what my entry will be. Also the rules state that we should show that the kit is indeed unstarted and well… I haven't even removed this from the bags yet! How's that for unstarted?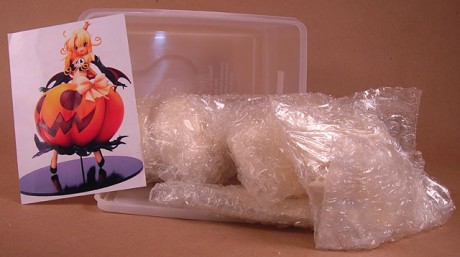 What I do know is that I'm planning a few mods for the pumpkin. The two halves are solid and the eyes/mouth are not cut-out. I think that it might look cool to cut-out the mouth and eyes and make the pumpkin look more like a real pumpkin as opposed to a dress. There's fully sculpted legs beneath the pumpkin so this is should work well. Maybe I'll light it from within too with a flickery LED! Anyway, this is as far as I can go on this project until the 21st. Stay tuned!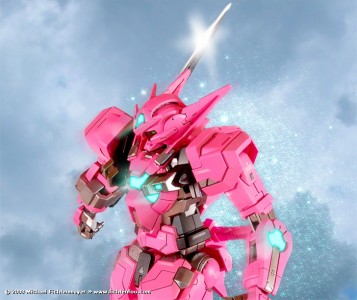 About The Build »
I've been wanting to paint something in pink
for a while now, but aside from perhaps the Infinite Justice,
I couldn't decide what else might look good. Then I picked
up the Astraea Type F and it looked perfect for a pink-build!
The kit itself was very easy to put together.
Not a whole lot of seams or masking involved when painting.
The parts fit is perfect as usual with Bandai kits. This kit
comes with all the things that the other Astraea comes with,
but has extra parts for the "mask".
The worst part of the kit was the rubber parts
for the panels in the arms, legs, and "kidneys".
I replaced those with ribbed styrene sheet.
Ironically the most difficult part of this kit
was getting a good pink color. I prefer Tamiya Acrylics and
there was just no mixes that I could find that came out vivid
enough. So I decided to seek out some Magenta Pigment in order
to tint some flat white to the shade I need. Well, apparently
Magenta Pigment isn't cheap so I went to Michaels to have
a look around.
I found some PearlEx pigment sets, and Series
2 had just the color I wanted. Unfortunately (or so I thought)
it had a pearescent sheen to it. I decided to get it anyway
and work with it. It ended up working perfectly and the pearl
sheen was really minimized when mixed with the flat white.
I mixed enough pigment with my white to get the desired color
and did a test spray. It went on a little thick and lumpy,
but thinning it much more fixed that. The end result was the
perfect color. In fact, I also have a pearl cyan and yellow
that I could potentially use to make any color I want via
CMYK values.
Another benefit of the pearl powders was in
doing a color-shift GN-Particle effect to the clear parts
and lenses. To achieve this I sprayed the back of the clear
parts with Future + Green PearlEx, then I added blue pearlEx
to that and sprayed the back-side again, finally I added clear
green Tamiya to that and gave it a final spray. Then dip it
in future to give it a nice gloss and place it over Alclad
Chrome painted internals for the full effect. The end result
is fantastic and unfortunately much better looking in person.
Almost gem-like.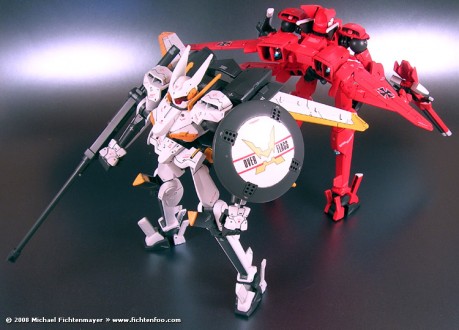 About The Builds »
A while back the same client that commissioned the Hi-Zack and Strike Noir from me also asked me to do an Overflag in red… a Red Baron of sorts. I figured that I might as well do my kit at the same time and knock them both out. Mine I did as a Tallgeese-styled
build called the "Overgoose". This used a 1/100 Tallgeese shield donated by a member of my forum and a scratch-built "Dober Gun" which attached to the forearm via magnets.
About The Build »
I've been wanting to do a pair of VF-0 battorids for a while now. The reactive armored version is quite cool looking and far sleeker than it's later VF-1 incarnation. Not much to write about here. OOB-builds except for replacing the thrusters with MechaSkunk T-Small aluminum bells which were a perfect fit. Metals are Alclad II lacquers, other paint is Tamiya. The only other notable item is that I weathered these kits for once. All I did was the fading/discoloration technique, but it mottled the surface and brought out the
panel lines quite necely. It's a nice light weathering which is perfect for an aircraft/mecha.