Posts Tagged 'Celluclay' »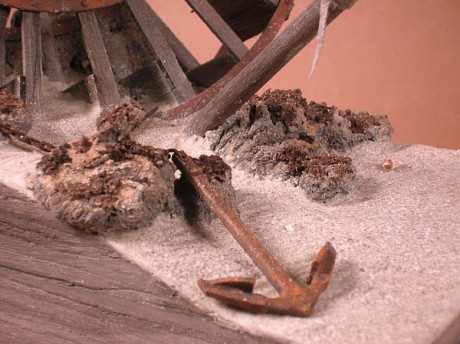 Once the plaster had dried for the paddlewheel, it was time to start the sand and sea-life. I molded the rippled sand on the base using Ave's Apoxie sculpt. Ripples were added with various sculpting tools. The warm neutral color of the dried Ave's was a perfect base for the sand so I did not need to prime it once it cured. Instead I used an old toothbrush and used it to flick paint from the bristles onto the sand to give it a speckled and varied appearance. I first speckled on some lightly thinned Tamiya German Gray, then Earth, and finally White. I'm very happy with the results and it gives it some texture without resorting to over-scaled grits. Then the Celluclay rocks were painted with washes of dark gray and brown.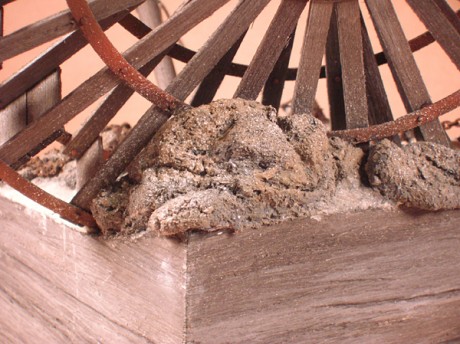 Once those had dried it was time to start applying the random sea-life reef growth over everything. First I made a nice pile of PLFH (pocket lint from HELL) using a plethora of scenery and modeling supplies. Here's the a few pics instead of a list. As you can see it's various turfs, grits and flocking.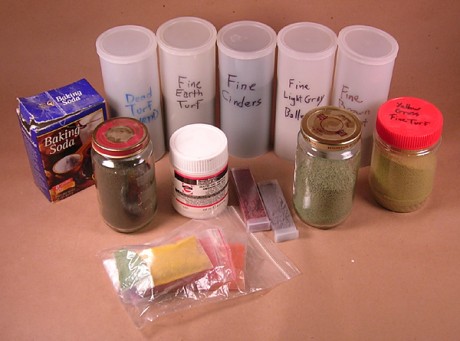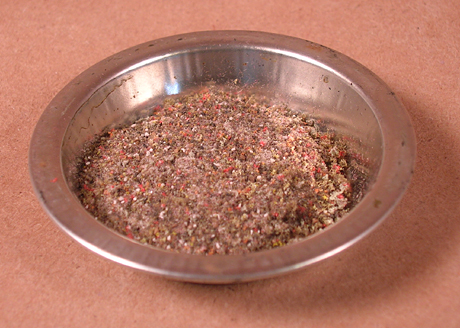 Mix the PLFH with some water and matte acrylic gel medium then add a touch of paint to tint. My first application was too brown due to too much paint. You're going for more of a wash here.I applied most of it with tweezers and a small dental tool shaped like a teeny spoon. You'll notice it clumps nicely when mixed, but should be slightly wet and seepy. Poke and fluff it a bit with the tweezers when applying to make it more dimensional. You can add more water and brush it onto other surfaces for a thinner application of growth like I did for the wheel. I also misted on thinned matte medium and sprinkled the PLFH onto it.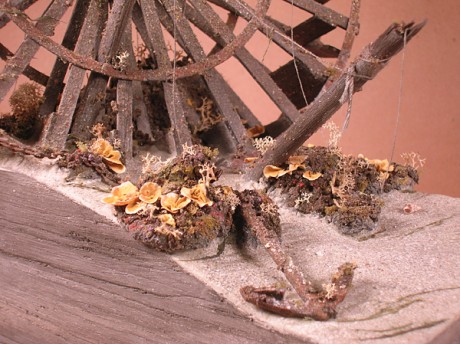 Once the PLFH dries, you can further color and tint it with diluted acrylics as well as sponging on a variety of colors to suit the look you need. My refs showed just about every color in the rainbow and the sponging on of purples, reds, and ambers looks really nice.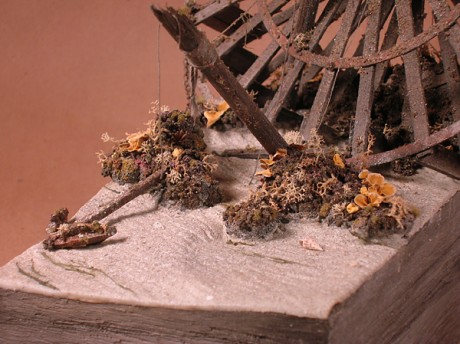 After even more drying, you can begin to apply other bits of corals and sea-growths. I have more to add, but here's what I've added so far…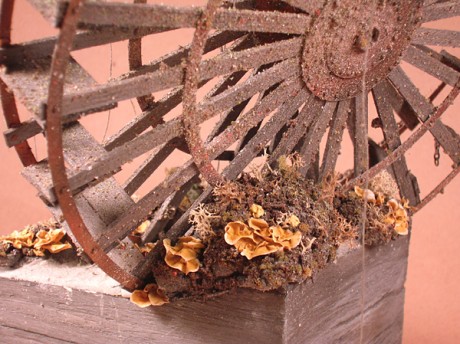 The golden growths are bits of toilet tissue which I punched out and dipped into a solution of acrylic paint + prepared matte medium. Use tweezers to pinch and apply. Check out the ref pic below to see what I was going for. Once these dry they'll lighten. You can then apply more thinned paint to achieve the desired color. I brushed on some thinned white along the edges as well. The branchy corals are light colored lichen bits. I also applied small bits of colored sponge and "dead" colored coarse turf. White barnacle bits were made by mixing white acrylic with fine gray ballast and speckling it on with a toothbrush. Later I'll add some photoetch coral and anemone I'm having made.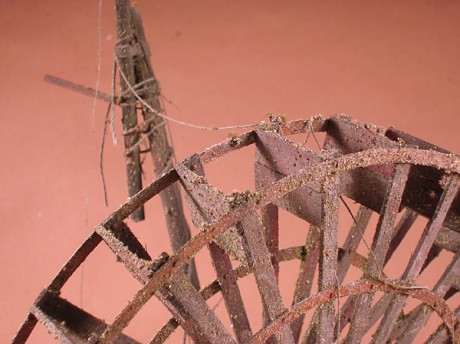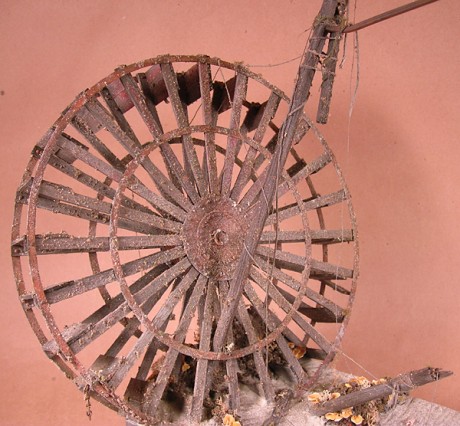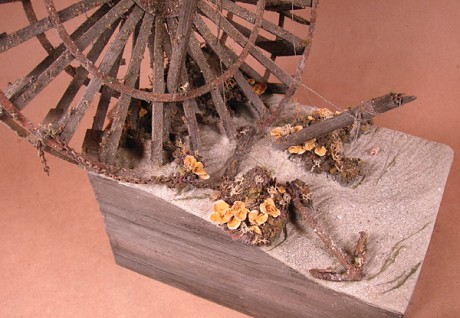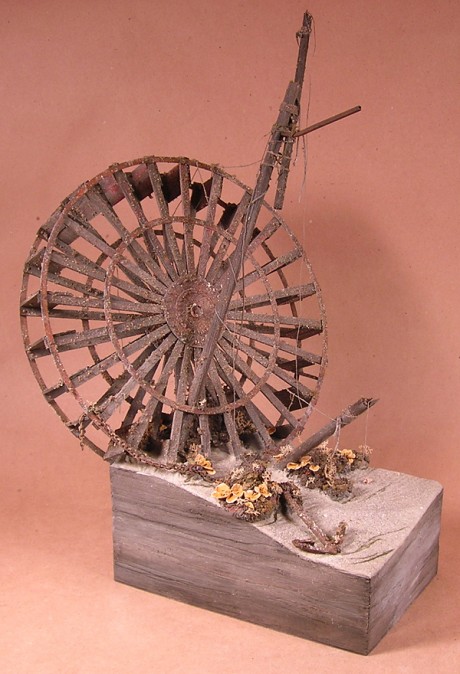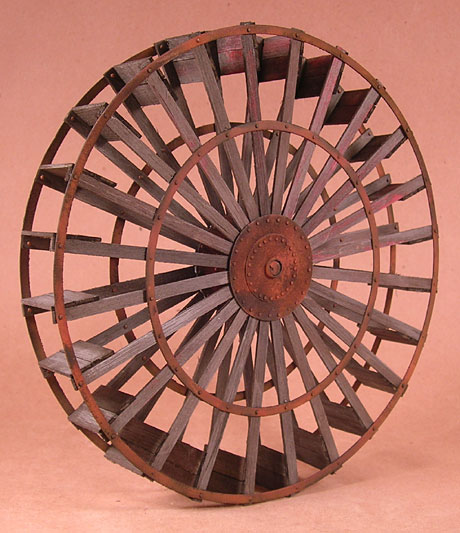 I finished gluing the components of the paddlewheel together the other day using CA gel. It makes for a very interesting set-piece for the sub I think and was pretty fun to make. The difficult part was alignment which was made easier by taping everything onto my print-out and using it as a jig of sorts to glue it together.
For the base I used a cheap wooden unfinished jewelery box from Michaels. I cut the sides to make it have an uneven terrain then I used a wooden rasp file and really gouged the hell out of it to give it an old, cracked and beaten appearance. Then I used the same techniques I used for weathering the wood on the paddlewheel which was an india ink wash, gray acrylic drybrush then another ink wash. The end result is pretty nice and goes great with the overall feel of the scene.
To mount the paddlewheel and a few masts I first filled the base with large rocks for bulk the plenty of Plaster of Paris. The large mast will be the mount for the submarine. The rocks/coral so far on the base are just for bulk as later they'll be covered with all sorts of ocean accretions. They're made from celluclay mixed with sand, fine ballast, and tallus. Next I'll use putty to form the rippled sand base before coating the ripples with some sort of grit.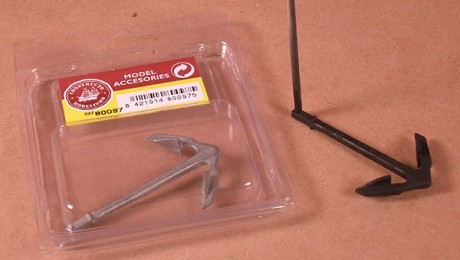 The anchor is a white-metal piece from a model ship supplier. I added chain for effect. It was sprayed with primer, baking soda sprinkles, then flat black spraypaint so far. I also found really tiny shells at Michaels that will be part of the finished seascape.
I skipped over a few steps with the photography, but I can describe them here. When I left off it was time for additional modulation, but this time with oils. Using 502 Abteilung oil paint I highlighted and darkened areas to give them more depth. The colors I used for this were Buff, Light Mud, Dark Mud and Starship Filth. I basically just hand-painted and blended the colors into the surface to lighten and darken it. I added some very faint rust-colored areas in a discoloration technique as well then set it in a hotbox for a few days to dry.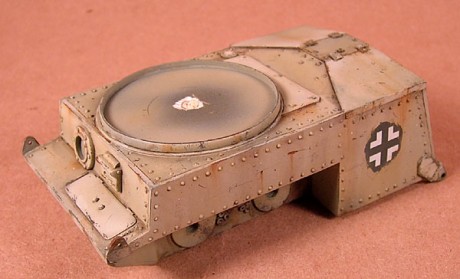 The "hotbox" is just an old paint of speaker-boxes made from wood with one side open enough to put a lightbulb in and raise the temp to speed up oil paint's dry time. I have a 1/35 DAK fig in it now drying to go with this vignette.
After the modulation/discoloration had dried I wen back and added darker and more defined rust areas with the 502 oil's Dark Rust and Shadow Brown colors. Then I used thinned Shadow Brown to do light pin washes on the rivets and panel lines. Then once more into the hotbox for some drying. After that it was all hit with a flat coat of FFA. Next up is pre-dusting with the airbrush and then pigment dusting.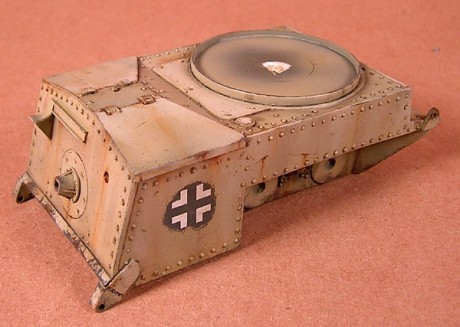 I also started on a small display base for this build just for my own uses as I doubt it'll make it to the box art. I started with a leftover wood box lid from a jewelery box who's "box" had been used elsewhere for another dio… maybe the "Taco". Anyway, I then built up some 3/16″ basswood walls and stained it. After the stain dried I sawed off some edges to create a few levels then filled the box with green floral foam for bulk. Plaster rocks were added then it was all filled in with a gravel, ballast, tallus, sand, white glue, and Celluclay mixture. This was worked in with a wet stiff brush and then more tallus/ballast was added to simulate rockfall fixed with white glue.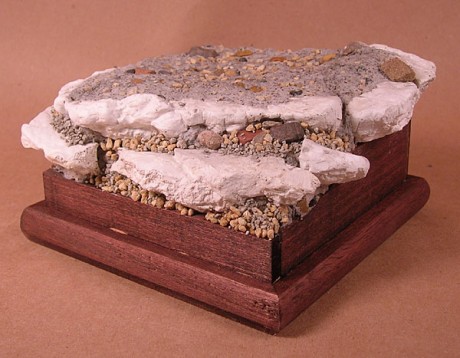 I wanted to simulate a Moroccan desert scene so with the help of some reference started choosing colors to paint the groundwork. After the Celluclay dried, I hand-brushed on several coats of cheap tan/chocolate mixed acrylics with a very slight hint of red based on my refs. I added several coats until all the rocks and groundwork was a uniform color. Next I darkened the base color with a darker tan/chocolate/red mix. Once that dried I applied a wash of Mig Productions "Dark Wash and let it dry as well. When dry I drybrushed the whole base with light tan to make the rocks pop more. Once done the whole thing was dusted with African Earth, Gulf War Sand, and Dry Mud pigments and doused with Pigment Fixer.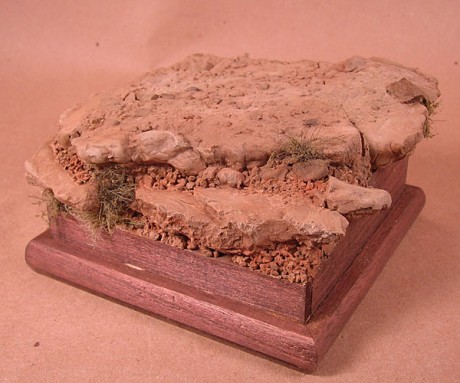 Plants are bundles of dark shaded jute fiber, drybrushed with white glue and dipped in earth colored fine turf.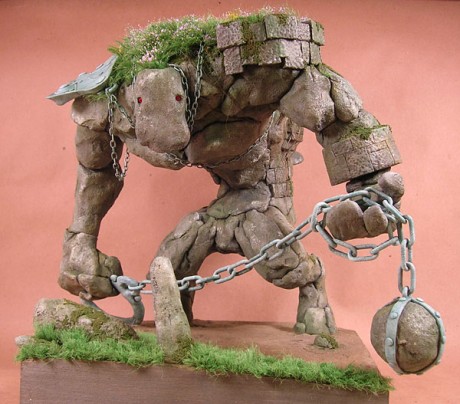 Still adding grass as you can see. Been a little busy with a garage sale last weekend  (thank goodness THAT's over!!!!) so this has been slow going. You can see that I'm adding clumps of the Jute grass and teasing it around while the glue is still wet so that it doesn't look like hair plugs. When the entire base is filled with grass I'll apply the same flower/weed mixes as I did to the back of the beastie.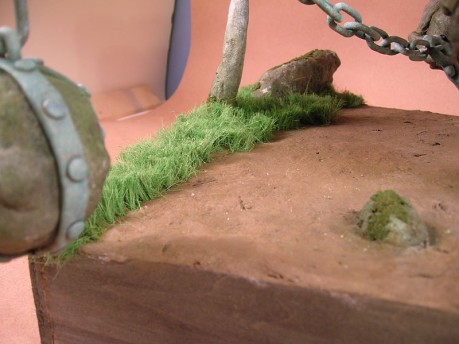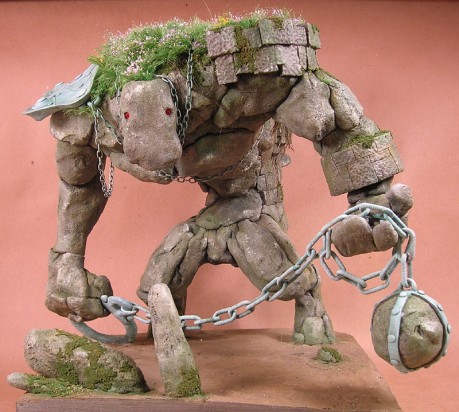 At this point the beastie is just about finished. A few touch-ups here and there and he's complete. I still however need to make the Druid "pilot" and finish the base grass. First things first though…
Moss! Before applying the moss I first mixed up some of Mig Productions new Fantasy Pigments to create a moss color for a base coloring. Mixing together 50/50 Zombie Green and Graveyard Dirt gave me the color I wanted. I applied this with an old brush and then airbrushed on a thin coat of the pigment fixer to seal it.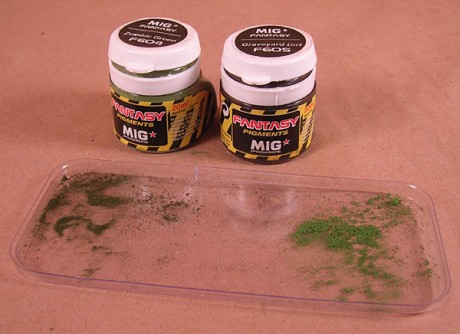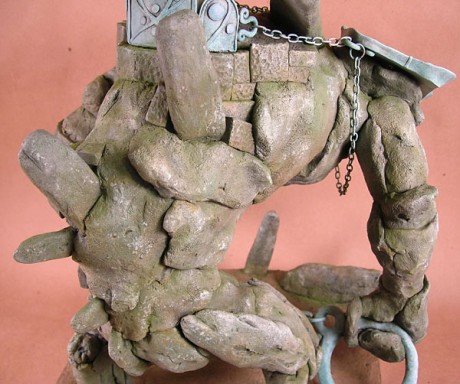 After this I applied the moss Per's way as shown in my last update. Basically you're mixing Fine Turf, White Glue and water then eye-dropping and drybrushing (when dry) paint to tint.
Once the moss was done I began applying the grass using Jute twine as seen in my tutorial here. The only difference between that tutorial and this is that all of my Jute was dyed a deep green with thinned cheap acrylic paint. I also applied roots as seen in the Dagobah Diorama to some of the creature. I want to add more to his right hand side as I forgot about that.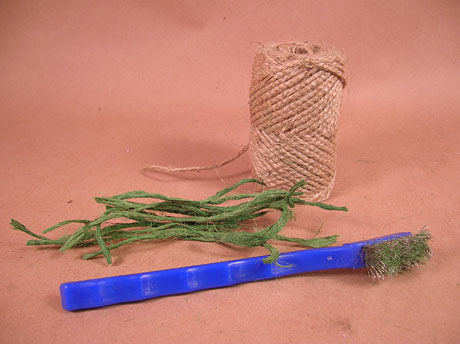 It took about 4-5 hours of unsteady work to apply all of the grass. Most of the grass clumps were about .5″ long give or take. Randomness is best here. Longer grass was used near the edges so that I could drape and curl it up nicer and shorter was used in the "chariot".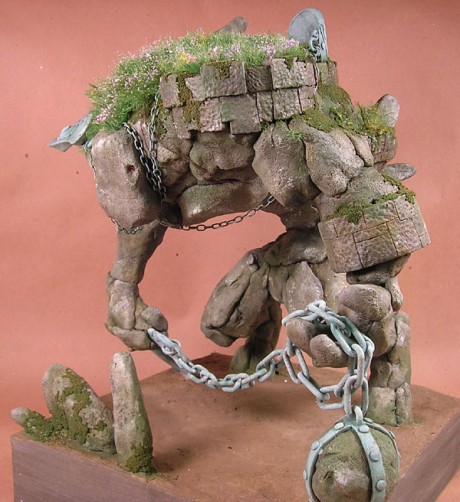 When the grass was dry I teased it up, trimmed any long out of place strands and masked all the stone in aluminum foil. I thought for a while about how to get nice little scale flowers without using REAL flowers that would fade/become brittle over time. Woodland Scenics makes a flower mix which comes on a card with 4 individually packed colors. Red, White, Yellow, and Orange. The Red, Yellow and Orange are just very fine turf. I had hoped the white was too, but it was basically their flake snow. I was annoyed at first as I wanted purple, pink and white clover (as I see EVERYWHERE this time of year) and figured the turf could be easily dyed. As it turns out though, the flake snow makes AWESOME flowers and weeds.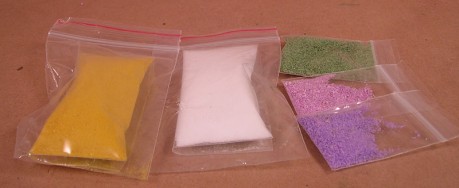 Just pour some of the WS snow into a cup and add a few drops of thinned acrylic paint and mix. After it dries you have colored flower flakes. Fantastic! Store leftovers in some small zipper bags for future use.
First I sprinkled green and yellow-grass turf onto the grass as well as some of the green flower mix. This was all to make the grass look more like thick leafy weeds. I misted on some thinned matte medium to stick the weeds on and then sprinkled on my flower mixes to simulate  clover and wildflowers. Again, randomness is best.
Since the last update I've finished the painting for the golem and added his bronze accessories.  I also made and painted some more megalithic rocks for the base as well as constructing the base and basic groundwork. I'm really quite pleased with how my rocks have turned out. I've always had trouble painting rock to look like natural stone. Because of this I tend to use real stone when I can, but that really limits what one can do. Being able to make and paint realistic rocks may not sound like a big deal, but it adds a lot to a scene. Below I took a shot of the paint I used and my sponge bit I used for aplication.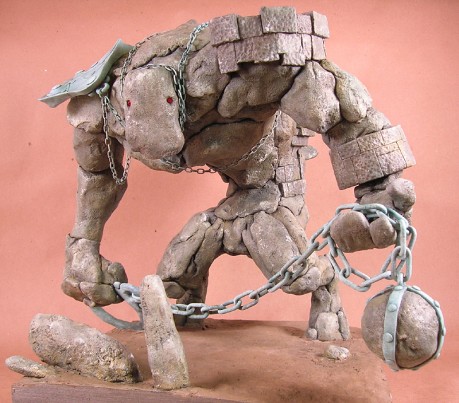 The base is my typical plywood bottom encased in basswood then finished. Crumpled paper, wire mesh then a thin layer of Celluclay make up the groundwork. I painted it with a dirt color, (I need to darken it I think) but for the most part it will all be covered in grass.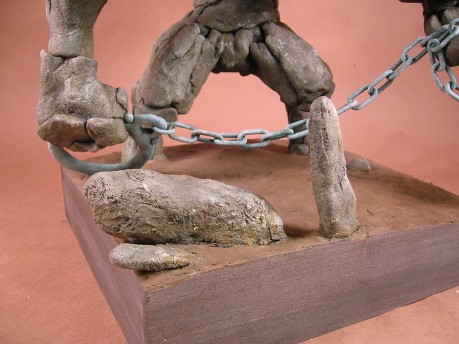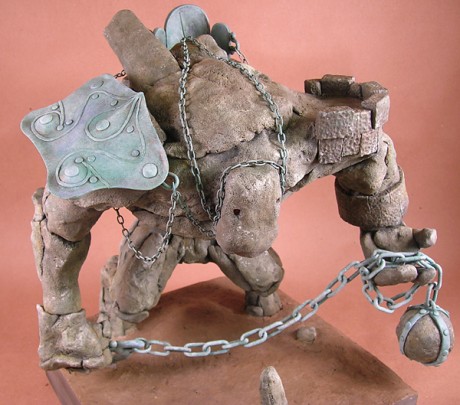 Here's my moss tests. Moss was done using Per Olav Lund's method as shown on the Mig Productions forum. Basically it's a mix of fine turf, white glue and paint. With my tests though I found my best bet was to not mix in the paint, but instead use an eyedropper to apply it later as I ended up smearing paint where I didn't want it as seen on the rock between A and A2 below. Dropping a "dead" yellow-brown to the dry mix soaks down and looks like the brownish roots and die-off as seen in "A2″.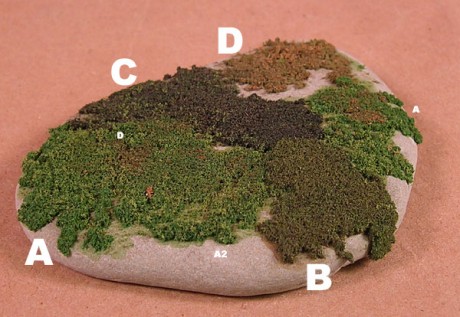 A: Light Green fine turf with a touch of "Earth" fine Turf.
A2: Dead-colored paint eyedropped on later.
B: A blend of Light Green, Soil and Earth fine turf. Dead-colored paint eyedropped on later.
C: Soil fine turf only
D: Earth fine turf sprinkled with real dead moss "dust". Can be applied is parts of other mixes for die-off.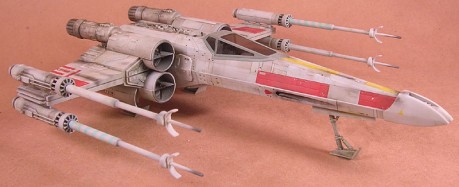 Why semi-final? Well, because if it was just an X-Wing model without being submergeged in swamp-water and muck then I'd be able to call it done. I still need to add the "seaweed" and such to the surface and will probably add some greenish muck-colored streaks using the  502 Abteilung oil paints.
Between this and the last update I applied the discoloration with 502 Abteilung oil paints and turpenoid. I used blue, rust, brown, and several shades of muck-green. Once cured completely I applied scorck and soot marks using "Rocket Exhaust" pigment from the Mig Productions Fantasy Pigments line. Then a final thin flat coat of FFA was applied to seal that in before later applying the wet effects.
Here's some pics. Click on them for larger views.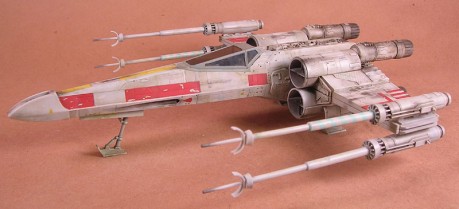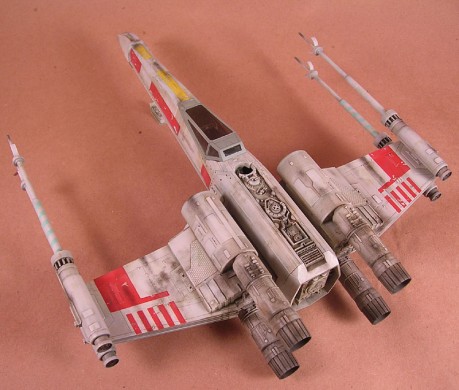 The 1/20 Scale Falke from Hasegawa is completed. Overall a very fun build without any major problems. Parts fit was great and painting/weathering went smoothly. The base was fun as well. So nice to work with Celluclay at this scale rather than the large base for Dagobah. I used plaster rock molds from Woodland Scenics, gravel, dirt, and celluclay. I filled the bottom of the base with rocks and plaster for weight, but it wasn't needed as the Falke is very light. To make the Falke look like it was flying very close to the ground on a 'nap of the earth' flight I made a tree trunk from wire and celluclay. Two wires stick up from the trunk to hold the Falke up. Then rotts were added to simulate the tree being broken by the Falke as it flies over it. This gives the illusion of flight. Jute was used for the grass.
I've been working on painting the X-Wing for a few weeks now while working on other projects, but decided to save up images to make a decent-lengthed post about it. First I primed the X-Wing with Duplicolor Sandable Primer and then smoothed it out with some steel wool. This takes care of any scratches or primer texture. Then I applied dark gray along the panel lines as a pre-shade and followed up with a coat of VERY light gray.
Next I applied a gloss coat of Future Floor Acrylic and after letting that cure a few days I started applying the decals. The first decal I applied too much decal solvent too making it crinkle more than it should have. This eventually flattened back out but had a few "micro-crinkles". I've since lightly sanded these flat and when I do the red discoloration/modulation will repair this error.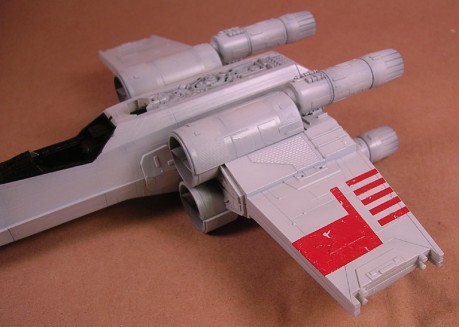 The rest of the decals went on without a hitch. Notmally I wouldn't consider using decals instead of masking and painting for the red and yellow markings, but I didn't think I could get as precise as these were. Besides at the point I'm at now they don't look like decals anymore and when I'm done they should look painted on. After the decals I masked and painted the canopy with Tamiya XF Light Blue with a hint of German Gray. I have a little clean-up to do on the masking, but again, that'll be fixed during the modulation/discoloration process.  The interior of the canopy I airbrushed Tamiya Smoke into to tint it darker. This helps with the weathered window look I'll need.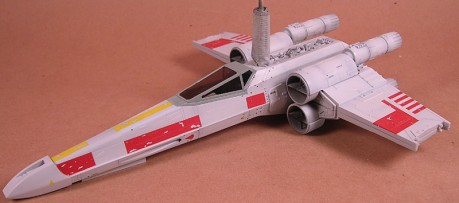 After the canopy was painted I airbrushed on a satin coat for Future Floor Acrylic and applied a few coats of Sin Industries filters to dirty-up the tones.
Once the filters dried it was time for the fun stuff which is the weathering and modulation. Modulation is the process of shading and highlighting for light effects as well as bringing out panel details. In this first image you can see the difference between the unweathered and weathered sides of the wings. To do this I applied slightly thinned  502 Abteilung oil paints around panels and inside of crevases. These were blended into the surface then buffed away with paper towel. This leaves the raised surfaces highlighted and dirties up the recesses. I think this is working far better than any wash I could had done. I used Dark Mud, Industrial Earth, Faded Gray, Shadow Brown and Black. I also added a little Dark Rust and Faded Navy Blue here and there on the thrusters.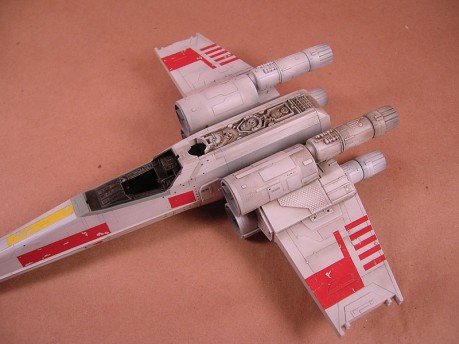 After that I applied more dark or white oils on various panels to differentiate them from their neighbors. This adds more visual interest to the flat wings. After the earthy tones dry I'll apply the modulation to the red and yellow parts. I don't want to do these first and risk blending the red into the white parts and having a pink X-wing. I'll also be applying more weathering later with discoloration, pigments and more. Here's what it looks like right now. I still need to do the laser barrels and the rest of the X-wing from the cockpit forward. I want to let the rear dry first so that I can hold it without rubbing the oils away.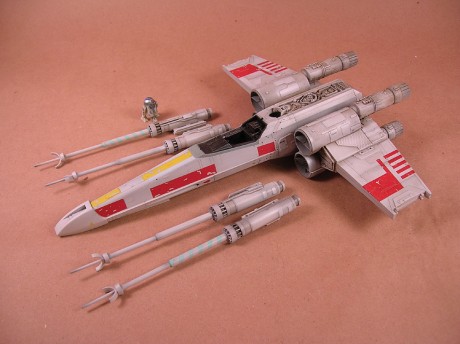 Also my client was concerned about the amount of space on the base for the X-Wing. I took these quick shots to show him. The figure is a random maintence guy from a 1/48 aircraft kit just as a stand-in for Luke.
Hooray! It's working as I hoped it would! What is working you may or may not ask? The jute twine I used for the smallest dangling roots is what. In all of the images I have seen, the larger roots are covered in a lot of small vine-type roots and whatnot which really adds to the distinctiveness of Dagobah's scenery. I wasn't sure if the Jute Twine would work or not however and I really didn't want to use natural materials that could rot/break in time. I use Jute for grass from time to time and am used to coloring and working with it… my concern was if I could get it to pull apart in long enough strands and blend into the trees convincingly. After taking my photos and checking them against the referenes (with the help of a little photoshop coloring) you can see I'm pretty close. Whew!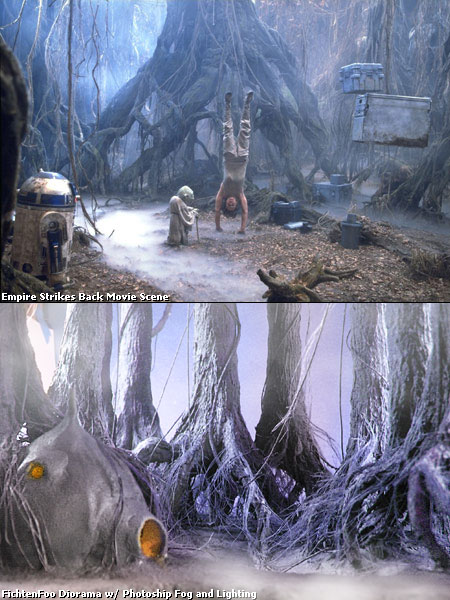 You can find a tutorial on using Jute Twine for making grass here on my blog. For the roots I colored the Jute with a very dark black-brown mixture then a slightly lighter version of that for some variety. I also didn't need to brush it. Just twisting and teasing it out worked great.
After I finish adding the jute roots and cleaning up some cracks on the groundwork I filled with modeling paste I'll put down a fine mix of crushed up leaves over the ground then maybe pour some muddy resin water.