Posts Tagged 'Bronze' »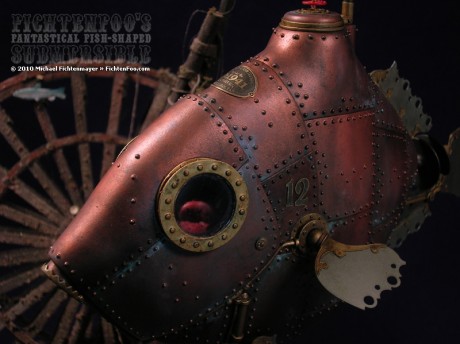 Without further adieu, I present to you FichtenFoo's Fantastical Fish-Shaped Submersible! Enjoy the pics of my finished sub as they're the best I've ever taken I think. I didn't even need to color correct which is a total bonus. If you're interested in getting on the list to order the early 2011 3rd Edition, click here. The 1st Edition is sold-out and the 2nd is reserved and then some. Thanks to all of you that helped make this possible and ordered the 1st two runs of subs.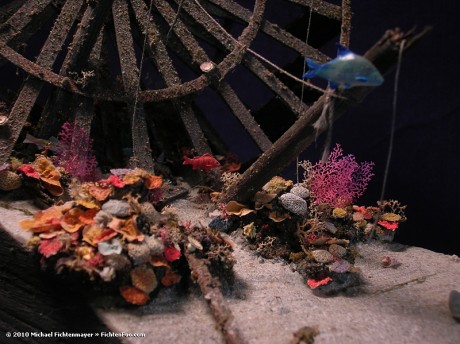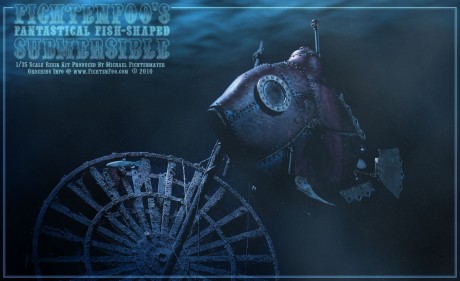 My paint arrived! So I was able to paint the fins the metallic greenish color I wanted. I achieved the color by mixing Mr. Metal Color Aluminum, Bronze, and Brass. Once that was done, I was able to build and affix the fins to their various mounting points and start the much debated weathering.
Some folks wanted me to stop after my last post because let's face it, that was a beautiful copper finish. I was torn, but decided that I'll build another fish later and make it shiny since I already have the mounting hole on the side of this.
To start off, I applied 502 Abteilung oil paints with a brush randomly with odorless turpenoid. While still wet I dabbed them with a piece of sponge to remove brush strokes and give it more texture/random splotchiness. After it dried a bit I applied a semi-gloss coat of Future over everything. The colors used for this step were: German Ochre, Dark Rust, Wash Brown, Industrial Earth, Faded Navy Blue, and Shadow Brown. (red pallet below)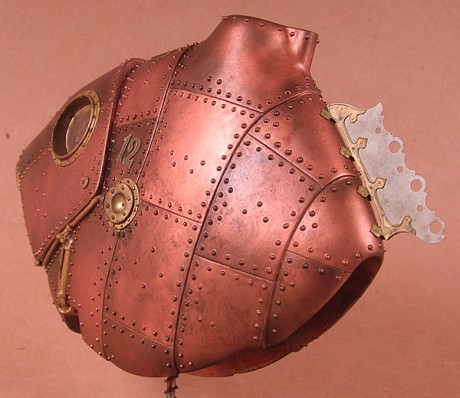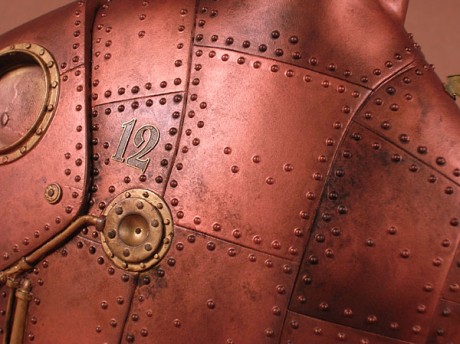 After the clear-coat cured a bit (3-4 hours) I used more 502 Abteilung oil paints (blue pallet below) to apply the random splotches of blue green patina. For this I did a combination of the discoloration technique and the aforementioned sponging. The colors used for this step were: Faded Navy Blue, Gundam Blue, Faded Green, German Grey Highlight and Snow White. I used the faded green, german grey highlight and gundam blue to mix up a base patina color as seen in the pallet paper I used below.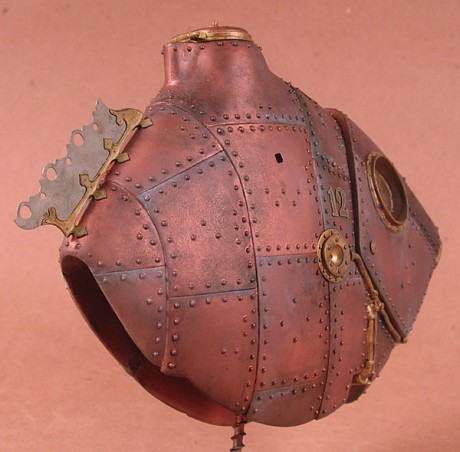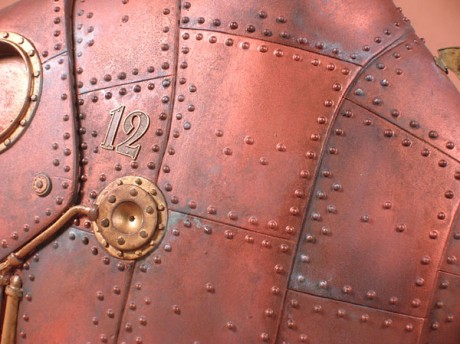 Again, I'm pretty happy with the results. The patina colors look better in person so I'll try to take better pics later. There's more depth and vibrancy to them than seen here. Tomorrow I'll give this a satin coat and do some pin washes to deepen some panel lines. Below is the scrap of pallet paper I used for the oil paints. Read above for what I used.
Today I masked and painted the brass details on the fish. I used Parafilm 'M' for the portholes and fin mounts. All I've left to paint are the fins themselves, but I'm waiting on a paint order. I really like how it's looking at this unweathered stage and am considering building another just like this, but putting it on a base as a display in a late 1800′s world fair.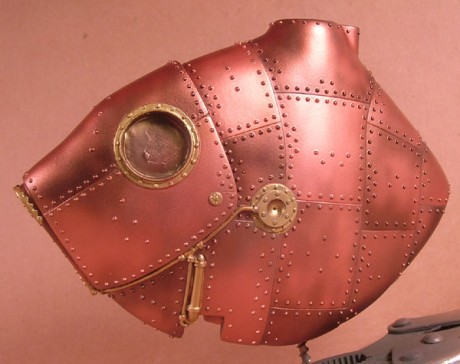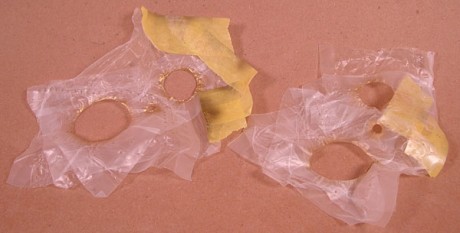 While typing out that copper test tutorial, I was also masking and painting the copper portions of the fish sub. Before that however I painted the engine and periscope. I started out by painting portions of the engine and periscope in Mr. Metal Color Bronze. I buffed these parts with a toothbrush, gave them a satin clearcoat of FFA, then masked and airbrushed most of the brass. After removing the masking I hand painted portions of the brass (and copper pipes) such as the trim of the big ballast tank and other smaller details.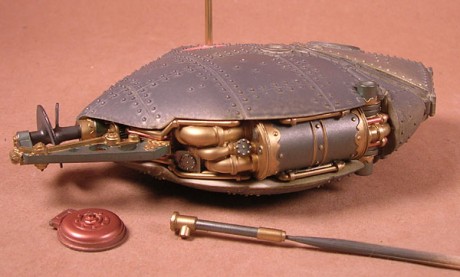 I set these aside and began work on the main copper-clad fish submersible body. The painting is based on a colorscheme which I posted on the FichtenFoo facebook page a few days ago and now seen below:
You can see that my intent is to make some of the copper panels lighter and darker and in various patina-forming stages adding more depth and shading to the sub. The fins will eventually be some sort of tarnished brass/bronze alloy. At least that's my barely feasible explanation as to why I want them that greenish brass tone. Mainly I just think it looks nice.
After finishing cleaning up the mounting rod hole I gave the sub another coat of dark gray Duplicolor primer, then a coat of the green self-etching primer.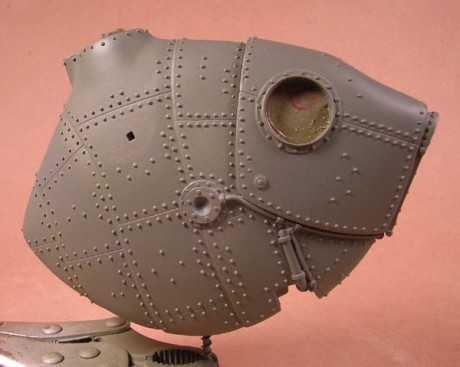 Once cured I airbrushed on a mixture of Alclad II lacquers I call "bronze". It's a mixture of Steel, Copper and Aluminum which I first mixed up years ago for the Briegel. This gives me a nice dark metallic base to start from.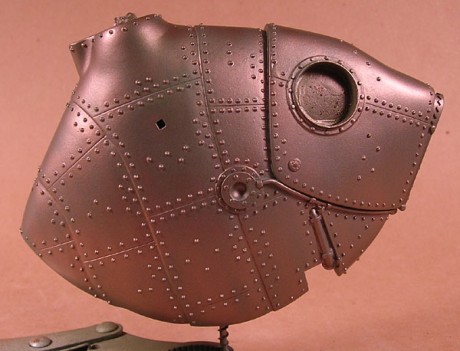 After the "bronze" dried I masked and randomly airbrushed on in vertical streaks some Alclad II copper which is pretty dark. Over that I streaked on some Mr. Metal Color copper which is a lighter tone and buffable to make it very shiny and natural looking.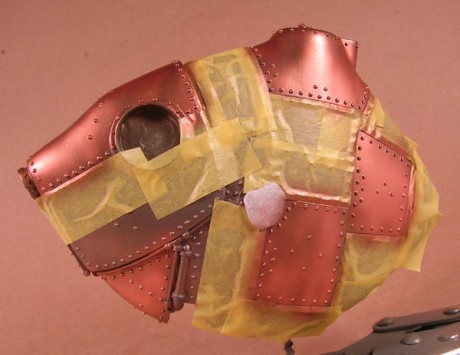 Here it is at the first stage without the masking. It's an interesting look, very cool for another project, but only halfway done for this one.
More masking and color applications and I got it to this stage. It's hard to see the streaking and panel tone changes however in the image. Still not quite there however…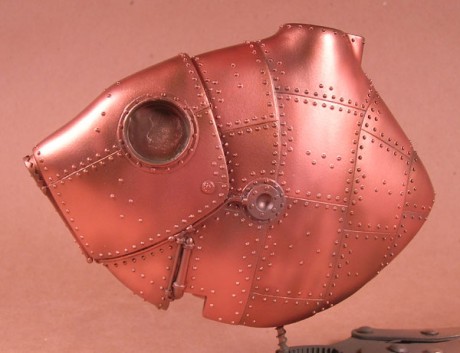 I wanted the panel color changes to be better defined so I masked again and over-sprayed some Alclad II Jet Exhaust. You can now see the improved panel definition.
And to show it off better, here it is in different lighting:
Next I'll air and hand-brush the brass onto the porthole frame and other pipes and fittings.
This is going to be a long one… I've been thinking a lot about copper finishes lately for my Steampunk Fish-Shaped Submersible product. While considering how to achieve the look I wanted I realized that I have a LOT of copper products. Not sure why… maybe I'm looking for the perfect copper or just love metal finishes. Either way it'll make for an interesting tutorial. Here's a photo of all of the copper products that I have. (or at least those I remembered)
There's Copper leaf, Sophisticated Finishes Copper Patina set, Apple Barrel "Pure Bronze" (looks like copper), Tamiya Acrylic Copper, Mr. Metal Color Copper (there's also a Mr. Color Copper that I haven't tried/bought), Alclad II Copper, Hawkeye/SnJ Copper Polishing Powder (they also make a paint that I've not tried/bought yet), Mig Productions Fantasy Pigments Copper, PearlEx Antique Copper and Sparkling Copper, Autumn Gold (copper) Rub n' Buff, and of course copper sheet, rods and tubing.  I've tried every one of these for one project or another. Every one is useful in some way, but combined they make some great colors.
Here's a bunch of swatches that I made tests of the above on. These tests are to create a realistic looking copper with patina. Patina is a fine coating of oxide which forms on the surface of the metal when exposed which protects the surface from weathering. Here's a link to the oft mentioned Future Floor Acrylic clear-coat mixes.
1:  Sponged on Apple Barrel-style acrylic paints. Used Regency Blue, Bright Blue, Green Sage and White. Then dry-sponged  white streaks vertically. Then applied Hawkeye/SnJ copper powder with finger. (doesn't show up, not great look anyway)
1:  Sponged on Apple Barrel-style acrylic paints. Used Regency Blue, Bright Blue, Green Sage and White. Then dry-sponged  white streaks vertically. Applied Autumn Gold (copper) Rub 'n Buff mixed with a touch of black oil paint using a somewhat dry-brush. Airbrushed flat coat of Future Floor Acrylic.
3: Primed with black spray paint. Painted with thinned Autumn Gold Rub 'n Buff thinned with Odorless Mineral Spirits. Mineral Spirits started to eat primer unfortunately. Buffed with cotton t-shirt rag.
4: Primed with black spray paint. Airbrushed on Alclad II Jet Exhaust. Airbrushed on Alclad II Copper in a mottled light pattern.
5: Primed with black spray paint. Airbrushed on Alclad II Copper.
5A: Track Brown Mig Pigment blended in with Odorless Turpenoid.
5B: Coated half of #5A with Gloss Future Floor Acrylic.
6: Primed with black spray paint. Airbrushed on Alclad II Copper. Next a mixture of Zombie Green, Ashes, and Neptune Blue Mig Pigments was sprinkled/dabbed on with a brush. These were then blended with Odorless Turpenoid. Clear-coated with Satin Future Floor Acrylic.
7: Primed with black spray paint. Airbrushed with Mr. Metal Color Copper.
7A: Track Brown Mig Pigment washed on with Odorless Turpenoid. Next a mixture of Zombie Green, Ashes, and Neptune Blue Mig Pigments was washed on with Odorless Turpenoid. Coated in Satin Future Floor Acrylic.
7B: Coated half of #7A with Gloss Future Floor Acrylic.
8: Primed with black spray paint. Copper foil leaf applied.
8A: Bottom half of Swatch #8 was dipped in ammonia cleaner then left to air dry. I repeated this twice. A month later, the result is as seen. I love it, but I fear it's unpredictability.
9: Primed with black spray paint. Copper foil leaf applied. This was then soaked in ammonia cleaner for a few days in a patina/tarnishing attempt. The only result was clean copper and a slight dissolving of the glue under the leaf making it shrivel/warp.
10: Primed with black spray paint. Sophisticated Finishes copper paint sponged on. When dry the patina solution was applied. The effect and look are not so great in my opinion, but maybe I did it wrong. The patina solution on it's own works nicely on real copper though.
Here's more shots of the above in various stages of completion.
Here's some real copper (right) and brass (left) bits placed in salt water for 6 months as a test. Why so long? I forgot about the sealed jar!!!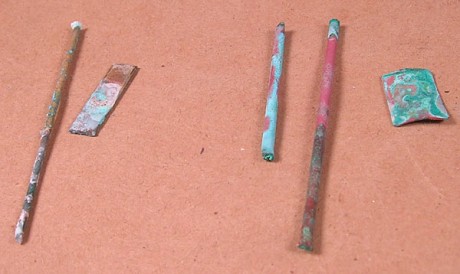 The method I liked best from my test is that seen in swatches #5, #6 and #7. I'll demonstrate this on the figure bust below:
Primed figure with flat black spray paint then airbrushed on Alclad II Copper. (above)
Track Brown Mig Pigment washed on with Odorless Turpenoid. Allow to dry fully then airbrush on a satin coat of Future Floor Acrylic mix. (above)
A mixture of Zombie Green, Ashes, and Neptune Blue Mig Pigments was sprinkled/dabbed on with a brush. These were then blended with Odorless Turpenoid. Finally it was clear-coated with Satin Future Floor Acrylic. (above)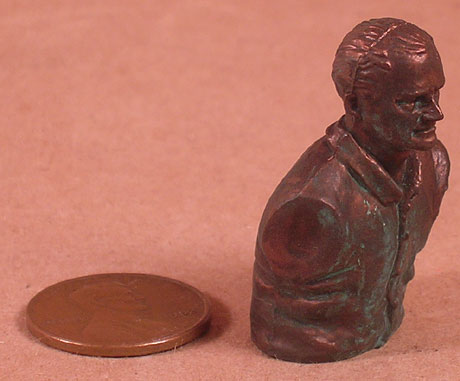 Side View… (above)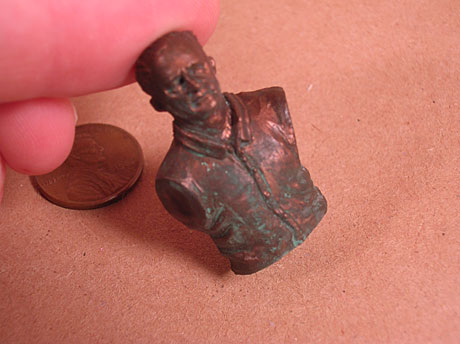 Another Angle… (above)
Watch my Fish Sub Build-Up thread for more copper techniques as I'll be documenting what I learned above as I apply it to an actual model. I'm sure there's more methods and products than those I showed above. If you got one, send me a pic and process. If you make a copper product, contact me and send me a sample to review! I'll add them to this post or if cool enough to an all new post.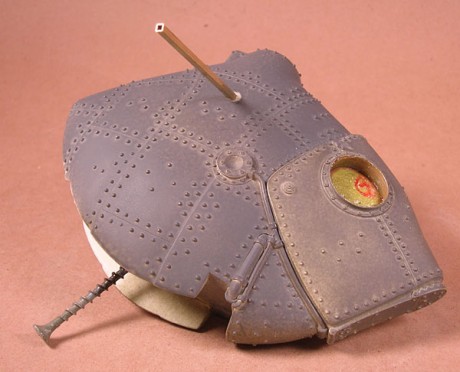 Since the interior was done I used some 5-minute epoxy to attach the head. Before gluing it on I masked the portholes with some tape and liquid mask from the inside. Both will be easy to remove later. I also drilled a hole for the mounting rod (square tube) on the side. I filled the hole with epoxy putty and inserted a tube of the same size as that on the base making sure it was oriented correctly so the sub looks level. Later I'll remove the tube from the sub (leaving a square hole) and sand that panel/putty flush. Then I'll be able to just slide the sub on and off the display base.
I also painted the foundry plate and unit numbers from the PE fret. I painted them with a few layers of Mr. Metal Color Bronze and Copper. Once dry I buffed them with a soft cloth and toothbrush which really makes this buffable paint shine as seen below. The foundry plate and left-most numbers 1 and 2 have been buffed. You can really see the difference in the color buffing makes.
Once the buffing was done I lightly sanded with 2000 and 6000 grit sandpaper to remove the upper layers letting the PE brass show through. I love the result. Also keep in mind the numbers are maybe 10mm tall.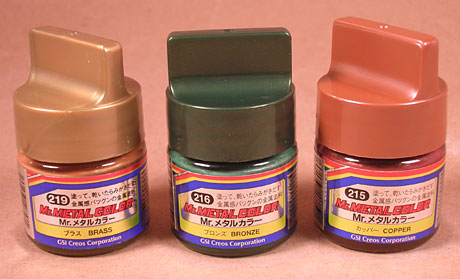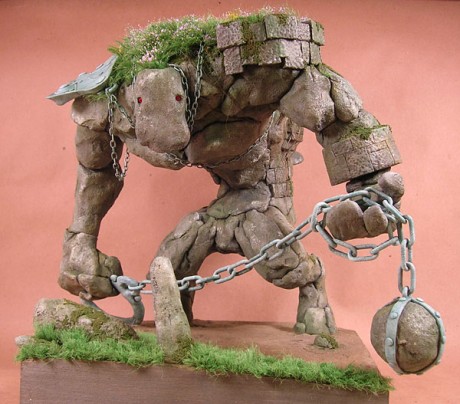 Still adding grass as you can see. Been a little busy with a garage sale last weekend  (thank goodness THAT's over!!!!) so this has been slow going. You can see that I'm adding clumps of the Jute grass and teasing it around while the glue is still wet so that it doesn't look like hair plugs. When the entire base is filled with grass I'll apply the same flower/weed mixes as I did to the back of the beastie.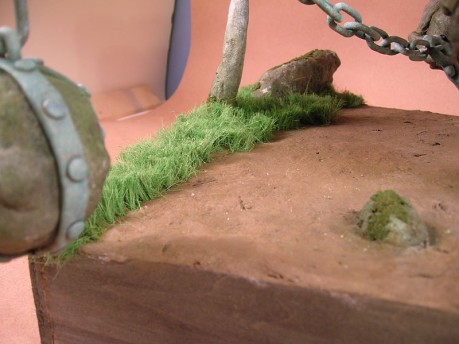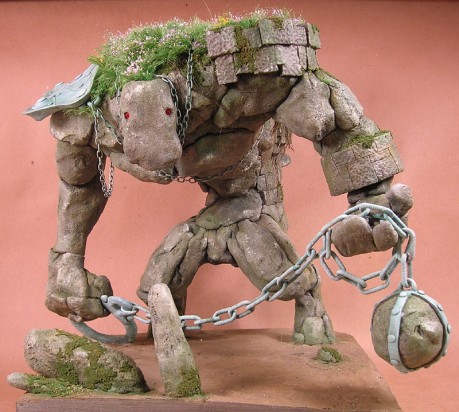 At this point the beastie is just about finished. A few touch-ups here and there and he's complete. I still however need to make the Druid "pilot" and finish the base grass. First things first though…
Moss! Before applying the moss I first mixed up some of Mig Productions new Fantasy Pigments to create a moss color for a base coloring. Mixing together 50/50 Zombie Green and Graveyard Dirt gave me the color I wanted. I applied this with an old brush and then airbrushed on a thin coat of the pigment fixer to seal it.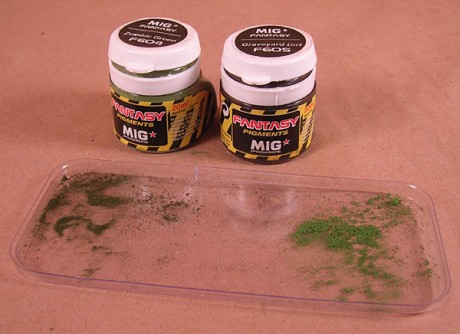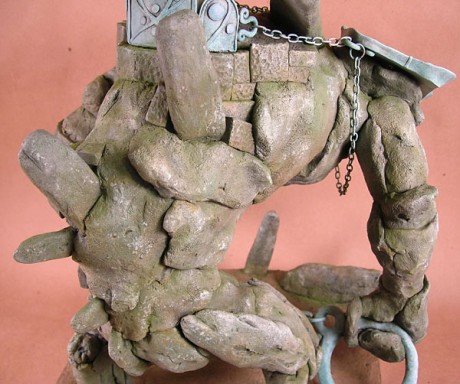 After this I applied the moss Per's way as shown in my last update. Basically you're mixing Fine Turf, White Glue and water then eye-dropping and drybrushing (when dry) paint to tint.
Once the moss was done I began applying the grass using Jute twine as seen in my tutorial here. The only difference between that tutorial and this is that all of my Jute was dyed a deep green with thinned cheap acrylic paint. I also applied roots as seen in the Dagobah Diorama to some of the creature. I want to add more to his right hand side as I forgot about that.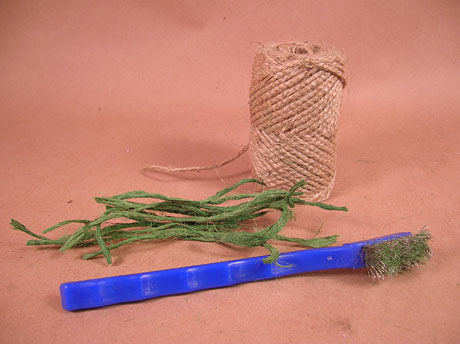 It took about 4-5 hours of unsteady work to apply all of the grass. Most of the grass clumps were about .5″ long give or take. Randomness is best here. Longer grass was used near the edges so that I could drape and curl it up nicer and shorter was used in the "chariot".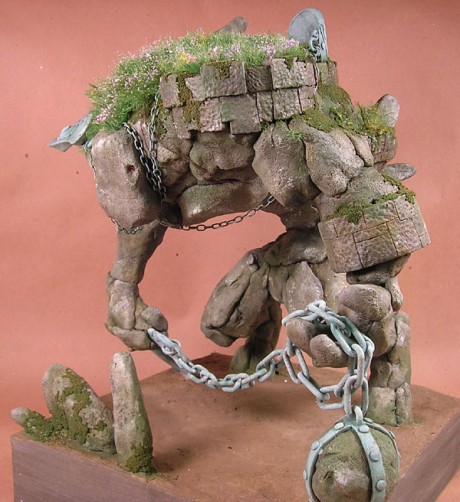 When the grass was dry I teased it up, trimmed any long out of place strands and masked all the stone in aluminum foil. I thought for a while about how to get nice little scale flowers without using REAL flowers that would fade/become brittle over time. Woodland Scenics makes a flower mix which comes on a card with 4 individually packed colors. Red, White, Yellow, and Orange. The Red, Yellow and Orange are just very fine turf. I had hoped the white was too, but it was basically their flake snow. I was annoyed at first as I wanted purple, pink and white clover (as I see EVERYWHERE this time of year) and figured the turf could be easily dyed. As it turns out though, the flake snow makes AWESOME flowers and weeds.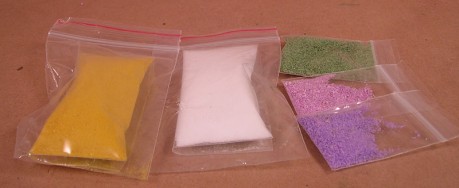 Just pour some of the WS snow into a cup and add a few drops of thinned acrylic paint and mix. After it dries you have colored flower flakes. Fantastic! Store leftovers in some small zipper bags for future use.
First I sprinkled green and yellow-grass turf onto the grass as well as some of the green flower mix. This was all to make the grass look more like thick leafy weeds. I misted on some thinned matte medium to stick the weeds on and then sprinkled on my flower mixes to simulate  clover and wildflowers. Again, randomness is best.
Since the last update I've finished the painting for the golem and added his bronze accessories.  I also made and painted some more megalithic rocks for the base as well as constructing the base and basic groundwork. I'm really quite pleased with how my rocks have turned out. I've always had trouble painting rock to look like natural stone. Because of this I tend to use real stone when I can, but that really limits what one can do. Being able to make and paint realistic rocks may not sound like a big deal, but it adds a lot to a scene. Below I took a shot of the paint I used and my sponge bit I used for aplication.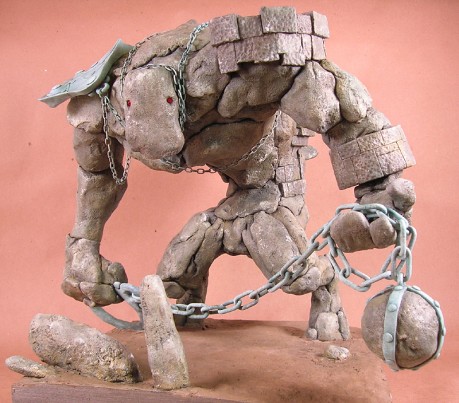 The base is my typical plywood bottom encased in basswood then finished. Crumpled paper, wire mesh then a thin layer of Celluclay make up the groundwork. I painted it with a dirt color, (I need to darken it I think) but for the most part it will all be covered in grass.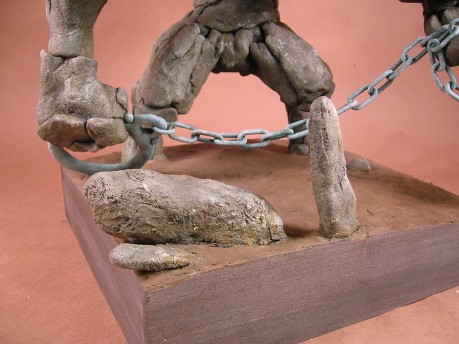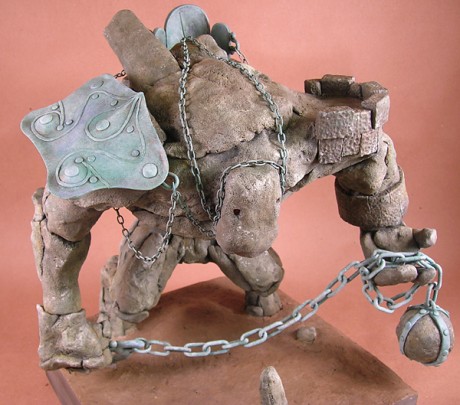 Here's my moss tests. Moss was done using Per Olav Lund's method as shown on the Mig Productions forum. Basically it's a mix of fine turf, white glue and paint. With my tests though I found my best bet was to not mix in the paint, but instead use an eyedropper to apply it later as I ended up smearing paint where I didn't want it as seen on the rock between A and A2 below. Dropping a "dead" yellow-brown to the dry mix soaks down and looks like the brownish roots and die-off as seen in "A2″.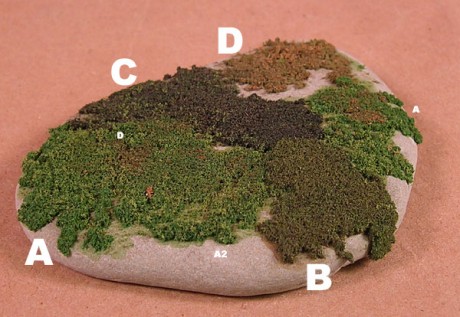 A: Light Green fine turf with a touch of "Earth" fine Turf.
A2: Dead-colored paint eyedropped on later.
B: A blend of Light Green, Soil and Earth fine turf. Dead-colored paint eyedropped on later.
C: Soil fine turf only
D: Earth fine turf sprinkled with real dead moss "dust". Can be applied is parts of other mixes for die-off.
Everything was finished baking so I began priming and painting a few days ago. I primed everything with Duplicolor Light Gray Sandable Primer. Metal chains were first primed in Duplicolor Green self-etching primer, then in the Light Gray.
I gave a lot of thought to how I wanted to paint everything. Not just colors, but textures and methods as well. Would I airbrush first or hand-paint it all. Having lots of references really helped. I'll split this update into painting the rocks and painting the bronze patina parts. I painted it all with craft acrylics from Michaels or JoAnn Fabrics. I used a combination of paints spanning several brands so I'll probably focus on colors and technique rather than getting too specific.
Rocks »
First I hand painted all the rocks with a thin dark gray mixture. Mostly this darkens all the primer, fills all the divets, cracks and details, and serves as a base-coat. When that dried I stippled all the recesses and areas I wished to be shaded with flat black. Again when dry I stippled it all with a sponge and unthinned "cobblestone" gray paint. After that dried I sponged on raw umber and chocolate brown here and there. Mostly this was for variation, but some rocks recieved more browns to make then be a different color. Then over that I stippled on a light gray and when dry more light gray, but in a random pattern to highlight certain areas. Remember that acrylics darken as they dry so it might look really light then be darker than you wanted. Wait for it to dry fully before lightening or darkening. After that I sponged on more browns where necessary and more highlight gray. Then everything was stippled/dry-sponged with a black-green mix. (dry-sponge… kind of like drybrushing, but smearing the color with an almost dry sponge) Then some pale lichen color was sponged on.
This looked like rock, but it was too neutral gray in color. I knew this would be the case and planned for some washes/filters to warm the color. This was done by mixing some very thin yellow/brown and applying it as a very thin wash over it all. Some areas received more or less to alter the color. Basically the key is to be random. If it's too uniform it'll look dull and lifeless.
Patina »
Now onto the bronze parts. In my prior post I showed an aged bronze shield that I was using for reference. I first painted all the metal parts with a thin black-brown. A few coats of this darkened it up nicely. Then I sponged on a "Pure Bronze" then a Venetian Gold which is a dark gold color… almost bronze. This as you can see is VERY shiny and bright.
That's fine though as it'll get aged away really quick. Next mix up a green-blue patina color. Not too light yet! Split this into two and use half for a thin slurry wash. Dab this all over all the parts with a brush being aware not to deposit too much into recesses like a wash. Once this dries use the thicker mix and sponge it on randomly. Then sponge on in parts some dark blue-violet and dark green. It should look like below. Kinda crazy but the next step will tie it all together.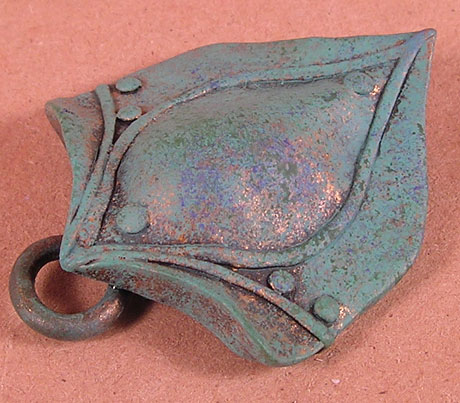 Now mix up your very light green-blue patina. Sponge this on and also drysponge it on as well. And that's that! Aged patina bronze.
Here's all the pics from this session. Next I'll start adding grass, lichen and thick in-scale sheet mosses.