Posts Tagged 'Bare Metal' »
Decals applied over a gloss coat. Then a satin coat of FFA applied along with a filter of yellow-tan oil paint.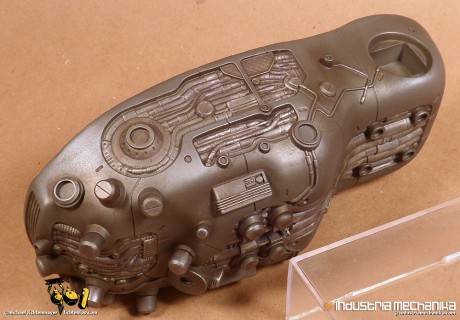 Metal: First I applied a satin coat FFA over what I had done in the prior update. Next, when cured I airbrushed on AK-Interactive washes: Dark Brown and Track Wash thinned with odorless turpenoid. I then mottled this with a turpenoid-dampened sponge to make it look greasy and grimey. I then drybrushed silver Run-n-Buff onto the raised detail edges. Another satin coat of FFA after about 8 hours of air-drying to set it before the next step: heat-tarnished effects with purple and blue oil paint glazes. Drybrush some gold Rub-N-Buff over that to give it that warm burned metal look. (looks better in person than pics due to the iridescence) Then buff on (with a finger) some Uschi Steel-Type powder on the underside's metal "frame" to make it look less grimy than the pipe areas.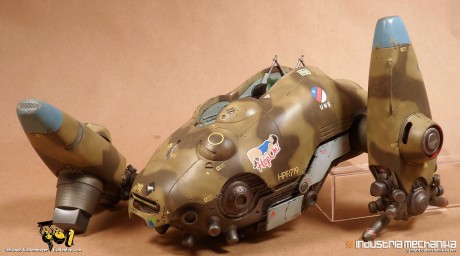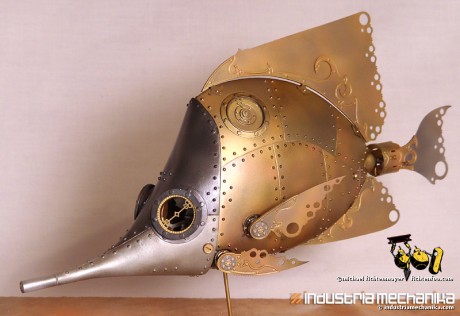 Moving right along, I painted all of the little details that needed done by hand. As you can see above, I tacked most of the kit together temporarily for photos.
Here is the Long-Nose shown with my original Fantastical Fish-Shaped Submersible build for size reference.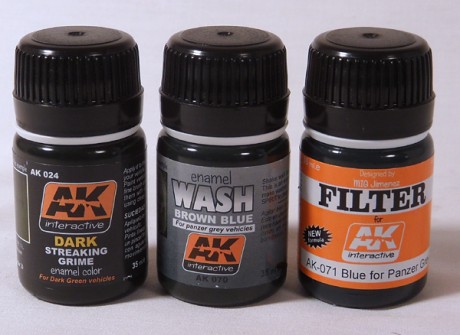 Now onto the dreaded weathering. When I started weathering the original copper sub, I was innundated with emails and forum posts saying "don't do it!" However, I like things to have a nice aged look… I love rusts and patinas and any opportunity to replicate one is a good thing! To start out, I airbrushed VERY thin mottled layers of the following AK-Interactive products:
Dark Streaking Grime (dark brown-green), Wash: Brown-Blue (muddy blue-green color), and Filter: Blue for Panzer Grey (dull blue). These are enamels so I made sure I first coated the fish in a coat of semi-gloss Future Floor Acrylic to keep it from interacting with the enamel metal colors.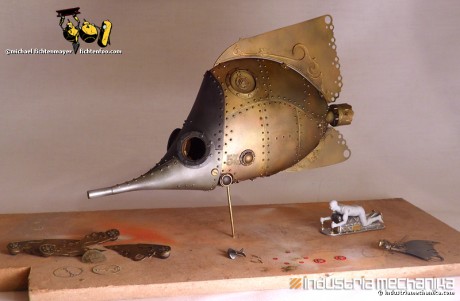 I then took a deerfoot-shaped brush wet with odorless turpenoid (because it's easy on the enamels, not strong or damaging) and tapped/blended the thin filter layers on the surface. This breaks them up and makes them look mottled, more natura, and also helps them act like a wash of sorts.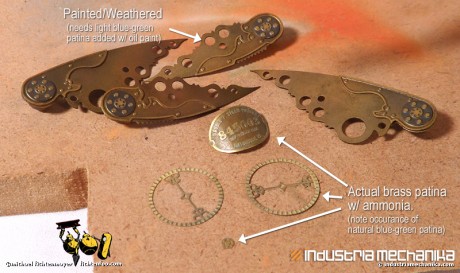 For some small photoetch brass parts I didn't use paint and instead suspended them in a jar with a little ammonia in the bottom. The fumes help speed up the natural patina process giving you a nice blue-gray patina as opposed to some products that will act as a blackening agent for brass. Both ways are good, just make sure you use whatever one is appropriate for the task/look at hand. YOu can see that my painting looks very similar to the natural brass patina except for the light blue-green areas. Those I'll need to add with oil paint next.
Also shown is the little PE brass valve wheels and the painted white metal propeller.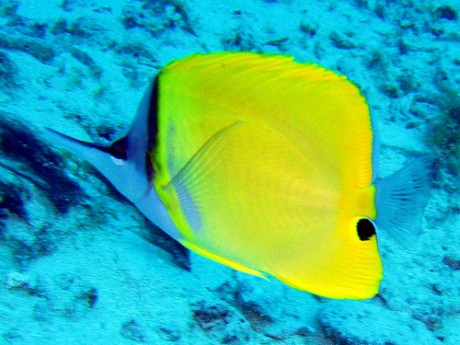 Moving right along, I've been working on the brass paint and base-tarnish/panel definitions. I'm painting this similar to the real Longnose Butterfly fish that it's design is based on, but in bare metal tones. I use a multi-stepped process for this brass finish and as usual with bare metal, it looks better in person, but the final photos should show it off nicely, just like my original copper fish.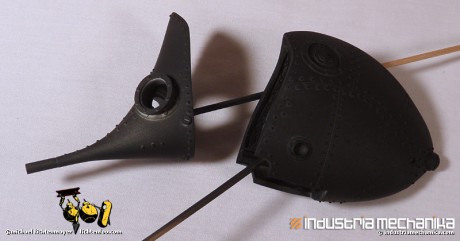 First up was a coat of Dumplicolor Black primer. Simple enough!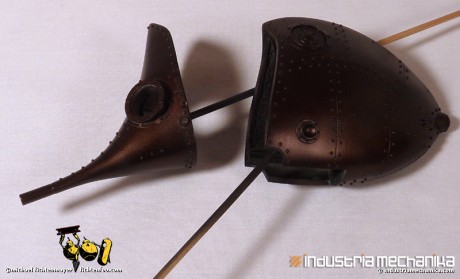 Next I sprayed on a base coat of Alclad II Jet Exhaust and let it cure overnight.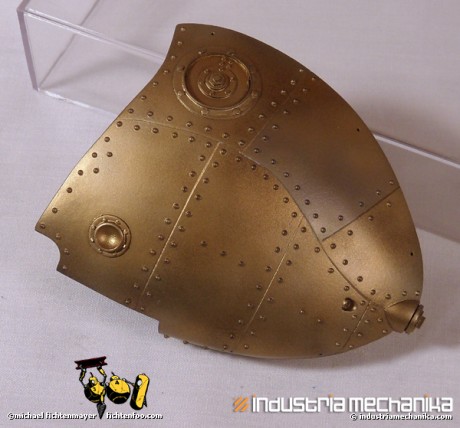 Next up is a fine misting of Mr. Metal Color Brass. This was then buffed with a soft toothbrush. As you can see on the top center panel, I masked it and started the panel discoloration…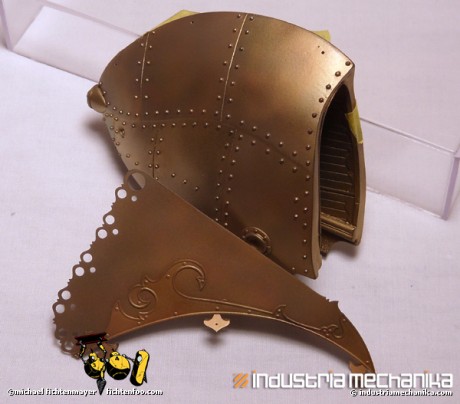 The prepped brass-painted panels, masked off 1-2 at a time, were sprayed with a random mottling of the following paints in this order:
1: Tamiya Clear Blue
2: Tamiya Clear Orange
3: Mr. Metal Color Copper
4: Mr. Metal Color Brass
5: Mr. Metal Color Brass + Iron 50/50
This if done in a nice random mottled pattern will give the look of heat-tarkished brass with a rainbow of colors like a wet oily road. It's hard to photograph however. When doing the panels, try to make the panels that touch not match to make them look varied.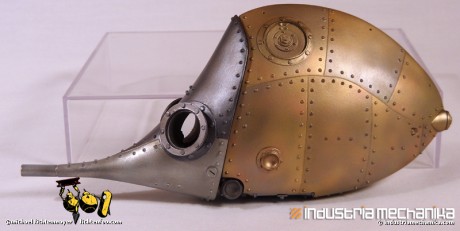 The lower nose was sprayed with Mr. Metal Color Aluminum, buffed, them misted with Tamiya Flat White then buffed again to give the look of patina'd aluminum. The top was misted over with Mr. Color flat black, then Mr. Metal Color Iron, then buffed.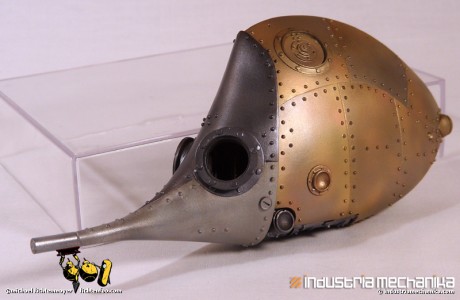 Next up I'll start picking out details and painting the interior.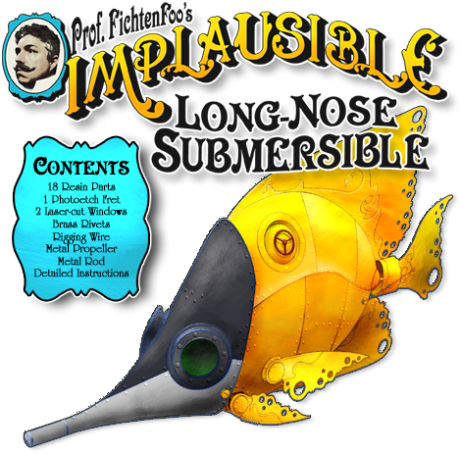 My new steampunk Fish Sub model kit is about to start shipping for those that preordered it, but meanwhile, the caster sent me my advance copy to start building up. I did my last sub design in copper, but this one is begging for brass since the real fish I based this on (The Longnose Butterfly fish) is mostly yellow.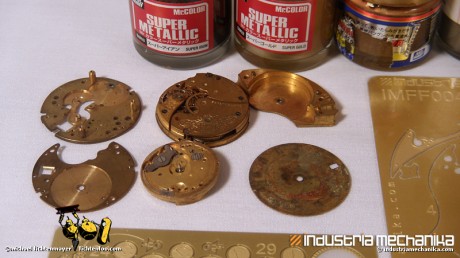 I started off by gathering some old brass watches in my collection to use as paint reference. What's great is that the tones of brass are quite varied even without the patinas and staining. The kit comes with the brass photoetch I designed for it, but the sheet-brass has a natural grain to it that makes it look out of scale. So unfortunately I'll be painting most of the etch as well, but the good news is that it'll match the rest of the sub better which in the long-run is ideal. I like that in the watches, they're not all brass. There's other gray metals (stainless steel?) in there as well which will help to break-up the brass tones.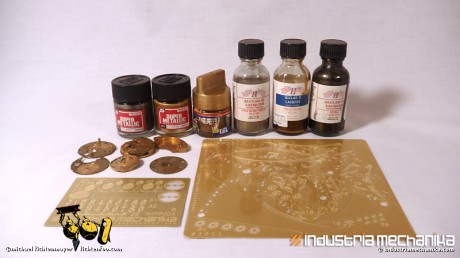 Along with the reference I've pulled out a plethora of brass and gold-toned paints from the shelves. I'll use these straight from the bottle and mixed with silvers and coppers to adjust and vary the tones so that the panels have some nice variance to them. Just like I did with the original Fish Sub.
The brass photoetch is pretty easy to work with. Simply use a razor to snip the parts from the sprues and lightly sand the nubs down. Lightly sanding the entire sheets before cutting as I did will allow for better glue and paint adhesion later.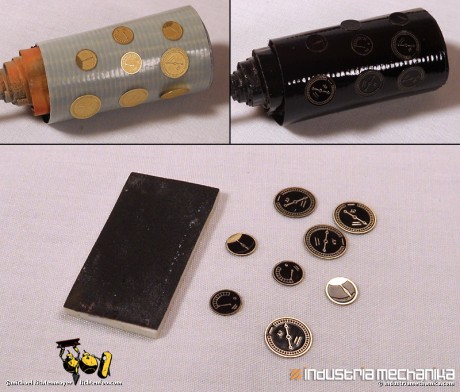 Let's start with the brass gauges. Cut then from the sprue and stick them to some reverse rolled tape. Spraypaint them in whatever color you choose for the recessed faceplates. I used cheap gloss black spraypaint. Let dry then lightly wet-sand the faces on some fine grit sanding film glued to a styrene block to reveal the raised brass. Really simple and nets some attractive results.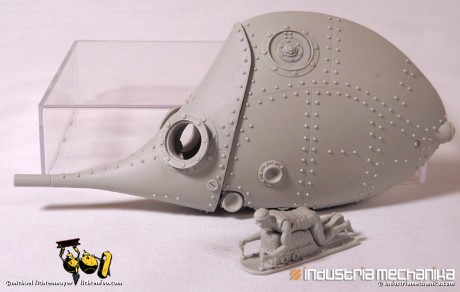 The resin is cast in Industria Mechanika's typical light grey which makes cleaning it up easier than the plain white or cream colored resins. Clean-up is a breeze however thanks to some great casting. The pilot figure turned out especially nice. Overall minimal sanding is needed and so far, no putty!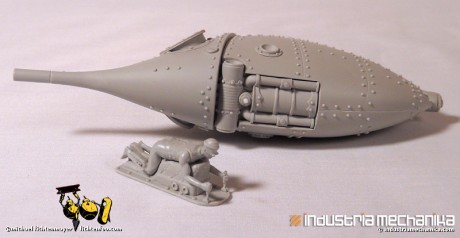 The figure gives you a good idea (if you're familiar with 1/35 scale) of the size of the Fish Sub. For those that are not, nose to tail the sub measures a little over 8.5 inches (21.5cm) long.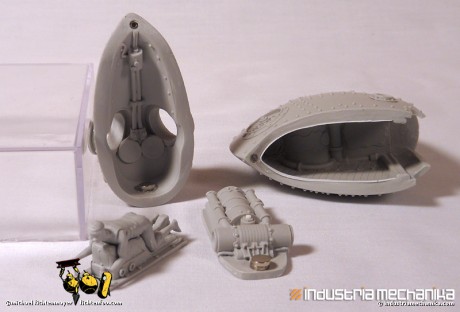 I decided that since this is a promo build-up for shows and such, I wanted the head to be removable to show off the inside. This was really easy since the head fit is VERY good. I used several neodymium magnets (small, but crazy strong) to keep the head in place.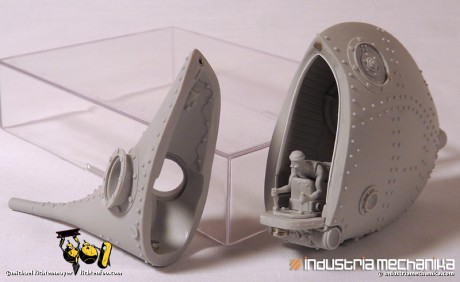 There was a hair of light that could be seen yet which bothered me so a thin strip of styrene embossed with rivets (nail pushing on the reverse side) was added on the rear hull inner seam. This will block any light bleed. As you can see from the first pic of the resin above which the magnets are holding in place, the fit is really good. Nice amount of interior space on this one.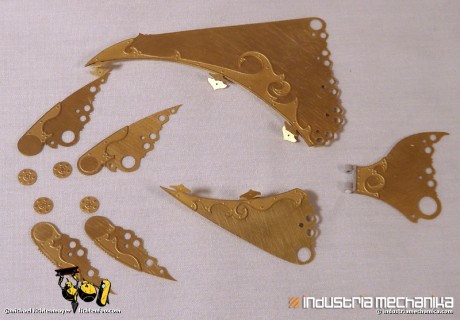 The layered photoetch brass fins are my favorite part of these subs. The side fins are 4 parts each (unless you also use the optional riser as shown below) while the other 3 fins are 3 parts each. A main fin shape and 2 decorative brackets. The dorsal and anal fins have holes in their brackets where a brass rivet included in the kit can be inserted to secure the brackets to the hull. These brackets need a little bending to get them in the right position, but that's relatively easy.
Above is a 3-part riser that one can use to make the pectoral fins stick straight-out like traditional dive planes on a submersible. Otherwise you can skip these and have them look more fish-like and to the sides as I'll be doing.
Next up I'll be starting to paint the interior.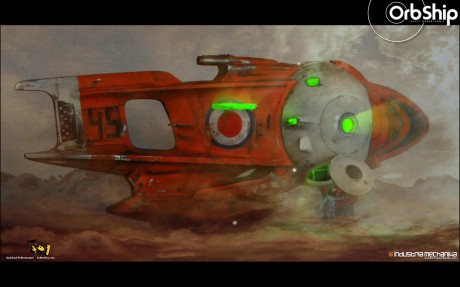 And she's done! I had a good time building this up, even though I had to put it on hold for months due to work commitments. The final photoshop wallpaper was especially fun. I used one of the dark photos to create it. The batteries are in and the lights are on in all of these images. I didn't want the windows to be overkill-glowing light spotlights, so I only used two bulbs inside of the ship (which is hollow by design!) and painted the insides with a reflective metal spraypaint.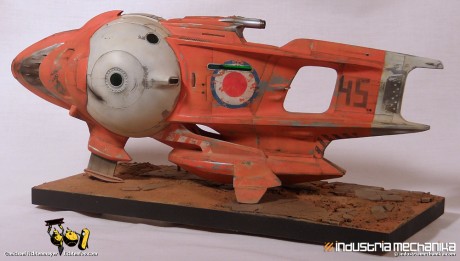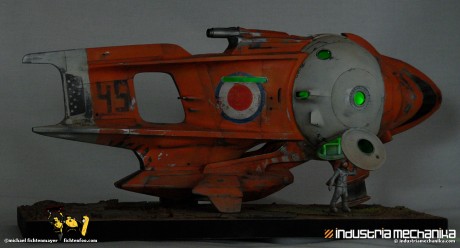 Nothing on the Orb Ship today since it's still drying. I want to make sure that the panel discoloration is completely cured before moving on to streaks. This gave me a good chance to start and finish the Martian base though. Lots of steps here I think so bear with me. Let's start at the beginning though and show the plaster/celluclay base I started with.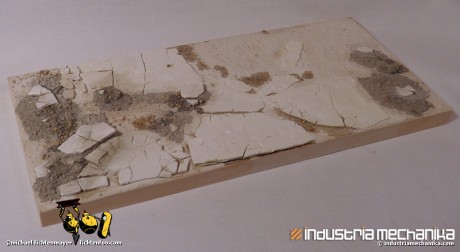 Next I sprayed the entire piece with flat black cheap-o spray paint. I noticed that parts where I used superglue (the darker spots on the above starter image) were remaining glossy while the "unsealed" plaster and celluclay was sucking up paint like a fiend, so I let it dry completely, masked the sidewalls with blue tape then brushed on a layer of Future Floor Acrylic to seal it.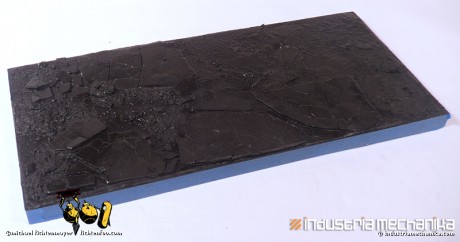 Next I drybrushed on some craft acrylics (Apple Barrel, Americana, etc…). I started with a warm dirt color as shown.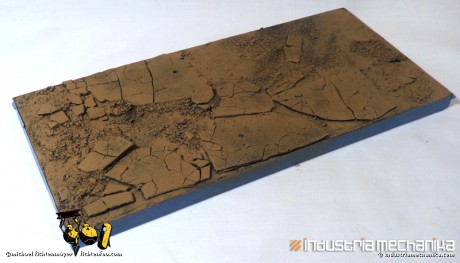 I did several more layers of drybrushing moving to a more yellow-orange dirt color. Then I made a wash of that color and applied it to the entire base, using a sponge to even out the brush-strokes. This got the sandy coloring into the crevases and mottled the paint so it wasn't so even. Then I used gray and black paint to pick out the slate and piles of rocks. When dry I did one more layer of the yellow-orange dirt color.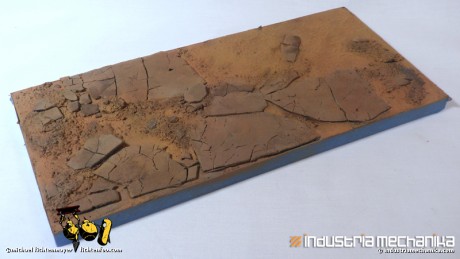 Next was meant to be the final step, but it didn't look right… I mixed some Martian colored pigments (Mostly MIG African Earth as their  "Martian Dust" pigment is too… red) with alcohol and put the mixture in my sonic cleaner to thoroughly mix it and keep it from settling while I airbrushed small amounts of it over the surface. The end result obscured the rocks too much I think and was too orange as compared to the reference.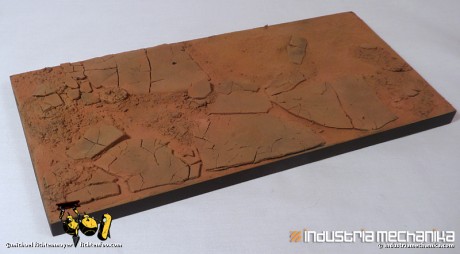 I went back and picked out the rocks more, mixed some European Dust and Beach Sand pigments into the mix and resprayed again, this time not as heavily. The result was much better, but the rocks looked too uniform still.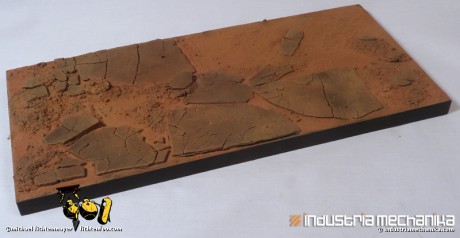 Lastly I went back and applied some light washes to some of the rocks to highlight them. I then sponged over them with some of the pigment wash thinned further with water. The end result is more like what I wanted… got a nice rich red-brown base with lots of variations in the tones so it's not all one color and bland.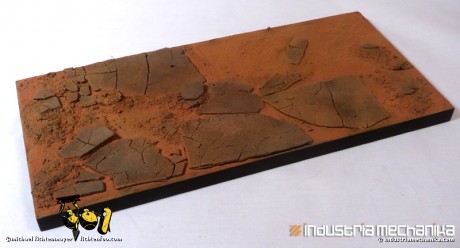 The photos are making it look more orange than it really is, but I'm happy with the result.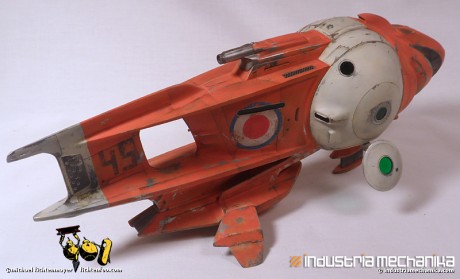 Moving right along… next up was filters, discoloration, and then panel shading. I went over all of these techniques in my Millennium Falcon youtube videos, so no point in re-describing it when you can check them out.

Here's the results: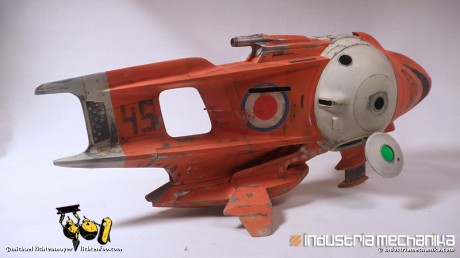 I also started work on the base. Tom Grossman of Tag Team Hobbies (one of my Industria Mechanika dealers) shared this cool image of the Mars Rover on Mars and since I'm a sucker for most things Martian in nature, I saved the image and decided to use it as reference for this base.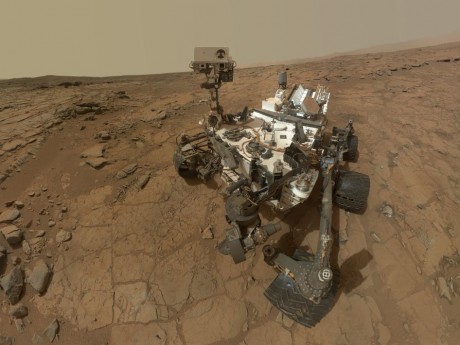 I started off with a 12 inch by 5 inch piece of MDF, then added thin basswood around the edge to make it look nicer. On the top I poured plaster and smoothed it over the surface. While wet I put thin sheets of plaster I had saved in my "terrain bin" onto it and sprinkled railroad talus. onto the surface for the loose rock.
When the base plaster layer was starting to set-up I shattered the plaster sheets with the back of a screwdriver handle and wet-sponged the smooth portions to give it some texture. When cured I took a stiff toothbrush and "eroded" the plaster sheets. Finally, I applied some Celluclay mixed with more talus and plaster sheet to the base for some higher terrain portions. Next for the base is primer.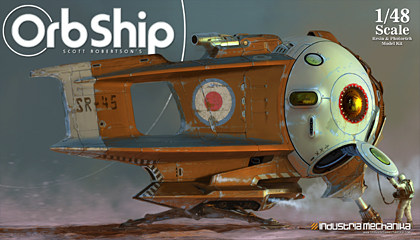 Almost 4 months later, but I'm back on this! In case you don't recall, this is the Industria Mechanika release of Scott Robertson's Orb Ship. The kit's 2nd edition is coming up so click here to get on the notification list.
After the bare metal base coat which was covered in a layer of gloss Future Floor Acrylic, I sprayed the entire kit with hairspray. When the hairspray dried I painted the entire kit white, let it dry a few minutes, then masked off what I wanted to keep white. What was left I sprayed orange, then removed the masking.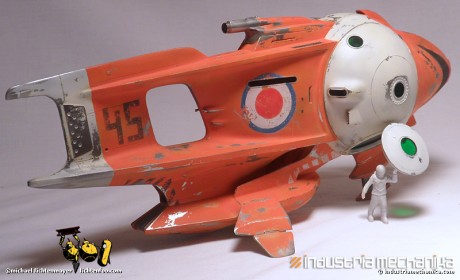 Next I used a wet brush and plastic/wood tools to chip away at the orange and white paint revealing the natural metal underneath. Then done I did more masking for the caution stripes, numbers, and the symbol on the side of the ship. Before painting however, I applies a little liquid mask with a sponge. That way I could easily rub away the mask making the new marking chipped with the base orange color showing through.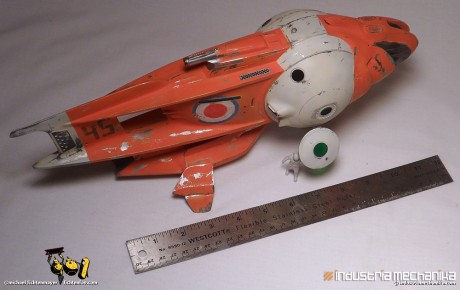 That's it for this update. Next I'll start applying filters and other discoloration steps. I took this last image with a 12 inch/30cm ruler to again give you an idea of the size of this ship. HUGE!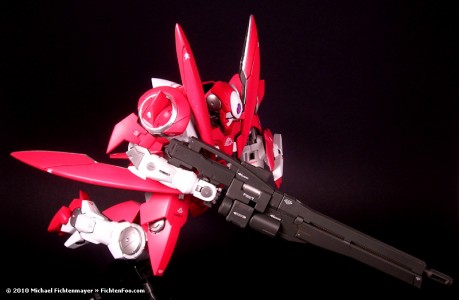 I consider this one a bonus in the MGX4 Challenge as it's the 5th MG kit (7th model overall) completed before the End of April deadline. The MG GN-X is a fantastic kit, but I may be biased loving the design as I do. This was built OOB except for the addition of clear purple painted bearings added to existing  "dot" locations all over the design. For the clear purple parts I first over-painted the pale purple OOB parts with a darker clear purple mix. Over that I applied layers of FFA + Pearl Pigments. The first layer was purple pearls, then blue and finally random green pearls that only show up in certain lighting angles. The effect is similar to that of an aurora sticker, but not as dramatic and more speckly. Decals were from Samuel Decals. I had them print me an additional sheet with all red decals. Metal parts were painted with Mr. Super Iron and Mr. Super Fine Silver.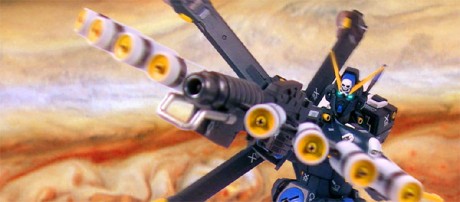 Four out of four done and way before the deadline! In fact I also finished a UCHG Zaku head which still needs photographed and have the GN-X primed and ready for paint so I'm well ahead of the curve.
This was the MG Crossbone Gundam Full Cloth. I decided to not do the "Full Cloth" armor and save it for another project and to change up the color scheme to the dark X2 version similar to another piece of Studio Windfall art. I used the head and chest skulls from the Ver Ka instead of the one seen on the Full Cloth version as it had a meaner, less silly look. The eyes were drilled out from the chest skull and vulcan cannons inserted. Gives it a mean look. (pun totally intended) Decals were from Samuel and my own "X" designs. Metal parts were from Ako, MechaSkunk and other sources (purchased from mechaskunk). The light blue is the same I used on the Victory for the main blue and the dark is a mixture of Tamiya Field Blue, Black and Flat Blue.