Posts Tagged 'Armature' »

I've probably mentioned this before, but if I could only read one series of books then it would be Frank Herbert's Dune series. I've read all 6 of his releases 3 times in the past 15 years or so since I discovered them. (only one of his sons more recent ones so far, House Atreides, but I plan to read them sooner or later) I decided to look around to see if any decent Dune Models existed, but aside from a cool Sandworm and some old 80′s plastic kits from the awful 1980′s movie rendition of Dune, the pickings were slim to none. I've always found Leto II transformation/symbiosis with the sand trout to become a Sandworm fascinating so I decided to fill that gap in my collection by sculpting one of my own. This is by no means "canon" as a: it's a BOOK (imaginations people!) and b: I've taken at least one design liberty to be sure, but I think the essence of Leto II's multi-millennia-old form is there. It's been a few years since I last read the books so everything here is from memory and random art found on the interwebs.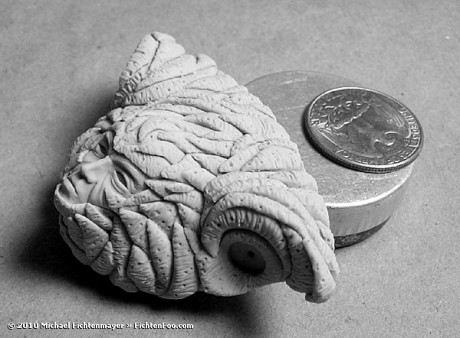 I can't recall if he still had his legs in the book, but I recall something about one being lost and them being an encumbrance anyway so I decided to leave them off. Some of the art I found had them, others did not. I also decided to have his arms inside of the "cowling" with his head as opposed to being part of the worms exterior. Again, I can't recall where they actually were.   I figured if he's turning into a worm (and mostly there already) and enjoys his time in the desert sands, that the ability to have his arms tucked inside of the cowl would be a bonus for burrowing about. I also recall Siona sleeping inside of his cowl in the desert under his tucked-in head so I want there to be some sort of space there as well as a visual mechanism for adjusting the head position. For that I am using something that looks what's left of his "sandtrout" skin as the skin-folds and musculature. (spoiler: Sandtrout are tiny slug/worm like creatures that encapsulate the planets water to protect the worms from it)
The rear worm parts of the body I decided to leave somewhat plain and segmented. The only detailing being some muscle-like detail between the outward bent segments, a rough weathered stone-like texture with small scours from eons of sand, and some breathing-holes along the exterior in three lines. This lack of horns, ribs, etc is to allow thew worm to travel beneath the sands in a more streamlined fashion. Real worms and mother nature always have the best solutions, if not a little plain. Around the mouth/cowl though I plan to jazz it up a bit.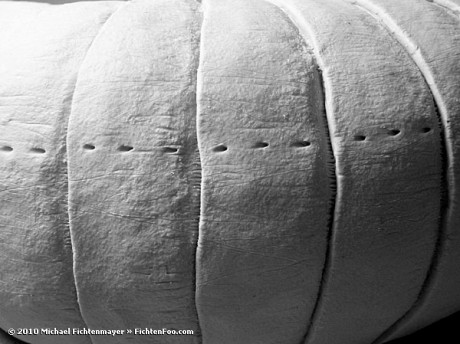 As usual I don't have anything decent in sketches to show and am doing this mostly from my own head. What I have sketched is so rough that it's not worth showing. Just arm placements, to-scale roughs for sizing the arms, etc… This is turning out to be a fairly big piece though and would be bigger if I didn't have him in a somewhat coiled pose. Stretched out he'd be about 20-22″ long. He's sculpted in Super Sculpey mixed with Sculpey III. The armature was coiled wire, like a spring in order to maintain the worm-shape.
I'm constructing this with possible casting in mind as it's always a possibility and making it in sections helps. I'll probably bake the tail section tomorrow after cleaning up under the segment edges a bit, then start on the front segment. The head is baked and the arms are roughed up. Just waiting till the front segment is ready to add/detail those. Here's all the pics:
Today I tweaked a few last areas and being satisfied I baked him. The baking went well… 200 Degrees F. for one hour. No saging, and only 3 small cracks to fix. A few people ased about possibly casting this. I'm thinking about it and will let you guys know. For now though, he's done till I either cast him or just paint him up.
I had a little fun with one of the final images and colorized/"comic'd" it in photoshop. Even made it look "halftoned" as if it was scanned in from an actual printed page. 'shopping model images is always fun!
And here's the final sculpt shots and immediately below is the image I Photoshopped.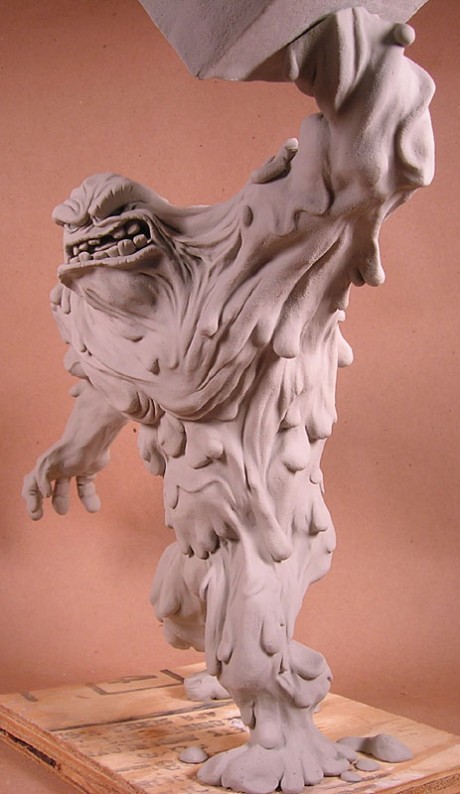 Today I added some last dripping details, mostly on the back and in bare spots. After that I made the large "hittin' block" and added the texture. Again the camera shows a few small things that could be tweaked further so tomorrow I'll address them then we bake! Nothing major tweak-wise… a few fingernail marks and other odd creases and I want to add a little more vertical detail to the lips and eyebrow ridges. Here's the pics though!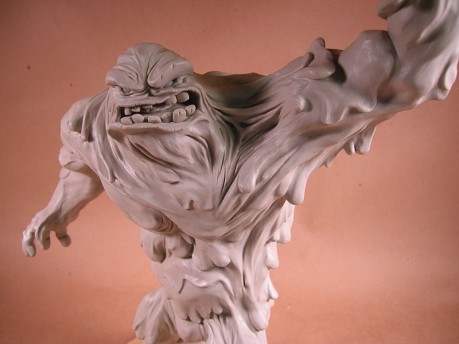 Just about done with the sculpt. I made a bunch of random teeth then baked them before pressing them into the "gums". I've also been adding more drips and gloops while smoothing out the surface before adding texture. The texture will be just a slightly rough surface with a few pock-marks and small divets. Similar to my Minotaur, but not as drastic. The Axe head is done. I just need to fill it (it's hollow) and make the connection between the arm and axe before taking pics.
Since the last update I've begun smoothing out the surface with a soft brush and 91% isopropyl (rubbing) alcohol. I've also been fixing the drips and droops.  While working on the legs, I decided that to go with the detailed right hand, that a humanish right foot might also be appropriate. It's a first for me, but doesn't look too bad. The other foot I decided would look cool glooped on the ground so I'm working on adding the gloop too.
While editing the pics for this post, I noticed a bunch of odd-looking parts that the harsher light of the photo booth brought out. I'll address these tomorrow. Once all the smoothing is done, I'll add a very fine stone texture to him. I also need to make the teeth and axe-hand.
The face was bothering me. There was something not quite right about it, plus my youngest thought it was a frog. "Time to redo that" I said and began making a new head separately as to not mess up the existing one needlessly. I gathered more images of clayface from the web for reference and started sculpting. When satisfied, I cut off the old head and added/blended in the new one. Aside from that I've gotten nearly all of it bulked out and am in the process of roughing out the detail. I still need to decide what I want the hammer to look like. Cylindar, rectangle, ball pien, hatchet? So many choices, but I'm leaning towards a long rectangular box or hatchet head. Both of those will have hard 90 degree angled edges that will contrast the organic goopy clay nicely. Anyway, here's the pics: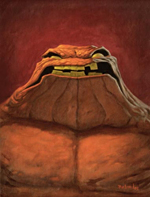 It's one of those days… The family is away, I'm waiting on stuff to arrive to complete other projects, oil paints are drying, and I have too much time on my hands and lots of sculpey. What to do? How about one of my favorite Batman villians, Clayface!?
I figured he'd be a fun and not too difficult sculpt to give me more practice with fully sculpted creatures and such. So far so good. The wire armature is made and clay is bulked on and roughed into shape. Of course it's a holiday and I've run out of sculpey to finish the normal hand and "hammer" hand, but I can still start roughing details on the face, chest and legs. Here's where I'm at.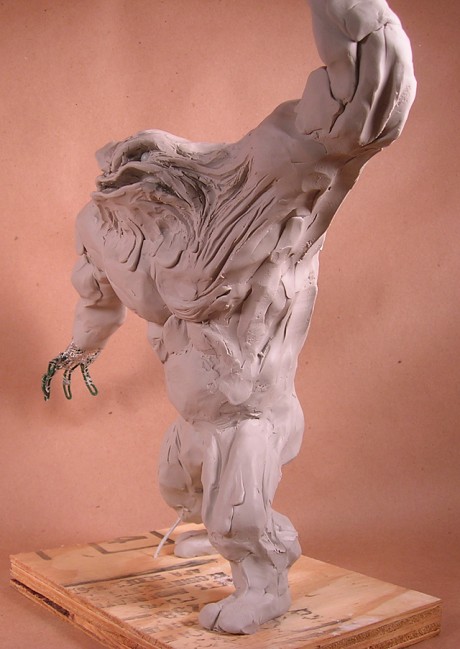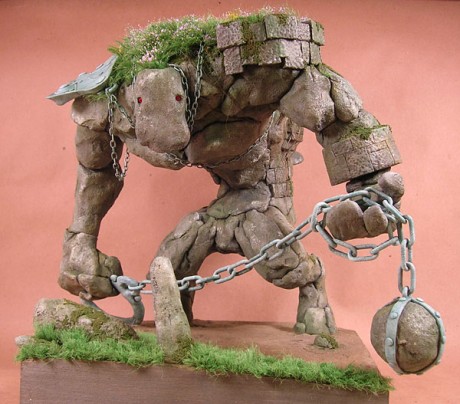 Still adding grass as you can see. Been a little busy with a garage sale last weekend  (thank goodness THAT's over!!!!) so this has been slow going. You can see that I'm adding clumps of the Jute grass and teasing it around while the glue is still wet so that it doesn't look like hair plugs. When the entire base is filled with grass I'll apply the same flower/weed mixes as I did to the back of the beastie.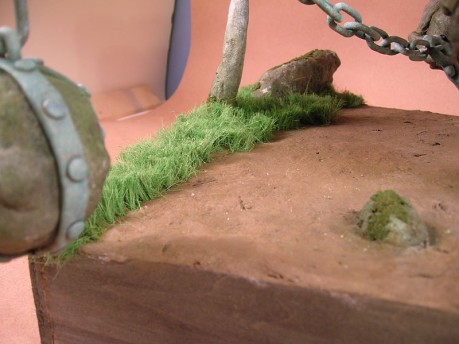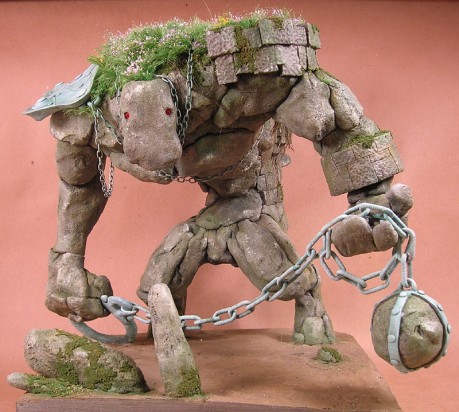 At this point the beastie is just about finished. A few touch-ups here and there and he's complete. I still however need to make the Druid "pilot" and finish the base grass. First things first though…
Moss! Before applying the moss I first mixed up some of Mig Productions new Fantasy Pigments to create a moss color for a base coloring. Mixing together 50/50 Zombie Green and Graveyard Dirt gave me the color I wanted. I applied this with an old brush and then airbrushed on a thin coat of the pigment fixer to seal it.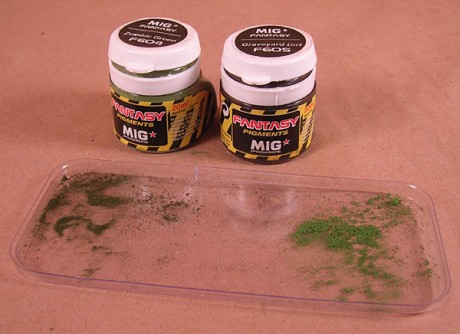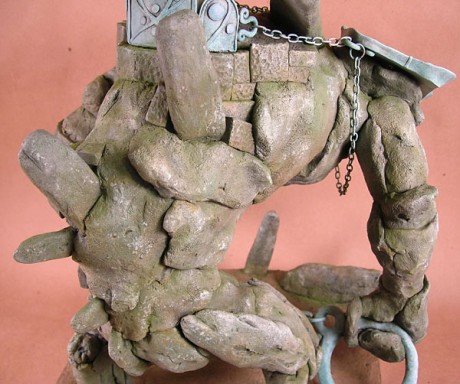 After this I applied the moss Per's way as shown in my last update. Basically you're mixing Fine Turf, White Glue and water then eye-dropping and drybrushing (when dry) paint to tint.
Once the moss was done I began applying the grass using Jute twine as seen in my tutorial here. The only difference between that tutorial and this is that all of my Jute was dyed a deep green with thinned cheap acrylic paint. I also applied roots as seen in the Dagobah Diorama to some of the creature. I want to add more to his right hand side as I forgot about that.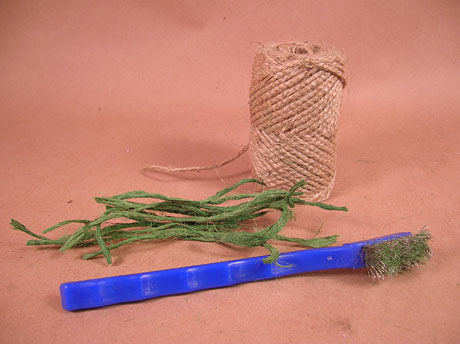 It took about 4-5 hours of unsteady work to apply all of the grass. Most of the grass clumps were about .5″ long give or take. Randomness is best here. Longer grass was used near the edges so that I could drape and curl it up nicer and shorter was used in the "chariot".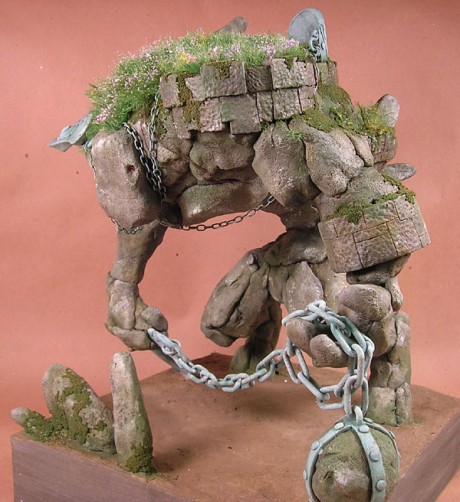 When the grass was dry I teased it up, trimmed any long out of place strands and masked all the stone in aluminum foil. I thought for a while about how to get nice little scale flowers without using REAL flowers that would fade/become brittle over time. Woodland Scenics makes a flower mix which comes on a card with 4 individually packed colors. Red, White, Yellow, and Orange. The Red, Yellow and Orange are just very fine turf. I had hoped the white was too, but it was basically their flake snow. I was annoyed at first as I wanted purple, pink and white clover (as I see EVERYWHERE this time of year) and figured the turf could be easily dyed. As it turns out though, the flake snow makes AWESOME flowers and weeds.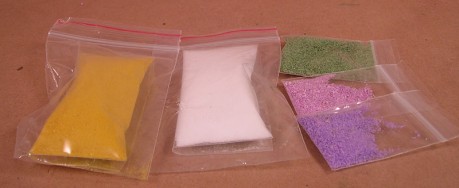 Just pour some of the WS snow into a cup and add a few drops of thinned acrylic paint and mix. After it dries you have colored flower flakes. Fantastic! Store leftovers in some small zipper bags for future use.
First I sprinkled green and yellow-grass turf onto the grass as well as some of the green flower mix. This was all to make the grass look more like thick leafy weeds. I misted on some thinned matte medium to stick the weeds on and then sprinkled on my flower mixes to simulate  clover and wildflowers. Again, randomness is best.
Since the last update I've finished the painting for the golem and added his bronze accessories.  I also made and painted some more megalithic rocks for the base as well as constructing the base and basic groundwork. I'm really quite pleased with how my rocks have turned out. I've always had trouble painting rock to look like natural stone. Because of this I tend to use real stone when I can, but that really limits what one can do. Being able to make and paint realistic rocks may not sound like a big deal, but it adds a lot to a scene. Below I took a shot of the paint I used and my sponge bit I used for aplication.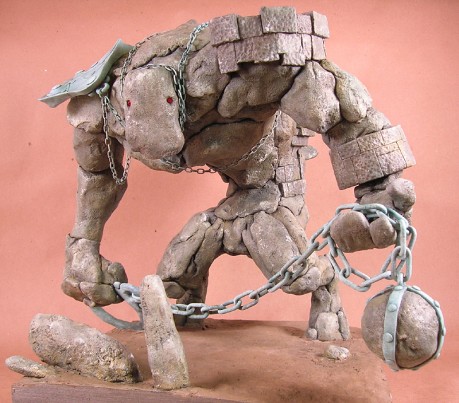 The base is my typical plywood bottom encased in basswood then finished. Crumpled paper, wire mesh then a thin layer of Celluclay make up the groundwork. I painted it with a dirt color, (I need to darken it I think) but for the most part it will all be covered in grass.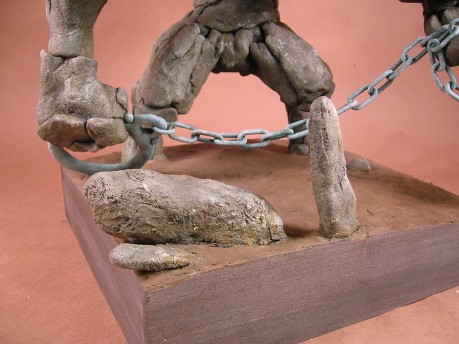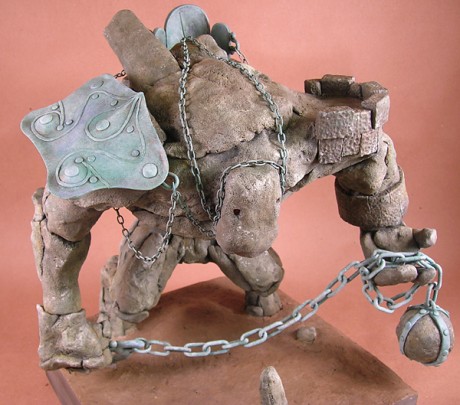 Here's my moss tests. Moss was done using Per Olav Lund's method as shown on the Mig Productions forum. Basically it's a mix of fine turf, white glue and paint. With my tests though I found my best bet was to not mix in the paint, but instead use an eyedropper to apply it later as I ended up smearing paint where I didn't want it as seen on the rock between A and A2 below. Dropping a "dead" yellow-brown to the dry mix soaks down and looks like the brownish roots and die-off as seen in "A2″.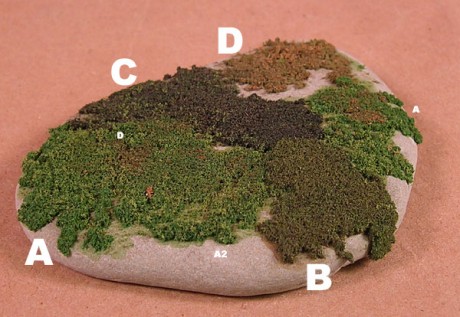 A: Light Green fine turf with a touch of "Earth" fine Turf.
A2: Dead-colored paint eyedropped on later.
B: A blend of Light Green, Soil and Earth fine turf. Dead-colored paint eyedropped on later.
C: Soil fine turf only
D: Earth fine turf sprinkled with real dead moss "dust". Can be applied is parts of other mixes for die-off.