Posts Tagged 'Aluminum' »
I didn't know that these kits existed until last week! I've been in such an Industria Mechanika cloud that other genres I typically build have kind of book set aside so could focus. However while looking at HLJ for another plastic kit (The Hasegawa Last Exile II Van Ship) I saw these and had to bite on 3 of them as I've always really liked the design. I figured I'd put them in the stash and get to them whenevs, but not the case. I started these on Friday afternoon and as of Sunday night, they're just about done aside from the final pigments. They're a great "Mental Health Build" although mine usually end up being more "Mental" than "Healthy" … Anyway, here's the progress pics and details:

Building these is a breeze thanks to Fine Molds usual detail and good parts/nub placement. Only needed a little putty to smooth the seams on the grey/chrome engine parts. I also used just a little epoxy putty in-between some of the color-separated parts to have the panel lines not be so deep.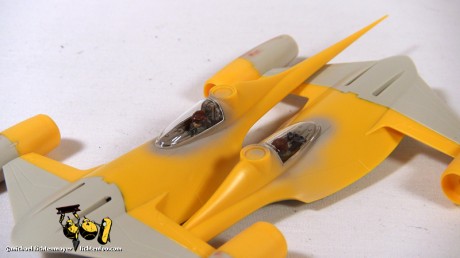 I used the normal pilots (not Anikan) for all 3 craft. I hand-painted them with Tamiya Acrylics and gave them a little oil paint wash. I painted the interior and gave that a slight wash as well. The canopies were dipped in Future and when dry attached to the hull.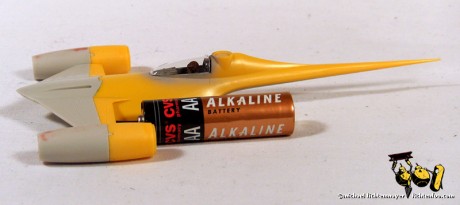 As you can see by the AA battery, it's not a very large piece.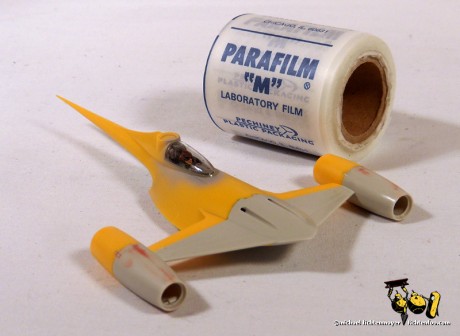 Once the glue holding the canopy had dried, I covered the canopies with 2 layers of Parafilm M.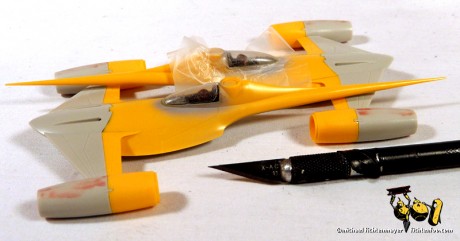 Using a sharp razor and a steady hand, the excess was trimmed away leaving just the "glass" masked.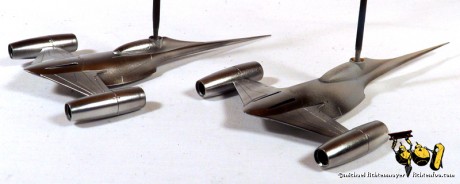 Ships were primed with Mr Surfacer 1000, then painted in Mr. Color Gloss Black and Alclad II Polished Aluminum. (kinda like their chrome) I had planned to do one of the three in all metal, but once I started, I realized I didn't like the look after all.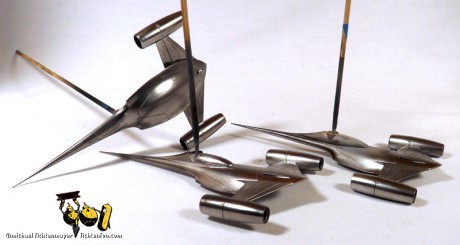 Once the metal cured, I buffed the parts with some AK-Interactive Dark Steel pigment which kept it very shiny, polished it to a nicer sheen, and darkened the metal a bit. Then the metal was coated in a thin layer of gloss Future Floor Acrylic.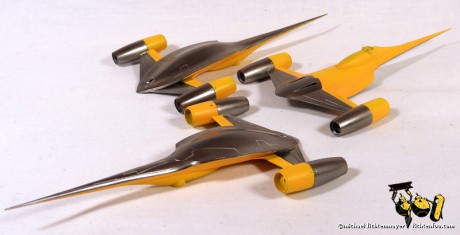 The metal was masked off based on my references making sure the metal went all the way to the edges on the bottom and cut across the front yellow plastic portion of the craft. One could get a decent looking N1 without masking, but to be accurate, masking is a must. For the yellow I first sprayed on a nice even coat of Tamiya white, then an even coat of Tamiya Flat Yellow. I then sprayed some custom yellow-orange Tamiya (yellow + red) around the edges and such to do some slight modulation highlighting. So the top-center of the hull and the engines are slightly lighter than the rest. Then I coated it in gloss Future and removed the masking tape.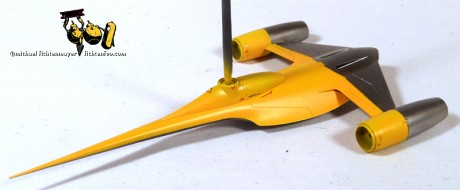 I applied the very nice kit-supplied waterslide decals. These are very nice and go on easy enough. The R2s are tricky, but I've decaled enough Fine Molds R2′s over the years that I knew what to expect. A semi-gloss coat was applied to all the parts.
Before removing the Parafilm from the canopy, I misted on some AK-Interactive Winter Streaking Grime with the airbrush. No need to thin it, but make sure the mist is very finely applied. Don't overdo it. Then you can take brushes dampened with odorless Turpenoid and streak/blend/mottle in the grime so that it deposits in the panel lines and elsewhere.

Next-up I'll apply some "black" pigment burns and weapon-streaks (or I'll airbrush them on) and then I'll do a little more of the Dark Steel pigment application to bring back some of the metal obscured by the clearcoat and grime.

About The Kit »
This is the old 1/100 Tallgeese kit. You can build one of three different versions and I chose my favorite, the Tallgeese One. I made a bunch of little modifications and such which you can see below:
Increased height of head crest. Added various screws and minus molds for added detail.
Added ball joint in waist for added posability.
Modified binder joints.
Detailed up gun.
Added aluminum thrusters and detail under side and rear skirt.
Added new sole detail and thruster under foot.
Detailed insides of bunders with springs and styrene.
More!
08.02.07» Sources, Concepts &
Initial Building
The Tallgeese is one of my favorite suits from
Gundam Wing. Maybe it's the Romanesque look or that it doesn't
look like the other Gundams. But I love that stoic look of
this mobile suit. The HG 1/00 kit suffers from all the usual
HG wing kit problems. Loose joints, ugly joints, poorly articulated
joints, (basically bad joints) and it could use some added
detail to make it really pop. With this particular kit I could
make one of 3 different versions of the Tallgeese as seen
in the series and Endless Waltz movie. Since the original
is my favorite, I'll be doing that one.
I'll be making a lot of small changes to the
kit such as added detail and joint replacements/fixes. First
I removed the plastic under the collar of the head so that
I can tilt the head downward more and show some piston internals
under the back of the head. I also increased the height of
the head crest by about 60% by layering thin strips of styrene
on top, sanding down the sides then using SGT to fill the
gaps. The torso was split and a ball joint was added to improve
mid-waist posability. The knee joints were detailed and a
few leftover parts (red) from my Rick Dias killed in the front
detail gap.
For the feet I added detail and a thruster to
the sole and added pistons that go from the front of the feet
to the lower leg. The pistons are attached in the foot using
a ring magnet and metal bearing. I also cut out the shoulder
joints from the side of the chest and fashioned new ones using
the shoulder joints of an old MG Zaku kit I use for spare
parts. I replaced the barrel of the dobergun with brass tubing
and added details here and there. It's still a work in progress
but will have a camera mounted above the new trigger grip
and a grenade launcher attached under the barrel.
08.05.07 » Binder Mod
The binders on the back of the shoulders needed
some kind of mod to make them not hit eachother when in a
dynamic pose. At first I contemplated making a balljoint or
an angled rod into the current polycap. Instead I figured
out that I can merely cut the 2 outer parts of the joint cover
from the back of the shoulder, glue them to the joint box,
slice off a small part of that box and in the end I had a
very simple plastic on plastic joint using only what was already
there. (peg and hole) Later I'll need to thicken the peg,
possibly with some CA to strengthen the joint. Here's some
pics:
09.14.07 » Rest of InProgs
Here's the last of the inprogs I promised to
post up. The last pics just show what isn't easy to see once
the kit is done. The forst few show the arm joint mods. I
basically used some rectangular tube with one thin side removed
for the lower arm joint and some detailed rectangular rod
for the upper. A leftover MG kit screw on each joint was screwed
into a pre-drilled hole. This makes the joint nice and tight.
I had to remove the upper parts of the forearms earlier in
order to be able to add the screw in later. This hides the
screw nicely as well. The top of the joint was later pined
and glued into the upper arm (bicep).
About The Designs »
I acquired this new MG Rick Dias in a trade. I liked the design, but I wasn't sure how I wanted to color it. I really didn't know much about the Rick Dias before I saw Zeta Gundam. Even after that I needed more information to build this kit as it's been a year or more since I saw the series. I went to MAHQ for more details and found the following:
Originally intended to be called the "Gundam γ" ("γ" being the Greek symbol "gamma"), the MSA-099 sported a more Zeonic look, so it was named "Rick Dias" instead ("Rick" is derived from "remake", and was a term first used on the MS-09R Rick Dom to distinguish it as a space-use remake of the MS-09 Dom; "Dias" was the name of the discoverer of the Cape of Good Hope on Earth).
–MAHQ
Having read that I decided to base my decal designs on the "Gamma Gundam" idea. I also decided to keep a similar look to my Type 100 Afterburner as I thought it'd work well here. I also decided to make Jeep styled mods so enhance the look. Shiny metal parts.
About the Build »
The kit itself is pretty nice and goes together well. It's rather big and bulky as well, but is still quite posable I found. Below is what I did to modify the kit:
Scribed additional panel lines on forehead, chest, skirts, feet, hands, and elsewhere.
Added 1.5mm MechaSkunk balls on rear skirt.
Added small MechaSkunk screws to skirts and legs for detail.
Added various 1mm MechaSkunk beads to detail the armor and simulate small vernier.
Spun all thruster bells on my drill (used like a lathe) and sharpened the edges with a razor to create thinner looking walls.
Painted bells with Alclad Polished Aluminum and then with Tamiya Clear Blue.
Added details to all verniers in the way of additional bells, beads, and tubes.
Detailed bazooka barrel using aluminum tubing.
Replaced beam-gun barrels with aluminum tubes.
All aluminum tubing polished to a shine using drill and steel wool.
Custom Color Scheme
Custom Decals designed by me.
More!!!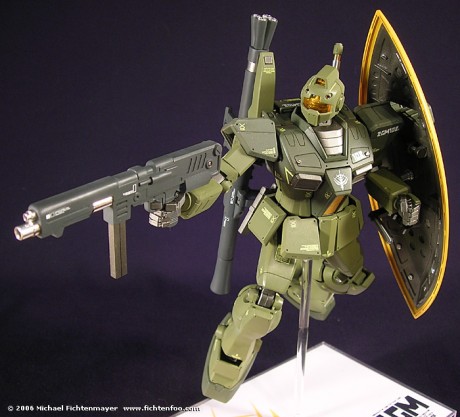 About The Kit »
Several damaged Earth Federation GM mobile suits were captured and salvaged by the Principality of Zeon. These GMs were  combined to creat a few dozen workable units. These units were used for testing against Zakus and other Zeon MS and MA. The Zeon would use both EFSF and their own weaponry in these tests. This particular Z-GM is outfitted with an MMP-80 machine gun, Zaku bazooka, Gelgoog shield, and beam saber.
About the Build »
This is another of my cheap kits found at Amazons clearance sale. I picked up 2 of these GMs for $5 each. Not too bad! The kit itself is not up to the level of detail one would expect from MGs. There is very little internal detail. As such, I decided to make more Jeep
styled mods so enhance the look. Looking back I should had made some mobility mods for posability, but that'll be a task for my next one. Below is what I did to modify the original kit:
Painted visor with clear yellow-orange with Alclad chrome on the internal part.
Added 2mm MechaSkunk bead to forehead visor to simulate camera.
Added 2 small MechaSkunk screws to chest for detail. Added various 1mm MechaSkunk beads to detail the armor and  simulate small vernier.
Modified ankle pistons with Aluminum tubing. Removed molded in plastic pistons.
Spun all thruster bells on my drill (used like a lathe) and sharpened the edges with a razor to create thinner looking walls.
Used 2 bells from other GM kit to make a 4 booster backpack.
Added details to all verniers in the way of additional bells, beads, and tubes.
Drilled/cut open soles of feet to detail thruster bells.
Bazooka sensor/scope modified using large wave-eye and round vernier.
Cut apart Bazooka and made it seperable using aluminum tubing and magnets.
Modified Ruck Mount to attach Zeon Bazooka with magnets.
Replaced gun barrels on MMP-80 with aluminum tubes.
Added minus molds to shield interior to cover up injector pin-marks.
Modified shield handle with Aluminum tubing
Made new shield mount on shield and forearm using magnets and aluminum tubing.
Added 1mm MechaSkunk balls to shield face for detail.
All aluminum tubing polished to a shine using drill and steel wool.
Custom Color Scheme
Custom Decals designed
by me.
More!!!
06.29.2006 » Concepts
/ Intro
Since
I wasn't using my Gelgoog shield for my Gelgoog and had a
bunch of MG Zaku weapons lying around, I decided to make a
Zeon-Use GM out of one of my $5 MG GMs from Amazon's legendary
sale. I'll be doing the scheme up in green with yellow decals
and highlights. I'll also be detailing up this piece with
lots of aluminum and option parts.
First up is the weapons done up
in the "Jeep"
style. I'm beginning to love my electric drill
for polishing crappy aluminum tubing into high-polished
eye-catching upgrades. I use very fine steel wool,
then a make-up wedge "borrowed" from
my wife. You can see below the difference between
the polished and unpolished pieces.
For the MMP-80 I removed the baller
and the round "back" of the barrel with
my scribing saws. I then drilled out the holes
to make the barrel one piece that slides all the
way through. Smaller aluminm details were added
afterwards.
For the 280mm Bazooka, I have been
making it seperatable using more telescoping pieces
of polished aluminum tubing. More on this later
as I've gotten further with inserts.
07.09.2006 » More
In-progress
Here's some more progress on the
ZGM. I decided to add 2 more thrusters to the
backpack. I used them from another GM kit that
won't be needing them. I painted them with Alclad
Polished Aluminum and painted the insides with
Tamiya Clear Orange. The clear orange actually
looks a little golden which is cool. To attach
them I mounted a ring magnet onto each side of
the backpack internals. Then I glued steel bearings
to each of the 4 bells. An extra magnet attaches
the lower bells to the top. The feet bells are
small Wave option parts painted the same way and
inserted into holes I drilled in the feet. For
the face, I painted the inside with chrome and
the outside clear part with Clear Orange.