Posts Tagged 'Airbrush' »
Next up is the oil paint "glazing". A thin layer of green was applied to the flesh. Thick enough to alter the color, but thin enough to let the spots and stripes show through. This glazing was highlighted and shaded then stippled smooth with a dry deerfoot brush. After that I reapplied the strips in oils and blended them in more naturally. Lastly I glazed the scales on the shoulders and thighs to make their tones different and interesting. Now I've got to wait a day or two for this to dry. Bummer!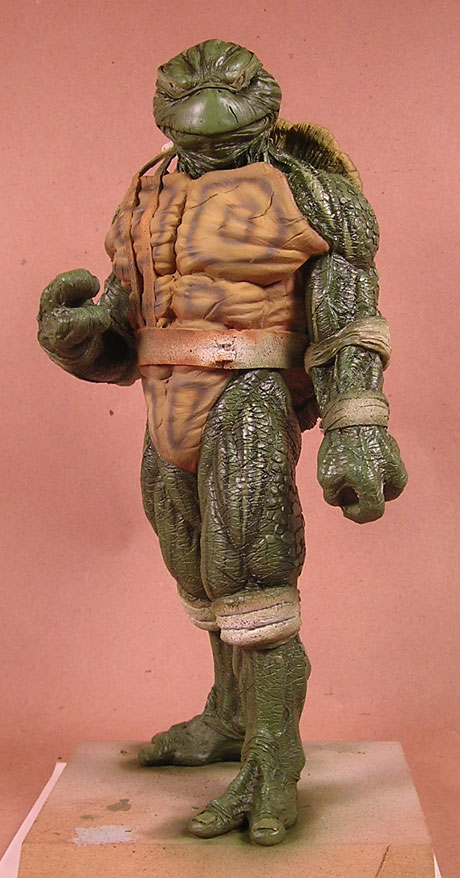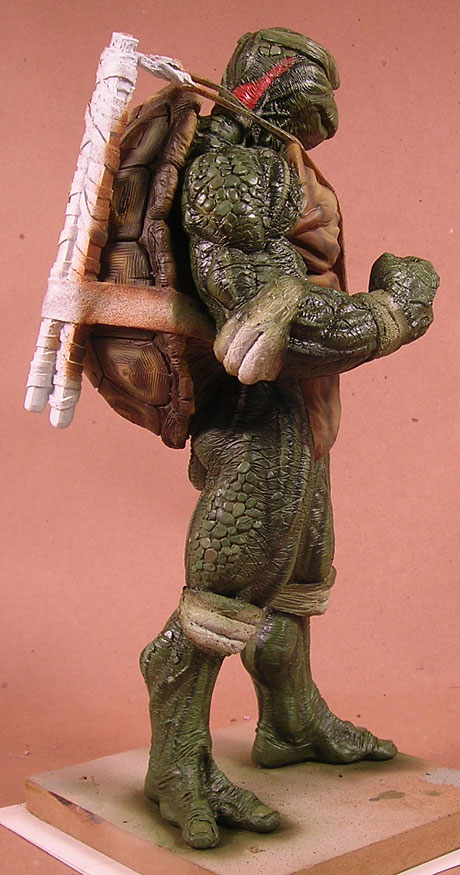 Moving right along I got a lot further tonight than I thought I would. Not bad for 3 hours of work! First after priming in white I sprayed the flesh with a Tamiya "Sky" like color. Then I airbrushed on faint lines of a slightly more saturated green which isn't visible in the pics. I then masked off the "red ears" with sticky-tack and airbrushed on the red. After I sprayed the chest and back with a medium brown color. The front was then highlighted with a desert yellow mix. The same mix was applied to the back to make the shell pattern. Then Khaki Drab was sprayed on the back shellover the brown color deepening the look. The same drab color was applied to the chest for the pattern.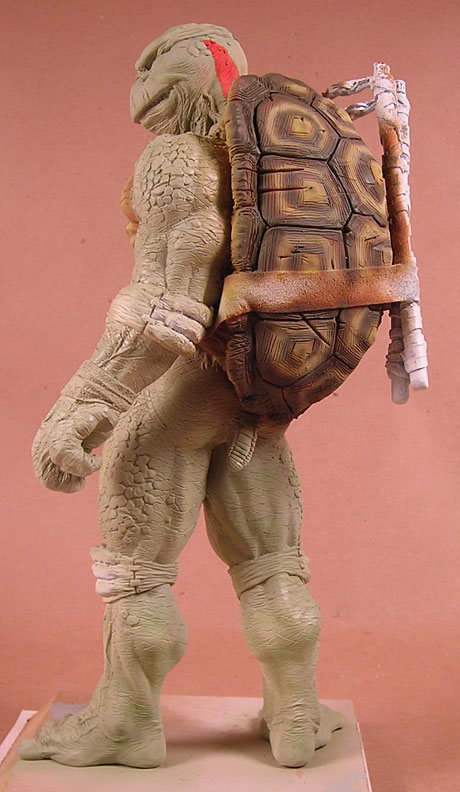 At this point I used Mig Productions Liquid Mask and masked off the chest and rear shell. I also masked off the stripes with the liquid mask so that Leo will have the light stripes like real Red Eared Slider turtles. Once the mask was dry I spattered Leo with more liquid mask from a toothbrush to get some light specks on his skin later. Next I used Khaki Drab and shaded all the shadowy recesses around the muscles. Then I used Tamiya Field Gray (military green) and lightly oversprayed all the skin. The mask was rubbed off and darker stripes were hand painted on with JGSDF Drab Green. Lastly the more thin paint was spattered on and blueish veins were applied with oils.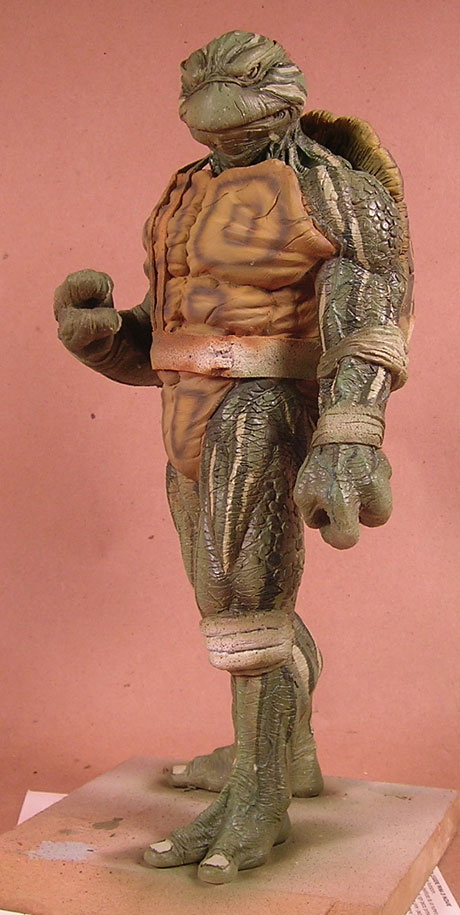 Next I'll start painting the flesh with a thin glaze of oil paint to further highlight and shadow the figure as well as apply detail to the chest and toe nails. The straps and mask will be painted after all the skin and shell is done.
One of the questions I get in my inbox at least once a month (including today)Â  is regarding airbrushes. Specifically questions like:
"I read your tutorial and want to improve my painting by getting an airbrush and compressor. I want/need something cheap though to start with."
Well, here's the solution to this common new-modeler problem. The Central Pneumatic 1/5 HP, 100 PSI Compressor and Air Brush Kit available at Harbor Frieght stores and online. At $84.99 (under $100!!!), this is a fantastic set-up for the money. This is the compressor that I am currently using and I really like it so far. The airbrush is a close knock-off of the Badger 155 and great for a beginner. I use a Badger 150 and a 175 with great results. Some folks will recommend something like an Iwata, but seriously, if you're new to the hobby that large chunk of change can be intimidating.  (or if you're a cheap-ass like me who believes it's more the skill of the modeler than the tools he uses/can afford)
 This is a great investment for the newbie and his wallet. It's cheap enough that you won't have to worry too much about screwing thing up during the learning process, and with the money you'll save you can buy a few more practice kits!
Posted 09.28.2005
I've
been getting a lot of e-mails and questions as to what is 409 (Formula 409) andwhere can I get it. Formula 409 is, according to their website: " a unique formula that allows you to easily dissolve daily messes on contact, while delivering a streak-free shine that cleans your kitchen to a beautiful sparkle!" Here's the official 409 website: http://www.formula409.com/
Basically it's an all purpose cleaner/degreaser. A cleaner for kitchens and bathrooms. I use it all the time for messes in the kitchen and when I'm modeling. I've always used it to clean up ink from my technical pens on my drawing table
when I use to do illustrations. I also would soak my pens in a 409/water solution as recommended by an art teacher to clean them. Because of that past experience with the product I began to use that same solution for cleaning up technical pen ink while doing panel lines on kits. You can also use it to strip chrome and paint from kits to varying degrees of success.
Stripping Chrome and Tamiya Paint from Sprues
Get a few bottles of 409 and pour them into a small plastic box that's large enough to hold the sprue of chrome coated parts. Next
submerge the parts in the 409 and let them sit overnight. You should probably cover the box during this process to keep the smell in (not a bad smell, but still can be overpowering in large amounts) and pets/kids out. Then when you're ready remove the sprues and use a toothbrush to get rid of any bits that may be leftover in grooves and panel lines. The 409 will not harm the plastic.
Rinse with water.
Now after I did this for my Type 100 Hyakushiki kit I noticed a residue leftover on the parts that would not come off with 409.
After rinsing the parts in water I soaked them in isopropyl alcohol (90-100% will work fine) and wiped them with a cloth and no more goo.
You can also strip Tamiya Acrylics with 409. However I got the same goopy residue and it was somewhat worse than when stripping
chrome. The alcohol removed that as well. I recommend stripping Tamiya Acrylics with plain 90-100% isopropyl alcohol. It worked far better than 409.
Cleaning Up Technical Pen Ink on Models
If you go out of the lines, dip a small ripped off bit of paper towel in a solution of water:409 (70:30) so that the towel is just
barely damp, and wipe away the mistake. You may get some streaking if the towel becomes saturated with ink. If that's the case, merely get a new piece of solution-soaked paper towel. Since it's a diluted solution of 409 it would take far longer to affect the paint. As a precaution, try not to rub too hard to too often in the same spot as it may affect the paint.
Where can I get 409 in the USA
In the US you can get formula 409 in most grocery and 'mart' stores. Here's some places that I know carry it: Walmart, Target,
K-Mart, and most large grocery stores that carry cleaning products.
Alternatives to Formula409 in Other Countries
409 is readily available in the United States but apparently not elsewhere. People often ask about alternatives to the product in
their country and I really don't know of any. I'll ask around and put any that I find here. I recommend contacting the company directly at http://www.formula409.com/

Updated 5.23.2005
I added another fan and a "Y" connector to my spraybooth to improve it's removal of the overspray. This fan I added right where my spray goes so that hopefully more of it will be removed as I spray.
Previous »
Today I finished most of my spraybooth. For those that don't know, a spraybooth is a box of sorts with fan venting to the outside of your house. This will take the overspray, fumes, and dust out of your work area and your lungs. I forgot to buy the tubing to go outside, but I don't know how much I'll need yet, so it didn't matter anyway.
I went to home depot this morning and made a purchase on a gift card I had recieved.
Bathroom ceiling vent fan » $14.95
2′x4′ 1/4 inch plywood » $1.95
2 sets of hinges (4 each) » 2 @ $1.19
Plug cord » $5.95
The wood I had left over from building my workbench.
Here is the finished spraybooth without the hoses. The fan does not have an on/off switch. I'll have to plug/unplug it or use an extra surge strip with an on/off switch.
This is a hinged overspray protector. I made it so that it could be folded away for more room when I'm not spraying.
Here it is unfolded.
This is the vent fan. Notice the wood sticking out above it. That's to hold up the roof of my overspray cover. It spins back when not in use as well.

Inside the booth, I made thin shelves and placed extra corkboard since I can use all the storage I can muster in my small space.

This is where the exhaust hose will be hooked up after we drill a hold and place a dryer type vent in.
To make the hole for the dryer vent, my father-in-law (Doug) first used a rotary hammer, which is like a big concrete drill, to make a ring of holes. Kind like a dotted line.

Next he hammered out the hole on both ends. Here is a shot of Doug hammering out the hole for the vent.
We used a 2 inch scrap piece of PVC pipe to fit through the hole. We didn't want to weeken the foundation, so we needed something that would fit through the blocks natural holes. Then we duct taped an 8 foot flexible dryer tube to the inside PVC.

I wanted the part that connects to the fan to be movable so that I can move the vent out of the way so I can still use my shelves. I found that a mailing tube that I had fit very snugly on the fan exhaust pipe. So I took that tube, cut it, and taped it to the other end of the dryer pipe.

I made a hook on top so that I could hang the suspended end from the ceiling to get it out of my way.
I've been wondering for quite some time as to how to make a decent custom clear color for candy coats. My goal was to replace my Tamiya Clear colors with something that goes on as nice as Future Floor Acrlyic.
I experimented with Future + Colored Higgins Inks, but they wouldn't blend and just made a mess.
I then tried a mixture of Future + Food Coloring, but the mixture was too thin and ran all over. Then I had a thought…
I used my previous mixture of about 1 teaspoon of Future + 5 drops of food coloring. To that mixture, I added approx 3 drops of Tamiya Clear for every drop of food coloring. The result was thicker than I had wanted, causing sputters from my airbrush (which needed cleaned as well) however, aside from what spattered from the tip of the needle, the coat went down very nice and smooth. I would probably try 1 or 2 drops of Tamiya clear per drop of food
coloring next time.
So to sum it up:
Non-Tamiya (sort of) Custom Clear Colors:
1 tablespoon of Future Floor Acrylic 5-6 drops of food coloring to get a deep color
1-2 drops or Tamiya Clear / 1 drop of Food Coloring to thicken mixture
I'll post an image when I use it on a non-scrap piece.
I get a lot of compliments on my smooth airbrush finishes so I thought I'd use my instructional design and Flash skills and make an airbrushing tutorial. Click the icon to the right to launch the tutorial.