Posts Tagged '1/12 Scale' »
I'm not sure where I left off in the progress report, but this has been done for well over a month. About time to take some pics! This is just the robot for now. The rest of the diorama will be completed at a later date. Since this Chubu was found rusting on an old farm, I decided to do that as a wallpaper. Enjoy!
Plugging right along. I got a nice big box of samples from AK-Interactive last week and started putting them to the test on this build. For this progress report I'll focus on their streaking products, but I've tried some of their others since these pics were taken and REALLY like them so far.
Since the last update I've focused on the rust chips. I had started doing a few streaks with oil paint, then the next day the box from AK arrived with samples of just about everything as well as their Washes, Fading and Oils DVD which after watching, I learned how to use these products and just how easy they are to use to get very nice results quickly. I decided to give the bottle of "Rust Streaks" a try first. Basically, you shake up the thinned enamel mixture, paint your streaks on with a thin brush, wait a few minutes, then "stump" (blend/blur) them with a brush dampened with "White Spirits". And that's it. After that dried (I gave it a few hours) I went back and added more streaks with the "Streaking Grime" mixture. Same method and same simple good results. I really recommend the products, but also the DVD as it was very helpful.
My only problem is one that has more to do with the kit than the AK products. The Chubu is all curves… and not only curves, but curves at an angle. Since I want to depict a machine that's been sitting in a farmers field for quite a while, the streaks had to follow these contours. That's a little more difficult than the flat sides of most tanks and AFVs. However I quickly figured out a simple method of determining the angle streaks should flow. Just use an eye-dropper and water and let gravity be your guide. Nothing simpler than that!
I had to take my chipped areas one step further however due to the large scale. The chips looked decent enough, but were missing something. I discovered on accident that some "rust bleed" around the chips makes all the difference. It looks as if the chips are rusting and the resulting rust is creeping beneath the chips into the surrounding paint. I was applying some rust-toned oil paint to some of the larger chips and over-thinned a few resulting in the bleed. After that I just refined the method a tad. Just paint the chips with slightly thin rusty oils (I used the 502 A. Dark Rust) then using a thinner-dampened brush, feather the rust paint around the chip.
Now I'm onto the pigment dust and fuel/oil grime and stains phase. Pics on that in a few days.
Yes, yes… I'm all over the place. The Core Fighter is coming along, but I find myself going back and forth between projects more and more. (I'm also scratchbuilding a 1/20 scale diner with full interior, but see my facebook fan page for that info) The past few weeks I've been working on the 1/12 Chubu Mechatrobot. I wanted this thing as soon as I saw it, but it took me quite a while to locate a shop in Japan willing to sell one outside of Japan. Thanks to Walter for the tip! I am a sucker for good, realistic mecha designs from the 1950′s.
I had sculpted a few mechanics for this piece as I'll be doing a garage/workshop diorama. Yeah, I know… workshop/hangars are a dime a dozen and about overdone, but it gives me an excuse to play with many aspects of modeling I enjoy such as lighting and scratchbuilding. And hopefully I'll do something inspiring and different from all the other garage dios out there. Hopefully!
The kit itself is very nicely done. Only a few issues such as placement of mold-lines, but overcome simply enough. The parts that gave me the most trouble were the white metal parts. Unfortunately they're not as clean as one would like. I polished them up to a beautiful chrome sheen, but they were too pitted to work. So I had to use some putty and filler primer then paint them. I also rebuilt my own control sticks, knobs and foot-rests. The sticks and foot-rests were made using MechaSkunk's brass knurled tube. Cool stuff really!
I went with a pale yellow to do something different from the blues and greens, but still have that old car paint look. I used the hairspray technique to do the paint chips on the yellow. The internals were painted with a Tamiya Dark gray, then sponged over with water-thinned sea gray. Then a few thick dark filters were applied to blend them in, followed by some discoloration and rubbed with powdered graphite for the metal sheen. The sponging gives it a nice worn metal look.
I had some photoetch made for the 1/12 scale tools I need, so I added a few Chubu emblems to the fret as well since the kit had no emblem decals. The red/chrome adds a nice pop as a "car" emblem should. I also made a photoetch "1958 MECHA PA" license plate to use. Looks great and adds something different from the resin/sticker Japanese plate the kit came with.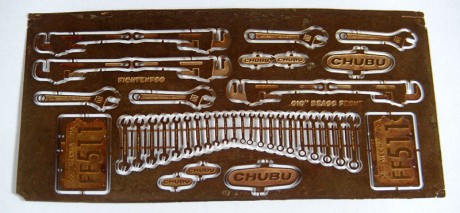 Anyway, I've a ways to go yet with more weathering, dusting and rusting to be done. I want it to have a used, somewhat worn look to it. More soon!
Oh, and for more on the Chubu, check out the creators blog here. MODERHYTHM
I already had the Sculpey out to make some 1/35 scale figs for another unposted project so I started these guys as well. I need some mechanics for a 1/12 scale robot kit called a Chubu Mechatrobot. It has a 1950′s look to it and is a cool design so it needs some good figs to go with it. A year or two ago I had planned to do these same three mechanics in 1/20 scale and even made the armatures for them, but never got around to it then got out of MaK so there was no need. I wanted three different and odd looking guys. One huge, one skinny & goofy, and an angry dwarf.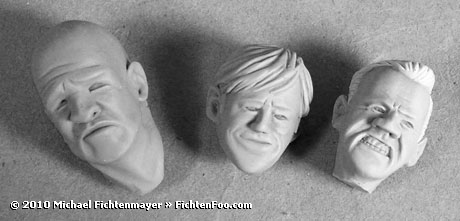 I started out by making the heads. Originally I screwed up and thought the kit was 1/18 scale so I made a completed angry dwarf head in that scale. I'll save it for another project. Making heads at this scale is so much easier than my recent 1/35 attempts.
After the heads were made and lightly baked, I started on the huge African-American guy's body. I wanted him to look like a slightly out of shape linebacker. He's about 6.75″ tall which at 1/12 scale (1 inch = 1 foot) he's close to 7 feet tall. Perfect! I chose bib overalls as they'd likely be more comfy on a guy that size than the coveralls the other two will be wearing. Plus it's an excuse to show off the arms and do some strap detail. As you can see, he's coming along. I need to fix the front pocket, add the metal details for the buckles and such and finish the legs and feet. as well as add other details and refinements. He'll be slinging a very large wrench over his shoulder.
I haven't started the bodies of the other two yet. The skinny guy will be bend over looking at something on the robot that he just "fixed". The dwarf (who owns the shop) will be shaking his fists in the air and will likely have a large oil stain splattered down the front of his clothes thanks to the skinny guy. The big guy will be looking at the screw-up as if waiting for the skinny guy to get fired.