Posts Tagged '1/100 Scale' »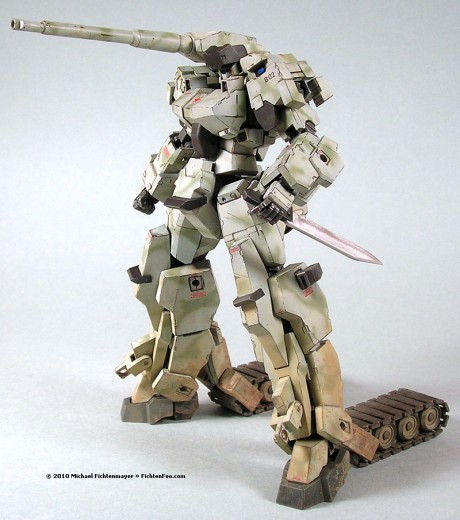 Here's one I've been working off an on with for the past month: The Frame Arms GouRai kit by Kotobukiya. The kit is 1/100 scale but a little larger than a typical 1/144 Gundam kit. Regardless of the size, the detailing is great and the frame was a breeze to work with and makes it really posable. (even though there's only one pose in the pics)
I decided to forgo my usual 1/100 scale mecha clean look for a more weathered AFV feel. I modeled this just like I would a tank with washes and oil discoloration. The only change was in the chipping where I used a blade to scratch the light paint off showing the dark gray primer, and I didn't use pigments as this would be handled more than a tank. Instead I weathered and muddied it up with acrylics and oils.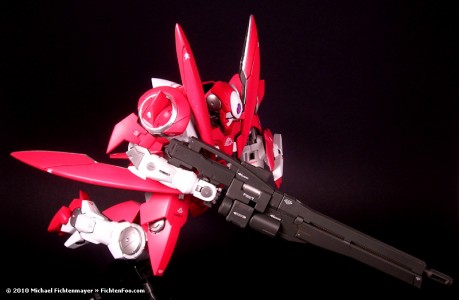 I consider this one a bonus in the MGX4 Challenge as it's the 5th MG kit (7th model overall) completed before the End of April deadline. The MG GN-X is a fantastic kit, but I may be biased loving the design as I do. This was built OOB except for the addition of clear purple painted bearings added to existing  "dot" locations all over the design. For the clear purple parts I first over-painted the pale purple OOB parts with a darker clear purple mix. Over that I applied layers of FFA + Pearl Pigments. The first layer was purple pearls, then blue and finally random green pearls that only show up in certain lighting angles. The effect is similar to that of an aurora sticker, but not as dramatic and more speckly. Decals were from Samuel Decals. I had them print me an additional sheet with all red decals. Metal parts were painted with Mr. Super Iron and Mr. Super Fine Silver.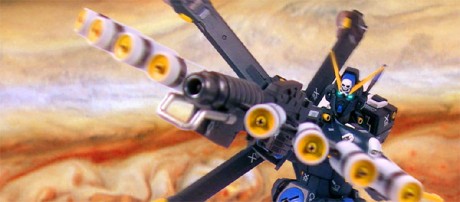 Four out of four done and way before the deadline! In fact I also finished a UCHG Zaku head which still needs photographed and have the GN-X primed and ready for paint so I'm well ahead of the curve.
This was the MG Crossbone Gundam Full Cloth. I decided to not do the "Full Cloth" armor and save it for another project and to change up the color scheme to the dark X2 version similar to another piece of Studio Windfall art. I used the head and chest skulls from the Ver Ka instead of the one seen on the Full Cloth version as it had a meaner, less silly look. The eyes were drilled out from the chest skull and vulcan cannons inserted. Gives it a mean look. (pun totally intended) Decals were from Samuel and my own "X" designs. Metal parts were from Ako, MechaSkunk and other sources (purchased from mechaskunk). The light blue is the same I used on the Victory for the main blue and the dark is a mixture of Tamiya Field Blue, Black and Flat Blue.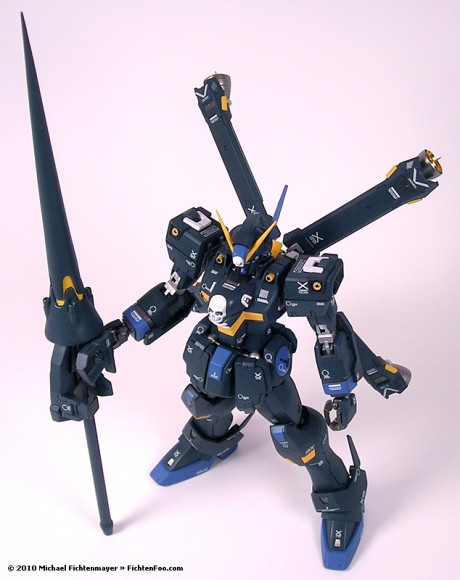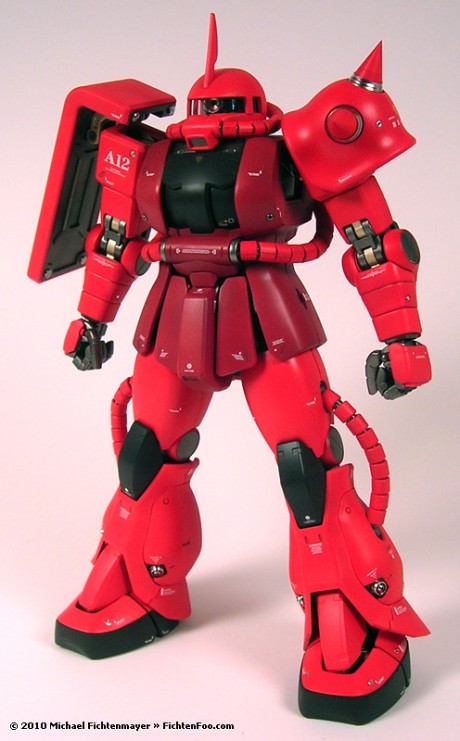 This makes three in my MGX4 challenge. (click the logo) Now I just need to do one more before April 30th and I win nothing but the satisfaction of building a bunch of kits in a short period of time. Yay me.
Anyway, this is the Master Grade Zaku 2.0 in Char Aznables custom colors. Originally I was going to do this for myself in a different scheme, but I got an offer on it to build it as a Char version and it turned into a commission. I snapped some quick images without any pose because I don't want to accidentally scratch the paint before shipping it out.
As for what I did to this one…
Replaced all bells with Mechaskunk and Ako Creations Aluminum thruster bells.
Replaced pipe bead insides with springs.
Applied Ako Creation Metal Transfers (awesome BTW!)
Added vernier to front chest.
Replaced eye with SP Eye metal part and Aurora Sticker
Replaced weapon lenses with Aurora stickers
Internals painted in mixtures of Mr. Color (Gunmetal and Titanium/Brass)
Bandai and HiQ decals
Mechaskunk screws for shield inside
Aluminum shoulder spikes

The 2nd completed build in my MGX4 challenge is a customization of the Astray Blue Frame 2nd Revise. Instead of blue, I went with copper (anti-beam-spam coating or perhaps anti-steampunk coating) which turned out beautifully, if I do say so myself. I wasn't sure how it would look with the black and white as I was painting, but I'm very happy with the end result.
The only issue I really had with the copper paint was the parts in which I used the copper straight from the Mr Metal Color jar thinned with Leveling Thinner. The paint went on beautifully, but the copper for whatever reason rubs off when handled which is odd. I didn't realize this of course until I was handling it for the final construction, but next time I use this paint, I'll be sure to seal it. The other two tones of copper I used did not have this problem. One was mixed with Mr Super Titanium and the other with Mr. Color Semi-Gloss Black. The three tones really add some nice visual interest and break up what could be solid-colored boredom.
The kit is really nice for the most part. The blue polycaps and rubbery parts gave me some paint chipping issues, but thankfully those are all hidden after final construction. It was a pain however to get it positioned in any pose with that huge sword using the action base. That's why there's just a few pics and one pose.
Coming full-circle from my 1994 'false start' is the new Master Grade Victory Gundam. My first ever Gundam model kit was the 1/144 V-Dash built soon after graduation from the Art Institute in 1994 and purchased mail-order from someplace called the "JAM Group". About 7-8 years later I picked up where I left off and started building again… pretty much non-stop.
Because of my affinity for this design, this is one of the rare cases where I've actually painted something the colors it's supposed to be. Well, mostly. I based this scheme off of the Windfall illustration 'Mobile Suit [Second V]' as seen below.
Studio Windfall Illustration circa 2004
The internals were painted with Mr. Color Super Metals and Alclad II Lacquers. The 'gunmetal' color is Mr. Color 50% Semi-Gloss Black + 50% Super Stainless (super metallic paint-line) and the lighter warm metal is Mr. Color Super Stainless first, then a thin layer of Alclad II Pale Burnt Metal on top of that. The armor was painted with Tamiya Acrylics. I muted most of the colors except yellow to get that Ver. Ka color look.
This was a very quick and easy kit to finish. First off, there was no seam-lines. Just sprue-nubs and the usual faint mold flash lines. Cutting took a day and a half, skewering the MANY parts and priming took another day and painting took only a day as well. I was very impressed with the internals and mechanical construction. Decals were the official Bandai waterslide release and took about 4 hours to apply.

This is the first of 4 MGs in my personal MGX4 challenge where I want to attempt to finish at least 4 modern MG kits (kits from the past 2-3 years) before the end of April. I started this challenge on February 15th, 2010. The other three are the MG GN-X, Astray Blue Frame 2nd Revise, and Chars Zaku 2.0. So far so good!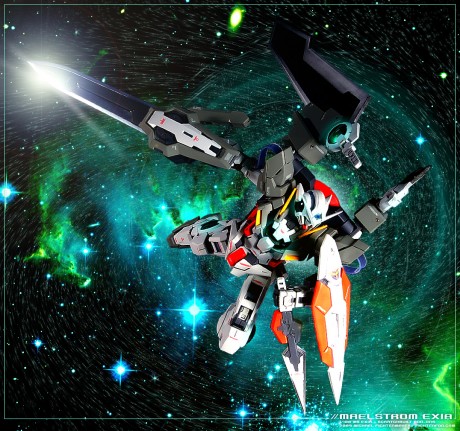 As soon as I was done with the Sinanju I started on this kit. The MG Exia as it turns out is a huge improvement over the already awesome 1/100 Exia kits. The way the parts are broken down makes for very little work as far as seams go.
I wanted to do something to take the Exia 'over the top' in a way and to add a "particle accelerator" ring around the GN drive. A modeler at my forum, Shin0bu, had made some for his 1/144 00 and they looked great. With his permission I used that concept for this piece. The addition of really huge GN blades mounted to the GN condensors gives it a winged appearance. Almost Wing Gundam or Seed like actually. Not intended but not a bad look for this.
I designed the Accelerator ring in Illustrator and had a friend lathe the shape for me from Ren foam. The foam is kinda pourus so I had to give it 3-4 coats of Filler primer to smooth it out, but the end result looks nice and smooth. After that I scribed some panel lines into it and added the notches and bead-holes.
The GN Drive for the "Maelstrom Unit" (going with the "avalanche" naming theme for that) was a leftover from my 1/100 Astraea combined with the drive hole cover that came with the MG. Using that cover as the back of the other GN drive made a REALLY stable mounting point for this backpack. Once the latches lock it in place it's as secure as can be.
The swords were made from styrene sheet and shapes. To make the beveled edge of the blades easier to create I used Plastruct triangular styrene strip glued along the edge. That saved me the enormous headache of filing the edges to be evenly sharp.The hilt was made from extra 1/100 Exia leg and sword parts.
The GN condenser boxes were based on those on the rear of the Dynames. They were made from various styrene sheets and shapes. The small yellow wings are actually better-looking covers than the hooks they conceal beneath that hold the swords in place. Unfortunately the swords are way to big to allow me to pose them nicely with the model. I like them looking like wings better anyway.
I wanted the paint scheme to denote the Rollout stage of the Exia during which it was probably put through its paces in various tests. The orange is Mr. Color Flourescent Orange mixed with a little Flourescent and Character Red. The blades are Alclad II chrome, the internals ar Mr. Color Iron, and the rest is mixes of Tamiya Acrylics. The base color isn't white, but instead a very light gray. That photographs better and looks less vibrant and glaring in person.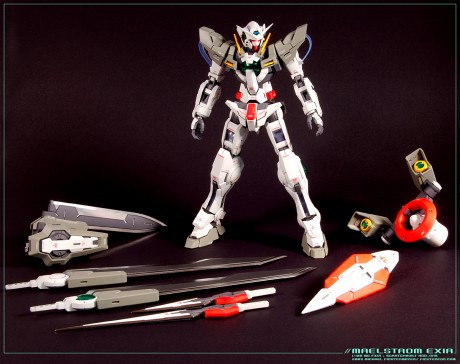 For the clear parts I was stuck with green. No big deal, but I'd rather have had the option of making them bluish-green. THis I found out though can be achieved as I managed to get a great color-shift effect on some of the clear parts, most notably the GN-Drive and the eyes/forehead sensor. If you paint them with clear-green first then spray them with a Future Floor Acrylic + Blue pearl powder mix it looks very cool. When the light hits it it looks blue. This only works though is the pearl powders are not behind the clear green, but are instead in front. After painting I dipped the clear parts in Future which gives them a super shiny gloss.
Enough chatter… here's the rest of the pics:
A little mental health kit while working on a plethora of other projects. I actually finished this a week ago, but just got a moment to post up the finished images. While the kit looks great in it's stock red, I've seen WAY too many red Sinanju in all it's forms, candied, gloss, flat, etc… So I decided to go with purple. I initially was going to go with a green similar to the Kash., but thought purple would look more Elite and fit this suit well.Metal bells were used as inserts for the sharpened and painted kit-bells.
I purchased this kit at Hobbywave.com and used lots and lots of option parts from Mechaskunk.com. including most of the bells and beads. I also used some bells and brass cable replacement from Ako Creations.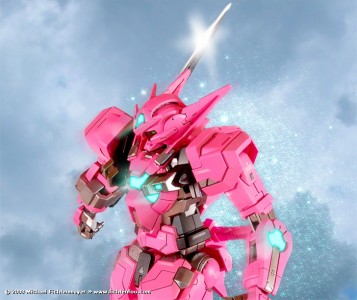 About The Build »
I've been wanting to paint something in pink
for a while now, but aside from perhaps the Infinite Justice,
I couldn't decide what else might look good. Then I picked
up the Astraea Type F and it looked perfect for a pink-build!
The kit itself was very easy to put together.
Not a whole lot of seams or masking involved when painting.
The parts fit is perfect as usual with Bandai kits. This kit
comes with all the things that the other Astraea comes with,
but has extra parts for the "mask".
The worst part of the kit was the rubber parts
for the panels in the arms, legs, and "kidneys".
I replaced those with ribbed styrene sheet.
Ironically the most difficult part of this kit
was getting a good pink color. I prefer Tamiya Acrylics and
there was just no mixes that I could find that came out vivid
enough. So I decided to seek out some Magenta Pigment in order
to tint some flat white to the shade I need. Well, apparently
Magenta Pigment isn't cheap so I went to Michaels to have
a look around.
I found some PearlEx pigment sets, and Series
2 had just the color I wanted. Unfortunately (or so I thought)
it had a pearescent sheen to it. I decided to get it anyway
and work with it. It ended up working perfectly and the pearl
sheen was really minimized when mixed with the flat white.
I mixed enough pigment with my white to get the desired color
and did a test spray. It went on a little thick and lumpy,
but thinning it much more fixed that. The end result was the
perfect color. In fact, I also have a pearl cyan and yellow
that I could potentially use to make any color I want via
CMYK values.
Another benefit of the pearl powders was in
doing a color-shift GN-Particle effect to the clear parts
and lenses. To achieve this I sprayed the back of the clear
parts with Future + Green PearlEx, then I added blue pearlEx
to that and sprayed the back-side again, finally I added clear
green Tamiya to that and gave it a final spray. Then dip it
in future to give it a nice gloss and place it over Alclad
Chrome painted internals for the full effect. The end result
is fantastic and unfortunately much better looking in person.
Almost gem-like.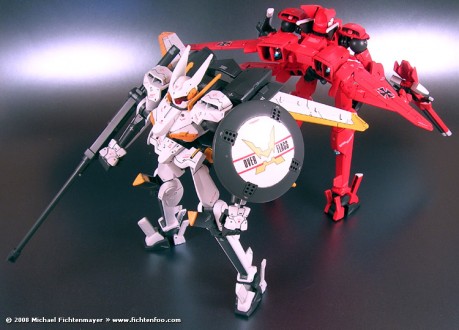 About The Builds »
A while back the same client that commissioned the Hi-Zack and Strike Noir from me also asked me to do an Overflag in red… a Red Baron of sorts. I figured that I might as well do my kit at the same time and knock them both out. Mine I did as a Tallgeese-styled
build called the "Overgoose". This used a 1/100 Tallgeese shield donated by a member of my forum and a scratch-built "Dober Gun" which attached to the forearm via magnets.