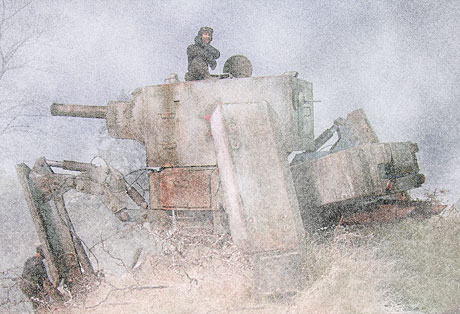 The saga of producing the KV-X2 is about to come to an end. I have a pretty good relationship with the guys at Mig Productions being a frequent poster and recently the redesigner/technical admin on their forums. After my initial attempt with a poor caster failed, they suggested I give them a try. In fact, Mig wasn't sure why I didn't ask them in the first place. My response was "I didn't think you guys would be interested". But they were, especially with Mig Productions new line of Sci-Fi/Fantasy pigments.
So Mig Productions has had the Master for a a month or so now and just started working on the molding and such. The release will be Early Summer 2009 and available via their site or through their distributors. The price will be announced in this post as soon as I have confirmation. I was also told a figure was being sculpted but am not sure if it is a separate item or not. I do know that this release will come with a KV-2 turret so for those of you that haven't gotten a KV yet, there's no need and for those that have… Build it for our 31 Days contest starting tomorrow!
Here's some pics of my build-up for those unfamiliar with this build. Also, here's the in-prog thread and final images of my build.
On a related note, this isn't the only master I've sent them so stay tuned for more news on this secret project in the coming months. It's something only a select few have seen and is very cool IMO. 😉
EDIT 2/21/2009: Found out about the figure and the turret options. From Mig Productions:
The figure will be sold separately, but it will be an amaizing complemet
to the KV2x. Try to imagine a WWII russian soldier but in futuristic style
and also very well sculpted.

Also, as long as I know, will have 2 versions: one with a modified KV2
turret and another without turret. That also give us 2 different prices.