Continuing on, I applied medium gray chips to the ships hull using first a small piece of sponge, and later a thin brush for larger areas. Then dry I applied a filter of very thin German Ochre oil paint mixed with odorless turpenoid to warm up the base coat.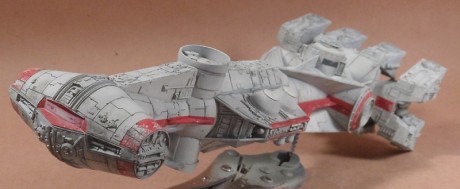 After letting that dry overnight I applied the oil paint discoloration technique using more odorless turpenoid and blue, burnt sienna, dark mud, and buff oils. Apply small dabs then blend them in. This makes the surface look varied and worn without resorting to the typical awful looking thick wash of black paint. A pin-wash will be my last step, however it'll be very thin and applied only to certain panel lines as needed with a very thin brush.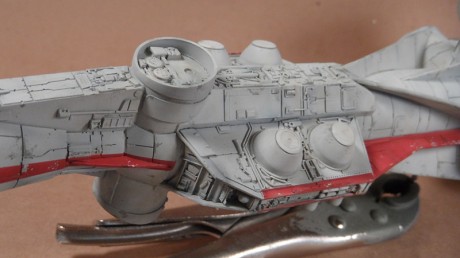 My next step once this dries will be to further enhance the look with more oil paints. I'll use lighter colors to make raised panels and detail pop and blend some darker blues and grays (The Starship Filth oil paint color by 502 Abteilung works great) Click the "Star Wars" tag below this post to see how I used these steps on other builds. The Y-Wing and in-progress Snowspeeders are favorite examples of other times I've done this.