In Progress » Pumpkin Girl pt. 1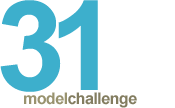 So FilmMkr on the forum said that he'd enter the 31 Days contest if some of us would make resin girl kits as our entries. (He does a lot of them and quite well as a matter of fact) Since the spirit of this contest is to try new things and expand our skills, and I had this pumpkin-girl Marisa kit in my stash, I agreed. I generally don't do many anime figure kits, in fact I've only done two (Gally and Deunan) and even those were painted in more of a weathered, "real figure" style.  I'm still not sure how I'll paint this one. Will it be oils or airbrushed or both? I have no idea what this figure is from even… I just thought it looked cool and I LOVE Halloween so I had to get it.
I can't start on this kit until 2/21/2009, as per the contest rules, but I can show what my entry will be. Also the rules state that we should show that the kit is indeed unstarted and well… I haven't even removed this from the bags yet! How's that for unstarted?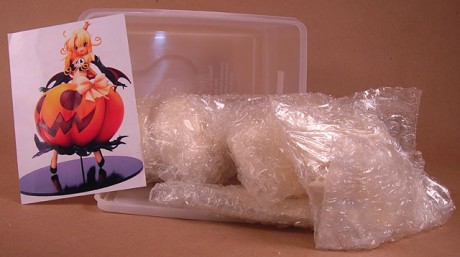 What I do know is that I'm planning a few mods for the pumpkin. The two halves are solid and the eyes/mouth are not cut-out. I think that it might look cool to cut-out the mouth and eyes and make the pumpkin look more like a real pumpkin as opposed to a dress. There's fully sculpted legs beneath the pumpkin so this is should work well. Maybe I'll light it from within too with a flickery LED! Anyway, this is as far as I can go on this project until the 21st. Stay tuned!