This week I've been working on the ground litter and finishing up the base water. The ripples on the large body of water are made by applying Liquitex Acrylic Gloss Gel Medium with my fingers to create the peaks and ripples. Finer ripples under the X-Wing were made with a piece of coarse car-sponge. The smaller pools need cleaned up a bit as they've got ground litter sprinkled on them I can't clean that though till it dries.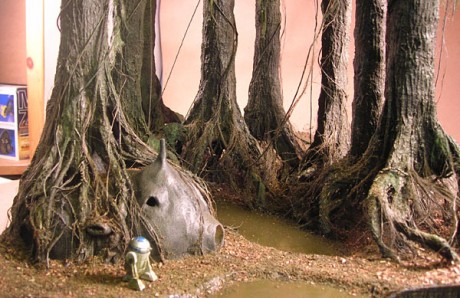 The ground leaf litter is a combination of Woodland Scenics fine "soil" and "earth" tone turf and crusted basel and autumn oak leaves. I never thought I'd be able to use that WS turf stuff for anything as with most application I've seen it looks like bad railroad scenery. However I think I've got it looking pretty good thanks to some great builds at the MIG forums.
To apply the litter I first soaked the area with "wet water" which is just tap water with a few drops of dish soap. This lets the later glue app flow nicely. I first sprinkled the surface with the dark green soil tone followed up by the dead-leaf earth tone. Then over that I sprinkled a fine layer of the crushed leaves. Then I used an eye dropper to soak the area with a mixture of Future Floor acrylic, water and Prepared Matte Medium. A ratio of 1/3 of each liquid is fine. Once this dries the area still looks wet, but is set pretty solid.
Once I'm done with the ground clutter I'll blow off the excess, clean off the water pools, then coat the water with a few more layers of Future to really gloss them up and seal them.