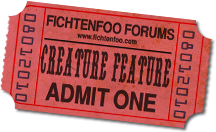 Despite some setbacks, the Edmontosaurus is just about done. My initial basecoat had melted away causing me to have to strip and reprime it. I had originally primed it with Duplicolor Self-Etching Primer then basecoated with Krylon Ivory. This looked great until my next step. I had applied a thick oil paint wash thinned with mineral spirits, then buffed it away with a spirit-dampened rag. To speed the dry-time I placed it in a sunny spot. Bad idea. The thinner made the Krylon (not the primer) bubble and melt away coming off in "sweaty" glops.If at first you don't succeed however….
So I stripped it, reprimed it in the Self-Etching followed up with a sandable white Duplicolor primer. Then I basecoated in a lightened Tamiya Deck Tan and then lightened the belly up with an off-white Tamiya mix. Next I sealed all that in a nice coat of glossy Future. I did the same oil wash to bring out the detailed shadows. This time I thinned it with odorless turpenoid and buffed away the excess with the same on a damp rag. That was a bit dark so I oversprayed that with a light coat of the basecoat colors. Next I used Golden Airbrush Colors (GAC) transparent "Red Oxide" for the tail and spines. I mottled that on then over it I mottled on some transparent GAC Naphthol Red Light to redden it up more. After that I sprayed on some GAC Shading Gray to shade some of the creases and such.
Next I began airbrushing on the stripes. For these I used GAC Transparent Raw Umber Hue which is a nice slightly green brown. I started off light in order to mark where I wanted the stripes then mottled them in darker. Over everything then I mottled on some GAC Transparent Yellow Oxide mixed with a drop of GAC Opaque White This blended in the colors nicely and gave a nice yellow tint to the whitish parts making it look more natural. Lastly I darkened parts of the spine and stripes by mottling on some more Shading Gray. A yellow/red oxide mix was used for the mouth areas.
Lastly I used a technical pen with black ink to color in the eyes then gave everything a coat of flat Future. The flat Future made everything too dull but not flat enough. Very unnatural look really so I ended up mixing a little of the Rust-All dead flat (#3 in their kit) with a few drops of pure future. I used a piece of sponge to apply it instead of a brush since I wanted it apply thin. This worked out really well and gave me the sheen I was looking for. Not too shiny, but not dull either. Almost a waxy lizard scale look. After that I brushed a tiny dab of Tamiya Clear onto each eye to make them look glossy and wet.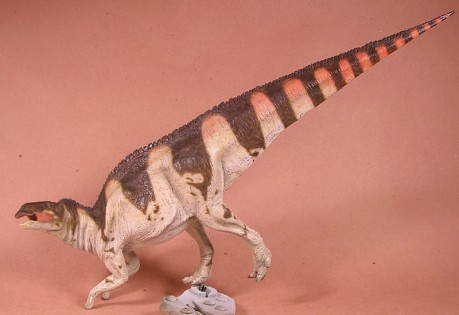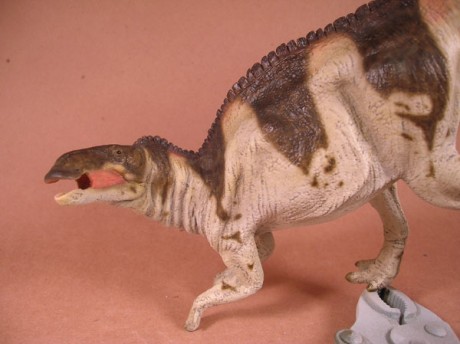 Next up I want to add a little wash to the mouth sides to make them pop a bit then make the feet look a little dirty for when I place it on and make the display base.