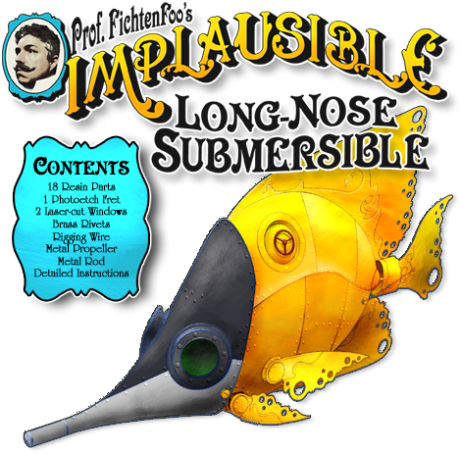 Hi guys! Not sure if I showed this off here or not, but I have a new Fish Sub I designed available for preorder today. This one is based on the long-nose butterfly fish. The body is slightly smaller than the original, but there's a LOT more in the kit. Resin parts, 2 photoetch frets, 2 laser cut windows, brass rivets for securing the largest back  fins to the body, wire, and a white metal propeller.
Preorder Prof. FichtenFoo's Implausible Long-Nose Submersible!
As usual, I started out with a bondo over foam shell. I've learned a lot since the original sub so it's better designed I think. Plus this one comes with a pilot/seat designed by Christophe Desse! He and I also designed our new Submariners set.
For those of you that purchased the original Fantastical Fish-Shaped Submersible, there's now a pilot, The Skipper, available to match the new Fish MKII pilot, and Submariners set.