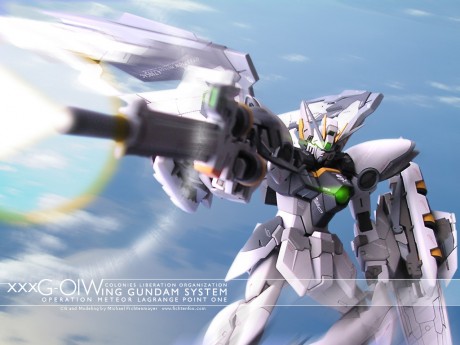 About The Kit »
This is the Bandai Master Grade Wing Gundam Version Ka. This was a self-test for me to see how long it would take to to an OOB kit. It took roughly 60 hours and the breakdown is on the progress page.
I basically built this kit out of box with a custom color scheme and decals. The color scheme was based on the Skull Squadren VF-Xs from Macross. It's all mostly grays with the exception of a gold highlight color minimally used on the chest, head, and ammo pods. I custom designed the text and girl decals in Illustrator. I recreated the warning marks for the original kit as waterslides since I really liked the way they looked and felt they added a lot to the look. The kit came with stickers, but those seldom look good.
So check out the images. I also, due to some requests, did a wallpaper for this kit. I may start doing at least one for every future kit I finish.