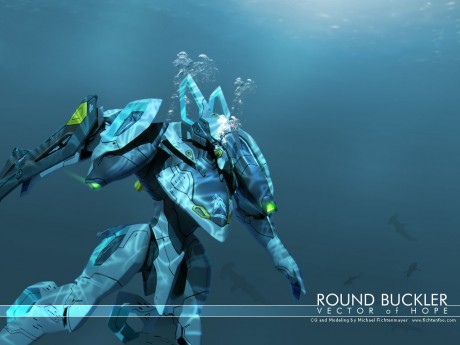 About The Kit »
This is the Round Buckler from the anime 'The Mars Daybreak'. I've never seen it, but I really liked the mechanical designs I've seen from it. The kit was mostly build OOB with only a few modifications.
I cut new lenses for shoulders and 'toes' from clear sheet plastic. 'Dots' in the lenses were made to mimic what was molded into the kit underneath. The parts of the kit that these new lenses cover had seams that were hard to reach and so I just didn't bother. The new
lens covers them up and makes them look better than before.
I also made new joint covers for the shoulder and hip joints from Magic Sculpt. The kit supplied ones were rubber and aside from
being unpaintable, dodn't really cover much of anything. Adding these new covers made the kit fix-posed which is just fine. It's a model, not a toy.
Lastly, I added to the back of the head to cover the unsightly neck joint. The addition was merely an angled piece of tube cut in half
and also at a 45 degree angle.
I really liked the original colors so I stuck to them for the most part except for the gun and the purple parts. The purple parts I airbrushed to match the shark in a tiger-striped pattern. The effect turned out to look more shell-like which was not planned, but a welcome effect as it accentuates the undersea feel.
Overall I have mixed feelings about this kit. There was a lot of masking to do which was quite a pain. I spent more time masking than
painting. The seams fit together very well, however some seams were near impossible to reach making for a challenging build. I would not build another of these, nor would I recommend it to a beginner.
About The Base »
Since this is an underwater robot, I wanted to do an underwater setting for the base. The coralish rocks are just bits of gravel I cleaned out of my driveway while making repairs. The sand is a layer of Bondo which was given the dune texture while still uncured. The rocks were smooshed into that and smoothed into the sand with Apoxy Sculpt. I primed it all in dark gray and drybrushed the
rocks with lighter grays, pinks, buff, and white. For the sand I brushed on a layer of Future Floor Acrylic, then sifted on some ballast cement which has a coarse texture. I immediately turned it upside down and shook/tapped off the excess. What stayed behind was left to dry, then airbrshed with a sand color. The sea creatures and plants I made from Magic Sculpt.