Completed » MG Crossbone Gundam X2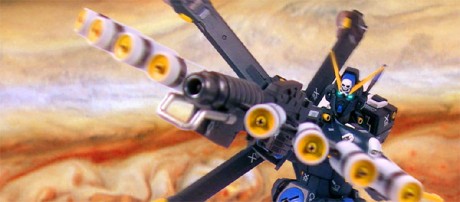 Four out of four done and way before the deadline! In fact I also finished a UCHG Zaku head which still needs photographed and have the GN-X primed and ready for paint so I'm well ahead of the curve.
This was the MG Crossbone Gundam Full Cloth. I decided to not do the "Full Cloth" armor and save it for another project and to change up the color scheme to the dark X2 version similar to another piece of Studio Windfall art. I used the head and chest skulls from the Ver Ka instead of the one seen on the Full Cloth version as it had a meaner, less silly look. The eyes were drilled out from the chest skull and vulcan cannons inserted. Gives it a mean look. (pun totally intended) Decals were from Samuel and my own "X" designs. Metal parts were from Ako, MechaSkunk and other sources (purchased from mechaskunk). The light blue is the same I used on the Victory for the main blue and the dark is a mixture of Tamiya Field Blue, Black and Flat Blue.