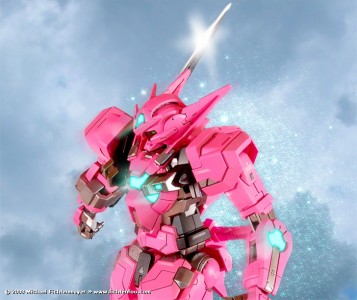 About The Build »
I've been wanting to paint something in pink
for a while now, but aside from perhaps the Infinite Justice,
I couldn't decide what else might look good. Then I picked
up the Astraea Type F and it looked perfect for a pink-build!
The kit itself was very easy to put together.
Not a whole lot of seams or masking involved when painting.
The parts fit is perfect as usual with Bandai kits. This kit
comes with all the things that the other Astraea comes with,
but has extra parts for the "mask".
The worst part of the kit was the rubber parts
for the panels in the arms, legs, and "kidneys".
I replaced those with ribbed styrene sheet.
Ironically the most difficult part of this kit
was getting a good pink color. I prefer Tamiya Acrylics and
there was just no mixes that I could find that came out vivid
enough. So I decided to seek out some Magenta Pigment in order
to tint some flat white to the shade I need. Well, apparently
Magenta Pigment isn't cheap so I went to Michaels to have
a look around.
I found some PearlEx pigment sets, and Series
2 had just the color I wanted. Unfortunately (or so I thought)
it had a pearescent sheen to it. I decided to get it anyway
and work with it. It ended up working perfectly and the pearl
sheen was really minimized when mixed with the flat white.
I mixed enough pigment with my white to get the desired color
and did a test spray. It went on a little thick and lumpy,
but thinning it much more fixed that. The end result was the
perfect color. In fact, I also have a pearl cyan and yellow
that I could potentially use to make any color I want via
CMYK values.
Another benefit of the pearl powders was in
doing a color-shift GN-Particle effect to the clear parts
and lenses. To achieve this I sprayed the back of the clear
parts with Future + Green PearlEx, then I added blue pearlEx
to that and sprayed the back-side again, finally I added clear
green Tamiya to that and gave it a final spray. Then dip it
in future to give it a nice gloss and place it over Alclad
Chrome painted internals for the full effect. The end result
is fantastic and unfortunately much better looking in person.
Almost gem-like.